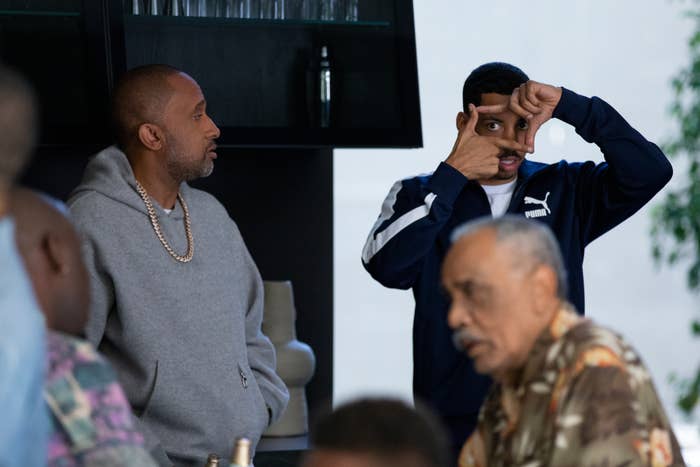 "My life is like Curb" is a refrain heard often over the last decade or so, typically followed by "I'm the [insert alternate race or gender] Larry David." Kanye, one of many self-proclaimed Black Larry Davids, even enlisted David's longtime collaborator Larry Charles to make a Black Curb pilot. The formula of exaggerated self-satire is one many others have tried and similarly failed. Enter Kenya Barris, a man few would've probably picked to succeed where the Kanyes failed but regardless, may be the most suited. Barris has been a steadily growing force behind-the-scenes, from launching America's Next Top Model with Tyra Banks, to creating the hit sitcom black-ish and its subsequent -ish cinematic universe, and penning the likes of Girls Trip and Coming to America 2, all while securing a huge Netflix bag to produce and develop.
The first of that offering is #blackAF, a half-hour dry comedy that sees Barris approaching quantum world levels of meta self-satire. The series chronicles the lives of an affluent modern black family—particularly its patriarch's struggles to reconcile his success and rarefied air in and in spite of white America—employing narration, and a mix of archival footage, social media clips, etc. to illustrate whatever point or reference a character is making. If that sounds like black-ish, well, the thing that distinguishes the two is the man at the center. Instead of subbing in Anthony Anderson as his avatar—Barris once told me he considered making Dre a TV creator but it felt too on the nose—Kenya is in front of the camera himself, in his first starring role. Furthermore, the show's filmed mockumentary style, under the conceit that it's an NYU Tisch submission project chronicling the Barris family helmed by Drea, their second-eldest. Then, of course, there's the tone. Much like Curb retains the DNA of Seinfeld albeit in a looser, rawer, explicit fashion, #blackAF is black-ish unleashed with F-bombs aplenty, negligent parenting and family members displaying disdain for each other more often than they do affection. You thought Dre and Rainbow's multi-episode separation arc was heavy? TV-Kenya and Joya (Rashida Jones, playing a loose interpolation of Rainbow Barris) frequently seem like they're on the precipice of a marriage-ending blowout.
Despite the obvious comparisons, it'd be disingenuous to say #blackAF isn't charging through frontiers black-ish already cleared. Seeing a well-off black family on primetime ABC to Trump's chagrin is one thing, but it hits harder on a series that films in Kenya Barris' actual, gorgeous home. Still, it's hard to watch #blackAF and not wish Kenya didn't stray further from his flagship show's formula. The Dre Jonhson history lessons and pop culture explainer cutaways work for a cute ABC sitcom—here, they grind the momentum of any given scene to a screeching halt. When Drea namedrops Asahd Khaled as a reference for inherited wealth, we need cutaways to IG footage of him even less than the chyrons explaining who Steve Levitan and Scooter Braun are; the sharpness of the reference is immediately dulled by the explanation. And for every joke set-up and subsequent beat that makes efficient use of the documentary device, it still feels like a guardrail, bowling lane bumpers to make the story and characters palatable as quickly as possible. These are nitpicks on a series that's otherwise enjoyable: The dialog is witty, acerbic and incisive; when challenged on listing his children's birth dates, Kenya refers to one as a "Game 6 baby" and another as a "Sunday Coachella headliner conflict." One-liners like that give first-time actor Kenya space to get more comfortable in front of the camera with each episode.
And not every black-ish holdover is a detriment. On that show, Dre's moral quandary of the week worms its way into work meetings, where he can conveniently bounce thoughts off of his co-workers and field perspectives of different age, race, class and gender. On #blackAF, Kenya's work refuge is a writer's room, where this device feels much more organic, so much so that it helps facilitate what is easily the show's best episode. #blackAF isn't just a lavishly-produced excuse for navel-gazing self-deprecation at Barris' expense, it's a platform for him to tackle the crisis of being a successful black creator in Hollywood more acutely than he ever could on black-ish. That premise is maximalized in Episode 5 "yo, between you and me...this is because of slavery" (each episode title is a recurring gag on Kenya's penchant for tracing every issue back to slavery that's not quite as funny as the creator thinks) where Kenya stews over whether he should publicly endorse a new film from a black creator that he thinks is trash.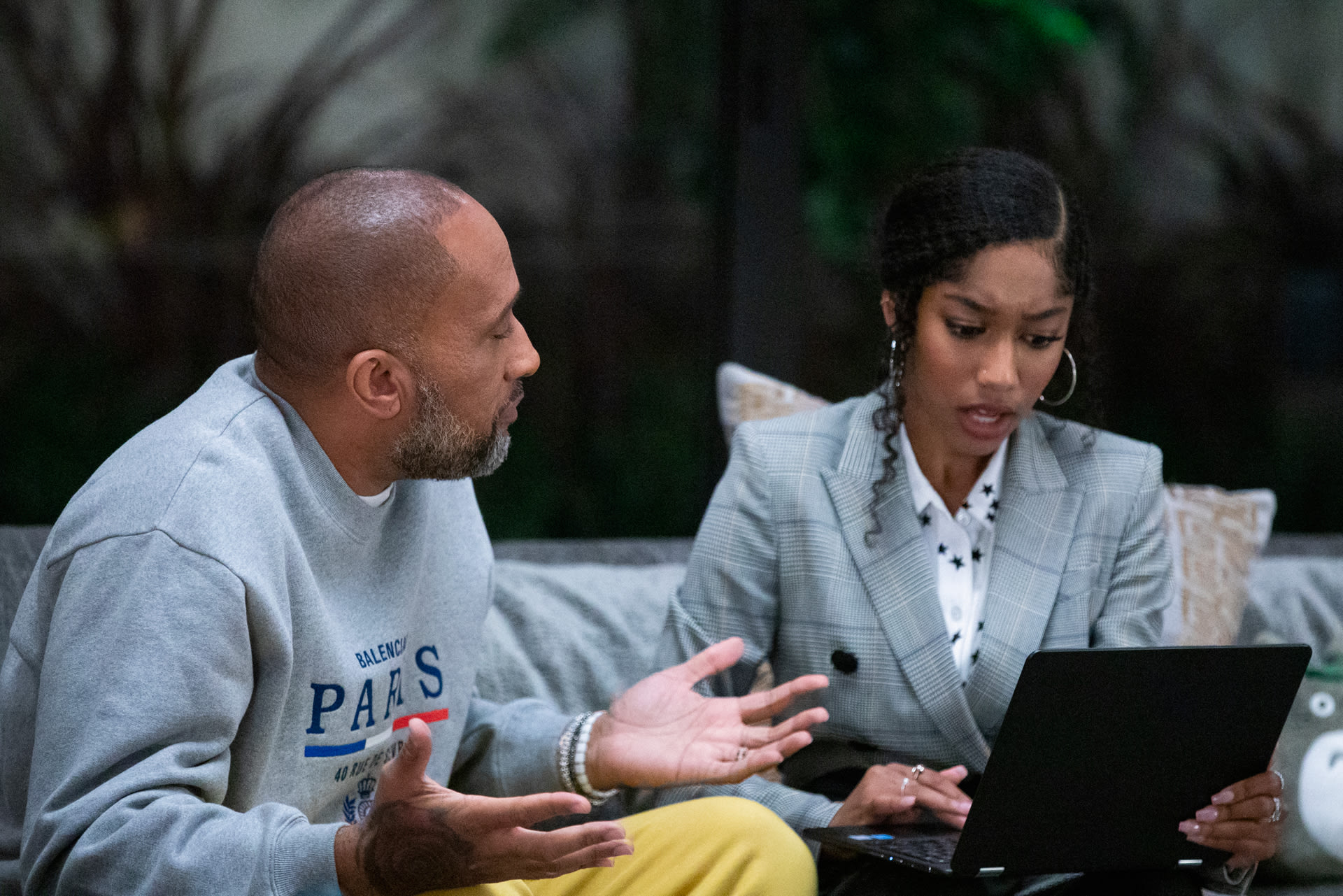 Up to and after this point, the series withholds on the celeb cameos a show following the day-to-day of a guy like Kenya Barris would typically yield. It's like he saved them all for this one episode, which boasts a fully-loaded clip ranging from a hilariously frank Tyler Perry, a star-studded group Zoom (which gives off incidental quarantine vibes), plus Mike Epps and Kym Whitley as Barris family members for good measure. (Aside: Melvin Gregg, who appears here as another family member, is quickly becoming one of my favorite new character actors). But they aren't appearing just to validate the show's setting and Barris' life, but rather to help him dissect the issue of solidarity versus genuine criticism. The episode starts with Kenya and Drea screening the movie and bonding over their hatred of it—but not before Kenya agrees to lead another tastemaker screening in the following days. The rest of the installment tracks his odyssey of volleying on his decision to back the film or back away, seeking insight from all sources along the way: his decidedly un-Hollywood family members (they love it); his writing staff (the white writers offer empty platitudes like "it was well-cast" in place genuine criticisms); and finally Tyler Perry who diagnoses Kenya's problem as being a black creative seeking white critical validation when, to Perry, the black audience's acclaim should be all that matters. And while Chris Rock isn't name-dropped, the core concept of his iconic "White Dentist" joke is espoused. Wouldn't true equality mean giving black entertainers the space to be mediocre?
In a late-aughts interview, JAY-Z half-jokingly said "[Hip-hop] needs a board" in response to the perceived deluge of clown rappers who threatened to dilute the genre. Here, after meeting with Perry, Kenya attempts to actually make one with his peers Issa Rae, Lena Waithe, Ava Duvernay, Tim Story and Will Packer in an effort to keep the momentum in Black Hollywood going while weeding out the wack among the pack. Instead, their group call quickly devolves into them poking holes in his intentions, highlighting some hypocrisy in his opinion, roasting him and Packer firing him from writing Girls Trip 2. Only Waithe has his back, offering to co-host the panel with him and lead a constructive discussion that doesn't let the [fictional] writer-director off the hook for some suss choices. At the actual event though, she quickly throws him under the bus then reverses over him, ultimately championing the film as a win for the culture.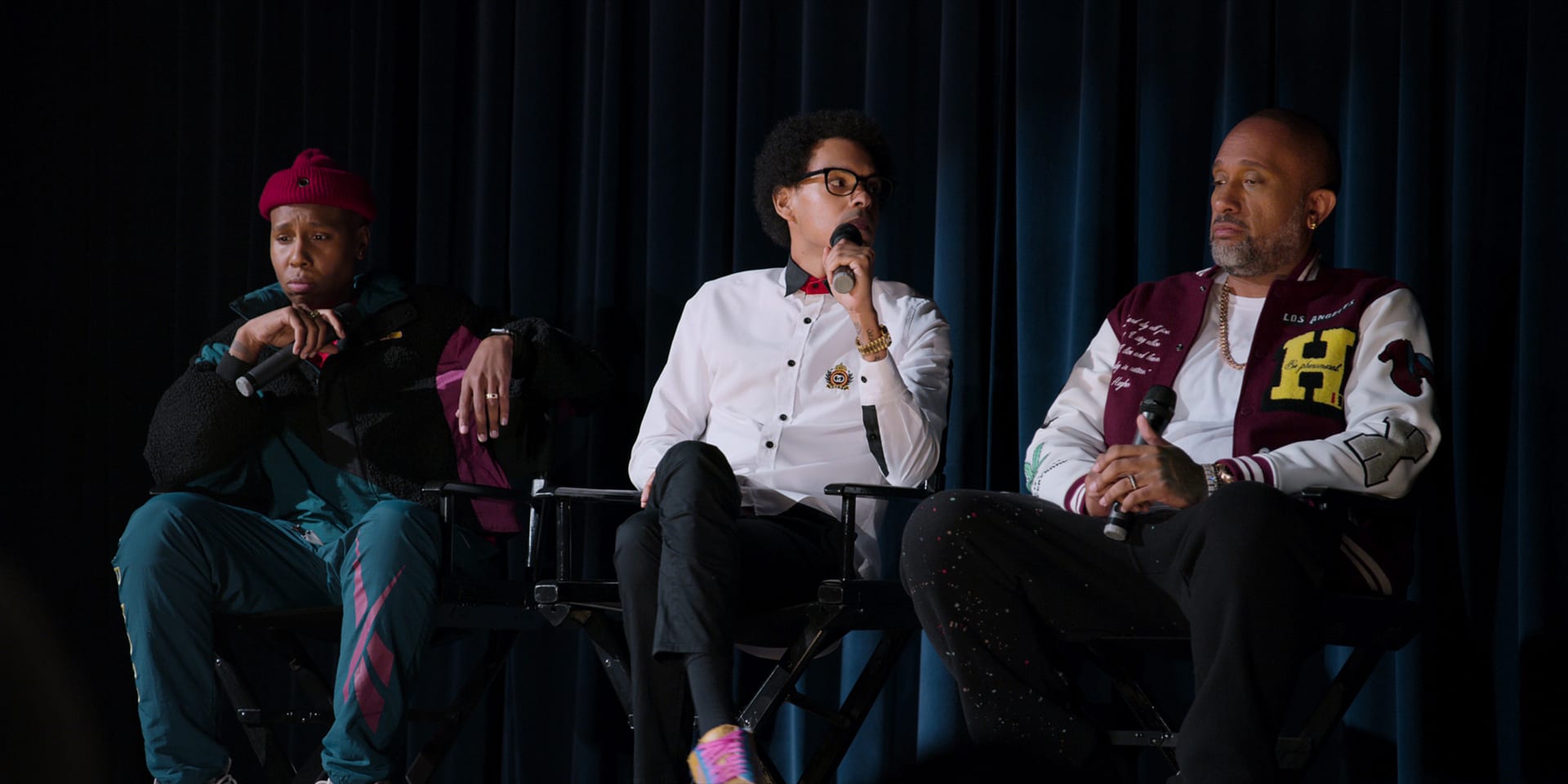 This episode, written by Hale Rothstein represents the creative potential of this series in a microcosm; it's firing on almost every cylinder the show presents in the pilot. (Kenya and Drea never seem like more of a fully realized father-daughter than bonding over their shared disdain for the film here.) Joya's subplot of always having to prove her blackness as a mixed woman dovetails nicely into the main plot, as Kenya worries that even his art has only gotten them this far because of misguided solidarity. Her panic also facilitates the family cookout, which provided the most endearingly relatable (read: triggering) moment of the episode for me: Kenya's relatives countering his derisive attitude towards certain black films as him favoring their white counterparts simply because they have "prestige." (The second was an exhausted Joya telling her movie-snob husband and Tisch-hopeful daughter that she "doesn't watch movies" like them.) It's an intriguing interrogation of the so-called Black Hollywood movement—particularly the wariness that it might just be a phase, while also feeling incredibly relatable.
The industry isn't #blackAF's chief concern, but given Kenya's stature, it's a well the show could've visited more in its debut season. Sadly, Episode 5 is the most we really get, but like every good Hollywood satire, there's potent insight as well as some truly brilliant meta-gags. (I especially enjoyed Kenya double-checking with handlers like his lawyer or manager that their assistant wasn't on the line before speaking frankly.) Kenya's fear that the swelling Black Hollywood movement might just be a phase white gatekeepers are enabling while it's en vogue is a bracing idea to see unfold on a major Netflix production (as is the assertion that white critics are too bemused to review black films genuinely), the classic Wesley Morris essay writ large. And while the group call is great (Ava Duvernay lowkey steals the show), the extended bit with Waithe is the stuff celeb cameos are made of; the critiques Kenya hurls at the fictional director literally could've been taken from one of Queen & Slim's mixed reviews. That she'd appear in an episode with this theme, and play the heel at that, is as delicious as it is endearing. R-rated black-ish is cool, but more episodes like this in Season 2 will really help #blackAF validate its existence.