 "You lied to me," Anthony Anderson bellows to the crew chief with faux annoyance. We're in the backyard of a swanky Burbank home, where Anderson has been treading water in the shallow-end of the wide built-in pool for hours. He and a crew of set technicians, writers, directors, and extras have been filming the climactic scene of the Feb. 10 episode of black-ish for so many takes and cuts that he's had to change into dry copies of the same shirt in between. When lunch came, he thought he'd be done for the day. Not so. He's got to get back into the pool, and back into character as Dre, patriarch of the Johnsons, the comfortably middle-class black family living in the 'burbs, and pretend to drown for several more takes while his youngest child saves him, and her twin and his wife watch on in comedic horror.
How does Dre find himself in this precarious position? Well, because, in keeping with the stereotype, he doesn't know how to swim. And yet, here he is in this pool, one of few black faces around, because when a casually racist white neighbor invited him to her pool party—after he confronted her about neglecting to invite his family at all—her offhand query, "Can you swim?" is met with an automatically indignant, "of course." Dre's neighbor asked a harmless question that was subliminally offensive, and Dre reflexively rejected a stereotype, even though it happened to be true in his case. Such is the comedic tension of black-ish.
When black-ish debuted, some expected a series that would pick up the slack, boldly tackling relevant social issues and re-claiming the conversation. As the series moved forward, it defined itself less on a political agenda, and more as an autobiography. The series follows Anderson as Dre, a Compton native turned Sherman Oaks resident with a cushy job, brilliant doctor wife named Rainbow, and four kids. The exact same sentence could be said to describe Kenya Barris—only, he has five kids. And his cushy job? Screenwriting, obviously, instead of Dre's gig as an ad man. But that's not to say a complete one-to-one imitation wasn't considered: "I wanted him to be a television writer. It was based on my own life, but we felt like that wouldn't resonate with America in the same way that advertising does," Kenya admits.
"I looked at my kids and they're growing up
different than I did. I felt like, who are they?
they were black-ish."
—kenya barris
Kenya is a busy man these days. When I meet him a little after 9 a.m. on the black-ish set, his day is far from just starting, and even further from ending. Presiding over one of the funniest half-hours on TV can take upwards of 14 hours a day. If Kenya is burnt out, it doesn't show. He's freshly dressed, on-trend in a denim shirt, black cargo pants, and Bred 1 Js. At 6'3" he's a commanding presence, but not an intimidating one, as we stride around the presently empty set. It's December, but the crew is busy filming the aforementioned "Sink or Swim" episode, while the writer's room is busy adding edits to the scripts for the succeeding episodes.
Now in the middle of its second year, with a weekly average of about six million viewers, black-ish is a hit by broadcast network standards, the last place where ratings still matter. Just 18 months after the show's premiere, its creator, 41-year-old Kenya Barris, has gone from freshman showrunner to a top spot on the Hollywood Reporter's list of industry power players. But the show's position as both a crowd pleaser and a critical darling wasn't a sure fate. In an era of TV shows that were previously devoid of color, black-ish's announcement evoked as much anxiety as it did curiosity. It could go one of two ways. Finally, after a boon in the '90s and a curious drop-off in both quality and quantity afterwards, here was a contemporary sitcom for Us. Or, here was a brick-on-arrival, an attempt to cash in on filling the dark void while offering not much else. Instead, black-ish stared at the fork in the road and went straight.
"I grew up in the hood. My wife grew up in a different situation than I did. I looked at my kids and they're growing up different than I did. I felt like, who are they? Who are these kids? The idea of what I had grown up to think what black was, they were not that. They were a distilled version of that. They were black-ish. Or black lite. Whatever. Then I looked around at their friends, a lot of them weren't black, and they were way more black than I remembered white kids being. In that aspect they were kind of black-ish too."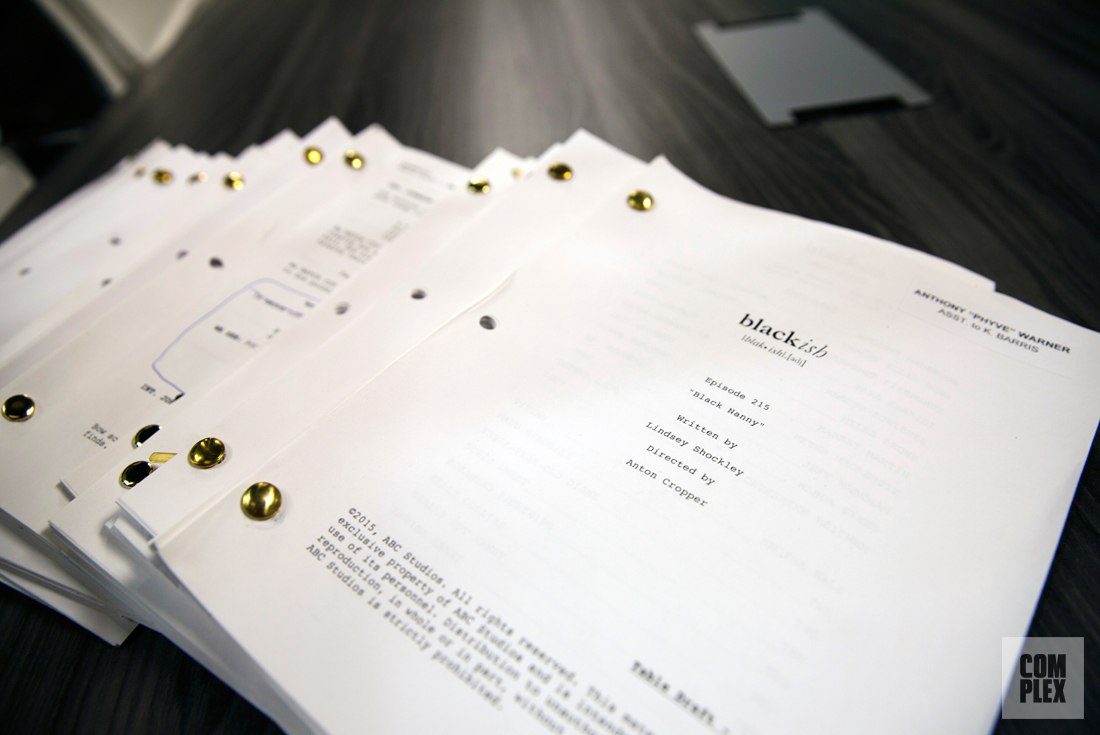 It was the need to reconcile—and confront—this daily bemusement that led Kenya to create what is now black-ish. Tracee Ellis Ross co-stars as Rainbow opposite Anderson's Dre, and then there are the children: Yara Shahidi's shrewd material girl Zoe, Marcus Scribner's doofus Junior, Miles Brown's puppy-dog Jack, and his diabolical, scene-stealing twin sister Diane, played by Marsai Martin. The show initially drew comparisons to The Cosby Show, comparisons that while maybe well intentioned are actually diminutive, considering stylistic flourishes like cutaways, time-jumps, and sight gags. "As crazy as you may think your story is, if you tell the most honest version of it, it will probably resonate with more people than you think," says Kenya. "That was the lesson I learned for the show: Stop trying to appeal to everyone and just tell the most honest version of what this family is going through."
Maybe that's because what the Barris family is going through is, as Kenya says himself, a common trope of society. So common that it's not just the day-to-day experiences of his family that make up the plots, but that of the cast and crew. The pilot ends with Dre relenting and throwing Junior a Bro Mitzvah, after much handwringing over his interest in decidedly non-black practices like mitzvahs and field hockey. Anthony Anderson actually did that for his own son, and later literally trademarked the term.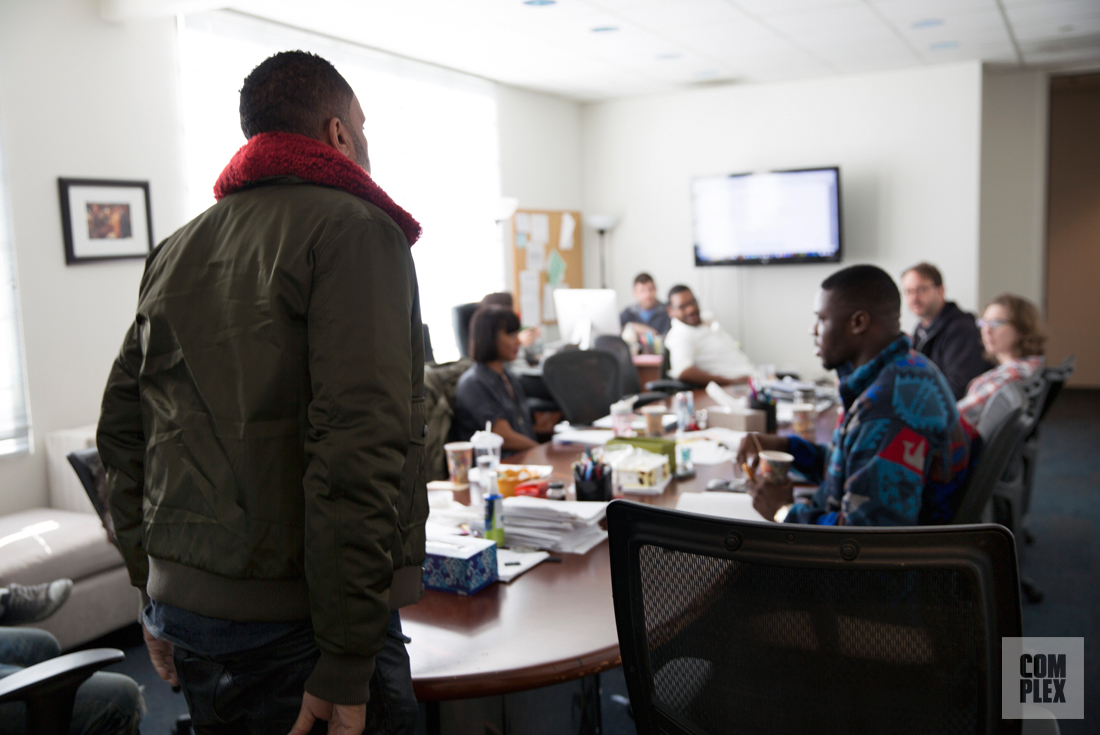 The cameras roll as Anderson continues to faux-languish in the Burbank pool while Ross and their two youngest TV kids look on in horror. Meanwhile, in an office just around the corner from the main lot sits the black-ish writers, hard at work crafting the Johnson family's next series of generational misunderstandings. On my days there, hard work is peppered with all kinds of deviations and detours. Like their hilarious reaction to a sitcom that placed higher than them on a 2015 best of list, which shall go unnamed. Or the debate about female rappers that springs up when one declares The Miseducation of Lauryn Hill as overrated. It's an opinion Kenya regards as wild as fuck, but a room full of wildly varying opinions is exactly what he was shooting for when assembling the team. 
"It's not just gender. We have a lot of women. It's not just race. We have a lot of white people and black people, asian people," Kenya tells me. "The guy who made the Miseducation statement. He was a black guy, Courtney Lilly. He was a day late starting the job because he went to go see Kate Bush. He flew to London to see her. I was like, 'What did you do? Who did I just hire?' That's who he is as a black dude. I like that his experience is totally different from mine. There are moments where we get in the place where we relate, the small nuances of what it is like to black."
"We are not law & Order. We are not just ripping things from the headlines."
—Kenya barris
"Sink or Swim," the episode currently being filmed, is built around addressing, unpacking, and subverting the stereotype that black men can't swim. It was written by Gail Lerner, a curly-haired TV veteran who also happens to be white. On set, in between takes of Anderson flailing around, Gail tells me she loves to assert her own agenda into her credited episodes.
Her comment becomes crystal clear when the majestic Tracee Ellis Ross descends onto set later in the day for her own scenes. While Dre treads water, Rainbow's tears into a Real Housewives-type who Bow thinks is shading her for not doing enough PTA activities. Only, Blair is not the stay-at-home trophy wife Rainbow assumes, and Bow is eventually reduced to that classic Tracee-manic freakout face until she's saved by Dre's near-drowning outside.
After a few more takes of the scene, one of the makeup ladies commiserates with Gail over the fear of being a working mom who is seen as not doing enough, and she declares that "Sink or Swim" is a "great 'Woman Episode.'" So to recap, when this episode airs, the concurrent plotlines will be offering subversion not only on another black stereotype, but on the double-edged duality of working parents. Blair, the Real Housewife, who flaunts a perfection that can presumably only be attained by having nothing else to do all day, is actually a neurosurgeon.
The current season may have started with the one-two punch of addressing the N-Word and gun ownership, but "ripped from the headlines of their own neuroses" is more the mission statement in the black-ish writers room than riffing on actual current events. It's why Kenya didn't pursue an N-word episode earlier, even though the impulse was there. "We didn't have the right entry point. That's the biggest part," he says. "We are not Law & Order. We are not ripping things from the headlines. We don't just force a story. We are also not a politicized show. We are not really doing a Black Lives Matter episode because I'm not versed enough to really do that topic justice, and it's not where this family right is at right now. But it will affect them some way. We will have something that is tangential to that topic, because it's part of their lives."
Eventually, an episode revolving around the N-word came to fruition organically. Kenya was looking at his daughter's phone when he discovered some friends in her group text message thread throwing the word around who definitely didn't seem like they had proper clearance (one kid's name was Asher). The scene on the show played out almost identically, down to the name.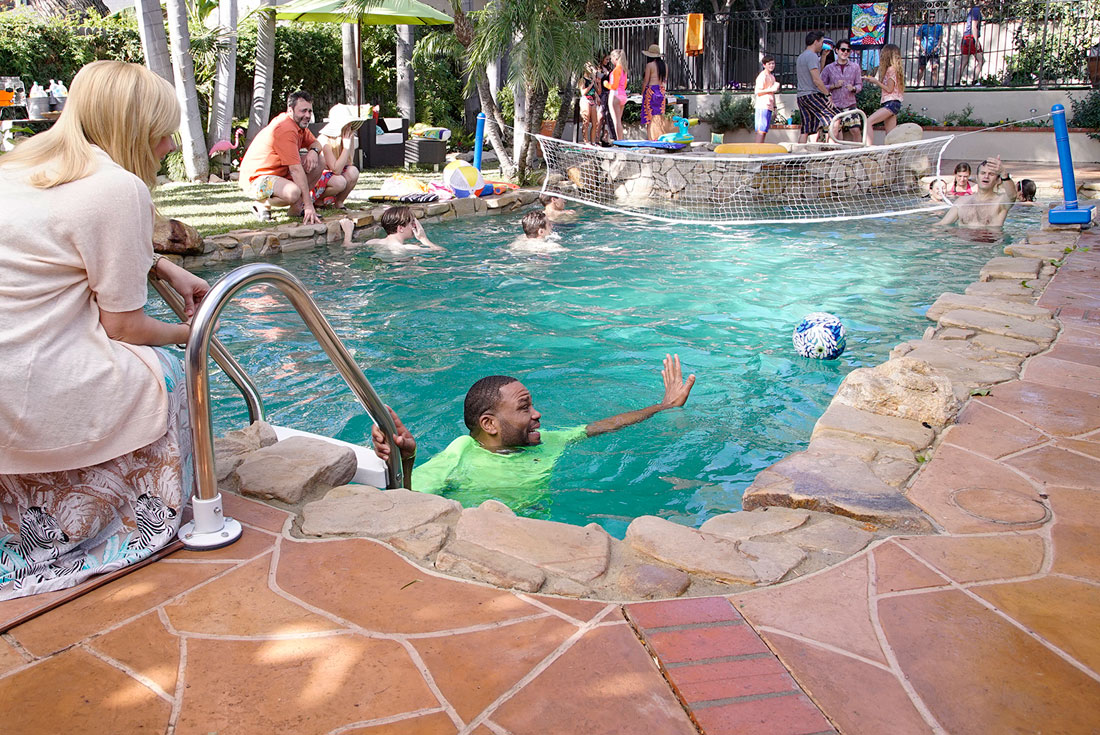 Instead of forcing relevant topics, Kenya aims to spark a conversation with broad appeal, despite a seemingly insular access point. Part of the show's success lies in a deceptively simple episodic structure. "It's three generations of people in the house. We thought that that set up the generational conflict. I think that's a really big thing. Then within those generational conflicts you have different sides of the coin. Bow comes from a totally different point of view than Dre, at times. [Stevens & Lido, Dre's office] is set up as a place that represents what the world's opinion is, how they think back and reflect on what mainstream America says." That's not to say that Kenya and his team don't each have their own ideas for topics they'd like to incorporate down the line. Among them: a gay wedding for Dre's sister, played by Raven Symone, and one of the kids developing a definite attraction outside of their race. "At some point, we want to find out that Bow might make more money than Dre," Kenya adds. "How that affects the male psyche, especially in a house, as a black dude, where you learn you are the provider, the man—that kind of thing."
The show's appeal is rooted in Kenya's vision, specifically, as Gail describes, how generous he is with it. The story of his middle-class black family also finds room for Gail's story as a working mother. It's how an episode like "Church" can feature a joke so specific—on the intricacies of Baptist churches—but doesn't necessarily need to hinge on whether or not the audience gets the joke. (What's more, Gail says there's a through-line that can be drawn between that and say, Jewish women at delis.) 
The honesty truly is resonating at a high level. The people who get it, will get it, Kenya says and Gail later reaffirms. The hope is that the execution is so thorough that the intelligence and honesty of the joke will reveal itself without a translation. The ratings would seem to confirm that this approach is working. Even more so when you factor in that only 22 percent of people who watch the show live are black.
"When Kenya's around, everything clicks."
—Christian Adkins, black-ish Production assistant
"It's power." I'm talking between takes with Christian Adkins, a production assistant on the main set, and those are the two words he replies with when asked what he thinks of Kenya Barris. Power is how Kenya keeps the black-ish family afloat and the machine running, and it's what he exudes to Adkins and his co-workers on this extremely familial set. (I'm told repeatedly that a close, friendly crew is a Hollywood rarity to be cherished.) Fun and inspiring are the next descriptors. "Whenever he's around, everything clicks," Adkins says. "If it's a day when we're dragging, the actors aren't hitting their notes or whatever, when he comes to set suddenly everything clicks back into place. He's very chill, always swagged out, and the way he presents his notes is always relatable." How is the workplace, and Kenya himself, always so chill? Maybe it's because of the "instinctual" way he relates his messages, both in delegating to the cast and crew, and within the series itself.
Kenya has pulled off one of the trickiest feats an entertainer can ever manage: an autobiographical experience, filtered through a wider socio-racial lens but distilled in a way that manages to speak to and include everybody, without compromise that often undoes the former and renders the entire work inauthentic. black-ish is, in many ways, the Bennetton of sitcoms. No shots at its programming predecessor, but it's the real modern family. Sometimes the conflict calls "blackness" into question, but many other times the episodes are about the kind of familial miscommunication that rings true to any family, regardless of race. By putting a family of color through traditional family misadventures, it's an even more honest reflection of modern society. Amber Rose was a guest star; Kenya is shooting for Ta-Nehisi Coates too. And somehow, the appearance of either in the same season wouldn't be the least bit jarring.
If the show's success seems surprising or refreshing, it's because it's been awhile since a black sitcom of quality flourished on such a big playing field. Think back to the '90s, the era of Martin, The Fresh Prince, Living Single, Family Matters, The Jamie Foxx Show—acclaimed black sitcoms of varying subject matter, all with healthy, concurrent runs across ABC, FOX, The WB, and NBC, and overlapping with the end of popular '80s classics like The Cosby Show and A Different World. Smash cut to the aughts though, and the presence of diverse if not fully minority-driven comedies suddenly goes ghost. There was Girlfriends, the mediocre My Wife and Kids, and not much else.  And don't forget, black-ish airs on ABC, the same network that just a few years ago touted having one black guy, Damon Wayans Jr., on Happy Endings, a show full of white people, as if they had just solved race relations.
Kenya acknowledges that diversity in television ebbs and flows: "We had this rebirth of black television at a certain point in the '90s. All of a sudden there's this new crop of shows. I think that the networks at that time needed viewers. A lot of it was a lot of good programming. They built their ratings. After the networks got their viewership, they slowly started dropping in a white show here and there. Suddenly you saw those shows, the ones that their backs were built on, go away. That was a real model. Look at The CW. It's as white as it can be now. It used to be home of the black show. You had this drought of black network television. I think Shonda Rhimes really helped a lot with her shows. They were sort of colorless with the casting, but they were still of the mind of a black woman. She definitely made sure she had a lot of diversity within the cast. ABC gave us a really big shot with this show. So far it has worked."
Black Hollywood is clearly cognizant of the 21st century drought, which is probably a factor when it comes to the success of refreshing hits like black-ish or Empire. It runs deeper than plot points and guest stars: the show, which boasts a heavenly soundtrack, has hits from the likes of Jay Z and Kanye West that you'd be hard pressed to hear anywhere else. The song that facilitated the "N-word" incident? It was "Gold Digger." Kanye personally cleared it. One has to imagine he got a real kick out of the way it was used.
"When you have kids, you're taught to give them more
than you have. But in
doing that, what are you taking from them?"
—kenya Barris
It's fitting that Kenya and I mostly talked on the set of Stevens & Lido—the ad agency where Dre routinely has workplace confessionals to mete out, commiserate about and eventually find clarity, in the weekly dramas of patriarchy. In a meta sense, we're essentially where Kenya does the same, where he navigates the perpetual back-and-forth of giving his family an upbringing he didn't have, while still being bemused by their daily behavior. Is it tense, I ask?
"Hell yeah, there's tension," Kenya laughs. "I have to take a step back. I think that's where my wife helps. She has a different point of view. When you have kids, you're taught to give them more than you have. But in doing that, in giving them more, what are you taking from them? What parts of growing up in the hood did I take with me that really helped with how I got here, that my kids are not going to have?"
When the black-ish day wraps, Kenya goes home to work on the myriad of other projects he's been juggling since the show opened. He's currently splitting his time between a sitcom based on beloved couple Chrissy Teigen and John Legend, Barbershop 3, a Shaft reboot, and a female comedy he describes as Bridesmaids meets The Hangover. But it all comes down to black-ish, his fictional family, and the actual family bond that's formed between the cast, crew, and writers. Despite an onslaught of opportunities rolling in, he doesn't see himself ever stepping away.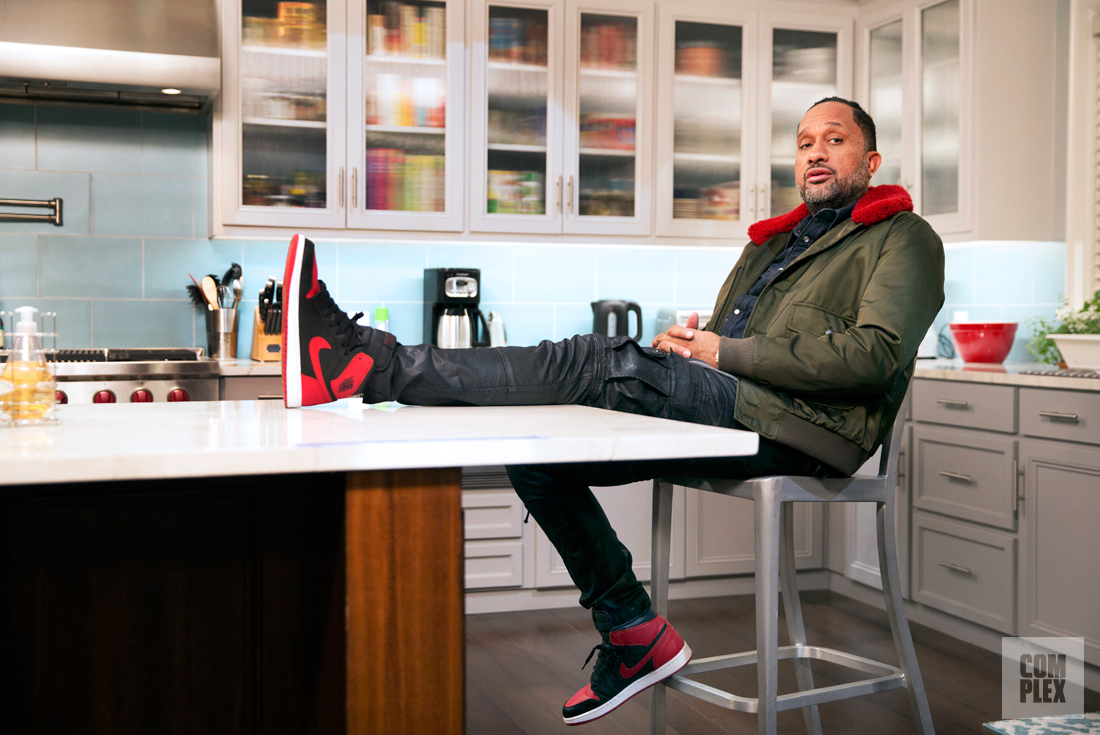 The focus now is on maintaining the show's masterful tone, a balancing act that has felled many a great sitcom. "The tone does mature. There's nothing you can do about that," Kenya admits. "I have to watch it so it doesn't get away from you. The characters are the part that you really can't control. Actors grow into who they are going to be. One of the biggest examples for me was Yara Shahidi. She came on and she was just going to be the angsty apathetic teenager. But she has blossomed into this amazing comedic actress. We are forced to give her more, have her do more. We saw her definitely having a role, like Denise on The Cosby Show, but she has become so much more. That makes us say, let's do more."
It's kind of just managing this living organism.
"It's like a baby. You start off saying, 'My baby is going to be a doctor.' Next thing you know your baby is a basketball player, your baby is in jail, who knows?" 
Your baby could be asking for a Bro Mitzvah.
"Exactly."