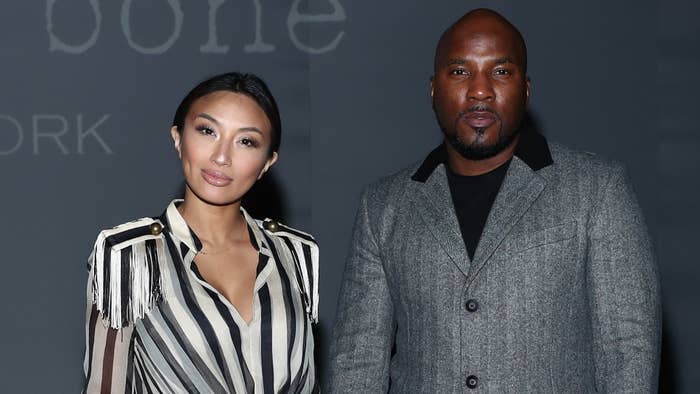 Jeezy finally tied the knot with Jeannie Mai. 
On Saturday, the rapper and TV host were wed in a ceremony held at their Atlanta home. The couple shared an exclusive look at their nuptials with Vogue. Mai explained to Vogue that they wanted to create a COVID-19-friendly environment, which included moving the venue from the south of France to their backyard.
"We were really looking forward to having all of our friends and family there to celebrate," she explained. "But we had to change all of our wedding plans due to COVID. After Jeezy's mother unexpectedly passed, we quickly learned that life is too short. And at the end of the day, Jeezy and I really just wanted to become husband and wife. So we decided to turn our original wedding into a mini-mony, where we exchanged our vows in front of our immediate family and a few close friends."
Guests received COVID tests two days before the ceremony, then were shuttled to the home to watch Mai and Jeezy exchange vows. Before the wedding began, Jeezy and Mai participated in a traditional Vietnamese tea ceremony to pay respects to Mai's parents. The Snowman also surprised Mai by having Tyrese serenade her with his 1999 hit single, "Sweet Lady."
The couple began dating in 2018 after meeting on the set of Mai's talk show, The Real, but they didn't make their relationship public until 2019. Like their wedding, the pandemic also threw a wrench in Jeezy's engagement plans. He originally planned to pay homage to Mai's roots with a surprise trip to Vietnam. After being grounded by COVID, he put together a special Vietnam-themed night in March 2020 to set the scene for his proposal.
Congratulations to the newlyweds, Jeezy and Jeannie Mai.