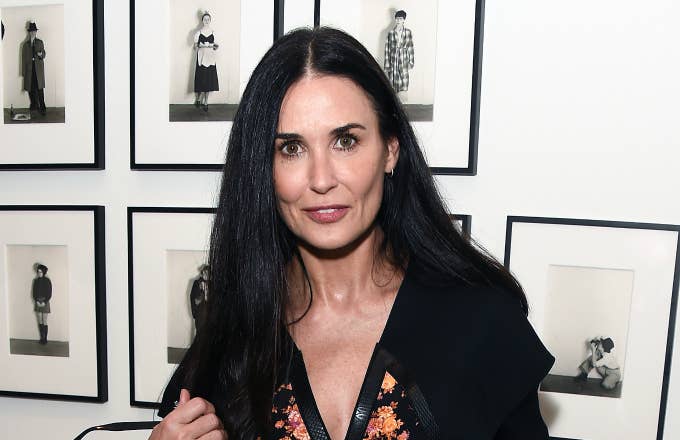 WARNING: This story contains explicit descriptions of rape and sexual assault; the information may be triggering for survivors of sexual violence. 
In her new memoir, Inside Out, Demi Moore opens up about the traumatic events she's experienced throughout her life. This led her to disclose that her mother—who was addicted to alcohol—allowed a man to rape her for $500 when she was just 15-years-old. 
During a press run for the book's release, Moore sat down for a one-on-one interview with Diane Sawyer on Good Morning America. In a clip from the interview, Sawyer reads a paraphrased passage from Moore's autobiography that details the incident.
"[Moore was] taken by her mother to bars, so that men will notice them. She's 15 when she comes home one night and an older man they know is in the apartment with the key," Sawyer says. "She writes, 'It was rape and a devastating betrayal,' revealed by the man's cruel question, 'How does it feel to be whored by your mother for $500?'" This prompted Sawyer to ask Moore if she believes her mother sold her to the man. 
"I think, in my deep heart, no. I don't think it was a straightforward transaction," Moore replied. "But she still did give him the access. And put me in harm's way."
Moore also describes living with her suicidal mother and having to save her on multiple occasions. "She writes, 'I remember using my fingers—the small fingers of a child—to dig the pills my mother had tried to swallow out of her mouth,'" Sawyer reads before Moore revealed that this wasn't the only time her mother attempted suicide. Moore's Inside Out will hit shelves on Tuesday and is available for preorder.