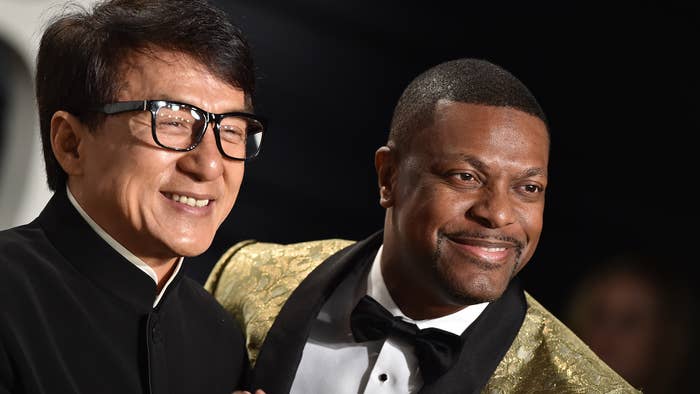 Chris Tucker is ramping up the excitement for Rush Hour 4 again.
During an interview with V-103 in Atlanta, Tucker talked about returning to the big screen in recent years while discussing his role in Ben Affleck's Air.
The hosts asked if he's "back working now," and 51-year-old Tucker replied, "I wanna work till I drop now. I traveled the world over and over again...now I'm ready to work. You're gonna see a lot of good stuff coming, but it's gonna be on a whole 'nother level. That's what I like about it, I'm excited about that, it's not gonna be what you've normally seen. … Now, Rush Hour 4, that's something I definitely will probably drop in there, 'cause I love working with Jackie. But I've got some new stuff I think y'all really gonna like."
Rush Hour premiered in 1998; its sequels hit in 2001 and '07. After Rush Hour 3, Tucker wasn't seen onscreen for more than five years, when he did Silver Linings Playbook. Between that heavily Oscar-nominated film and this year's Air, he only appeared in 2016's Billy Flynn's Long Halftime Walk.
Back in 2018, Tucker confirmed Rush Hour 4 was a go and would be "the rush of all rushes."
"Jackie is ready and we want to do this so that people don't ever forget it," he added at the time.
While not a lot of movement has happened since then, Jackie Chan has been vocal about waiting on a quality script. However, last December, the 68-year-old said they were presently talking about Rush Hour 4.
It is unclear if director and producer Brett Ratner will be involved in Rush Hour 4. He was accused of sexual harassment and misconduct in 2017, and Warner Bros. officially cut ties with him the next year.