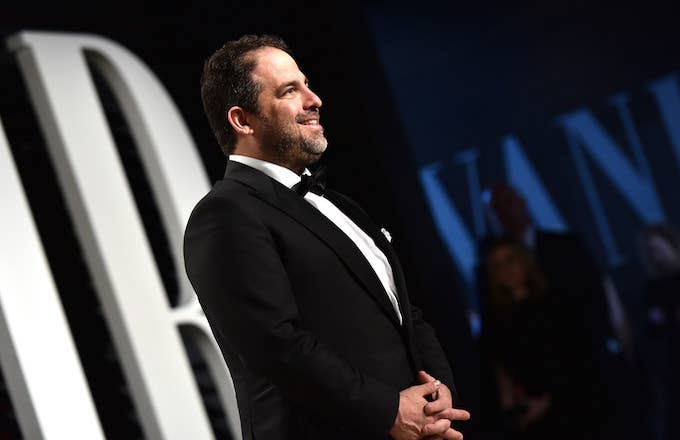 The #MeToo movement has caught up to Brett Ratner with the tangible consequences stemming from misconduct allegations finally facing him, as Warner Bros.—longtime business partner—officially cuts its ties to the disreputable director.
Brett Ratner was once a wunderkind, of sorts. Before Rush Hour, the NYU student hustled his way to Hollywood success by befriending Def Jam founder Russell Simmons, and shooting music videos for Public Enemy, Heavy D, Redman, and the Wu-Tang Clan. This is the dude who shot "Triumph," and gave us the Jackie Chan/Chris Tucker movie we didn't even know we needed. Unfortunately, this is also the same man who's been accused of horrific sexual misconduct in the past few years, with allegations ranging from negligent behavior at best, to actual rape. 
According to The Los Angeles Times, the major Hollywood studio has decided not to renew its $450 million financing deal with Brett Ratner's RatPac-Dune Entertainment company, which is essentially the death blow for any future projects Ratner was developing through the venture. This deal was established in 2013 and was set to expire this spring, with a renewal highly likely—until the recent allegations against Ratner began interfering. The five-year deal was responsible for 75 films, with The Rock's Rampage now purported to be the last.
Publicly, the descent of Ratner's image began last November, when six women accused him of sexual assault and misconduct. Melanie Kohler put it most bluntly, stating in a Facebook post, "Brett Ratner raped me." She called him "a rapist on at least one night in Hollywood about 12 years ago," and that he "preyed on me as a drunk girl (and) forced himself upon me." Actresses Natasha Henstridge, Olivia Munn, and Ellen Page, too, claimed the director assaulted or mistreated them. Russell Simmons has been accused of assaulting a teenage model while Brett Ratner sat by idly and watched.
Though Ratner sidestepped all of these allegations, he did step away from Warner Bros. in order not to taint the studio's projects. "In light of the allegations being made, I am choosing to personally step away from all Warner Bros.- related activities," wrote Ratner. "I don't want to have any possible negative impact to the studio until these personal issues are resolved."
Well, according to /Film, these issues are resolving themselves, with or without Ratner. Though the 2017 statements released by both the director and Warner Bros. claimed he was detaching himself from the studio for an unspecified amount of time, we now know that this was likely just a business move attempting to manage the situation. Warner Bros. is now much firmer in its stance, stating that Ratner "no longer has an office on the Warner Bros. lot," and that he is no longer attached to future projects at the studio. One of these was a biopic of Playboy founder Hugh Heffner, with Jared Leto famously removing himself from that conversation amidst these allegations.
This is yet another story of a man who likely once thought he was socially invincible, with success and greed fueling an ego that led him to think he could take and do whatever he wanted. In this modern era of #MeToo and #TimesUp movements, many of these guys are publicly receiving their comeuppance. Ratner is just another once-powerful Hollywood entity being wiped off the playing board, so the rest of us can sensibly move forward.