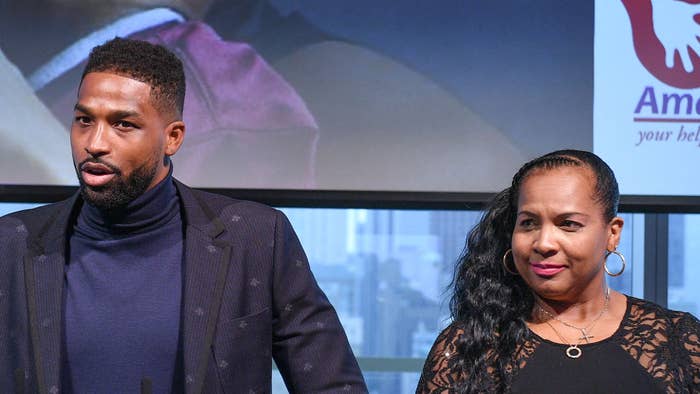 On Sunday, Tristan Thompson honored his late mother Andrea in an emotional letter on Instagram. 
In the touching tribute, the NBA star shared photos of him and Andrea Thompson together throughout the years. He reflected on past mistakes and shared hopes for the future in a lengthy caption. 
"Dearest mommy in heaven, It has been one month since you've been gone. I'm in disbelief. I'm in the deepest part of sorrow & grief," the 31-year-old athlete wrote. "My soul is empty as I come to terms that my biggest supporter/superhero is gone. I cannot thank you enough for always being a woman of faith, being one of God's warriors, fighting back with whatever the world threw our way. You constantly protected us through prayer. My hero you fought all the battles you needed to and it was time for you to go home."
Tristan went on to apologize for not always upholding the values his mother instilled in him as a child. He vowed to be an honorable man going forward. "All I can say is, I'm sorry mommy for the wrong decisions I've made in my life. I'm sorry for the embarrassment & pain. You raised me better than what I was able to show you," the Canadian penned. "But I have also learned sorry is not enough. Actions speak louder than worlds. So I won't just say sorry. Stay tuned to the ways I will show the world what an amazing son you raised. I will show you that even when we fall & make mistakes, we get back up."
Last month, Andrea was rushed to the hospital after suffering a heart attack in her Toronto home. She was declared deceased after doctors were unable to resuscitate her. Andrea's funeral was attended by her closest loved ones, including members of the Kardashian-Jenner family. 
Khloé Kardashian, who shares two children with Tristan, also posted a heartfelt homage to Andrea on Instagram, saying, "I feel blessed that I am lucky to have had someone that makes saying goodbye so incredibly difficult."