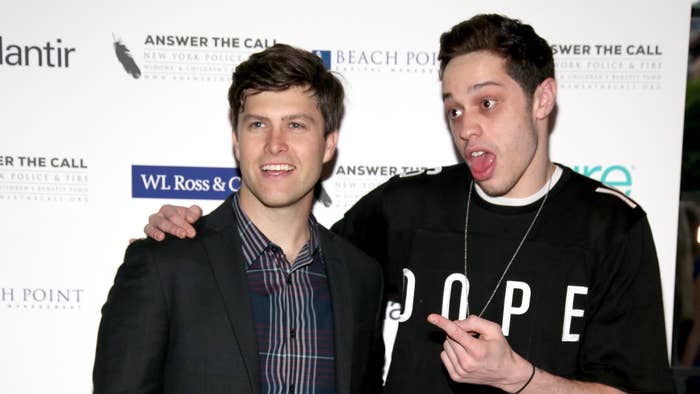 Pete Davidson and Colin Jost are embarking on a new venture that combines comedy, art, and food.
Vulture reports that the two Saturday Night Live comics have bought a decommissioned Staten Island ferry vessel, alongside comedy club owner Paul Italia. Italia placed the bid for the group, with the trio paying $280,100 for the almost 60-year-old ferry named John F. Kennedy, according to the New York City Department of Citywide Administrative Services' online auction.
Davidson and Jost are Staten Island natives, who both rode this ferry in particular during their earlier days: Jost took it into the city as a teenager and Davidson to gigs, so buying this vessel is close to their hearts. The group is looking to give the 5,200-person capacity ferry a makeover, making it fit to host people as a venue. They just have to find the boat a spot to dock.
While the auction website describes the JFK as being in "poor" condition and its engine having "mechanical issues," the hull seems to be fine. "On this vessel are numerous spare parts which are obsolete and not needed by our agency," the listening says. The JFK was retired in August 2021 after being in service since 1965.
The bidding on the boat began at $125,000. It seems that past boats that were previously purchased at auction were ultimately sent to scrap yards.
Davidson has been making headlines lately for his relationship with Kim Kardashian, which has spurred some hate from Kanye West, with the rapper even saying in a song that he would "beat Pete Davidson's ass."
Davidson isn't unaware that he is the center of conversation, as he has dated a number of high-profile women, Kim, of course, included. In fact, this week, during the 9th Annual Patrice O'Neal Comedy Benefit Concert, Davidson alluded to the chatter, saying during his stand-up routine, "There seems to be a curiosity about me, is what my friends tell me." He continued, "I was trying to figure out how to explain myself to someone because I was doing an interview." 
"I'm Tropic Thunder. I'm the diamond in the trash," he said. "It's a steal."