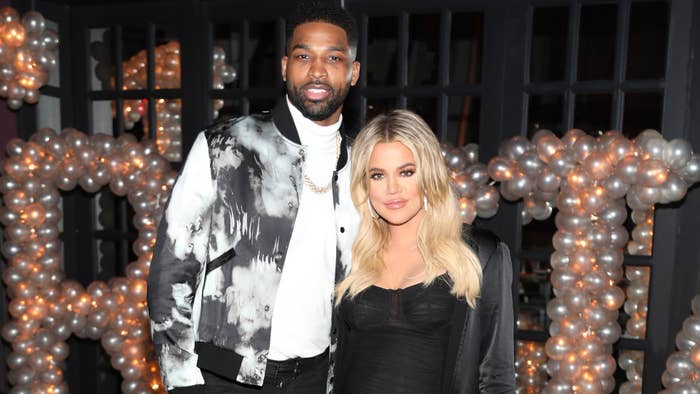 Khloé Kardashian has no plans of getting back together with Tristan Thompson.
The 38-year-old opened up about her relationship with her ex-boyfriend in a new episode of The Kardashians, per Us Weekly.
"Tristan and I, we always get along great. Him and I have a great friendship relationship. We get along fine, and for my kids, I will put anything to the side. What's done is done, so why would I be still holding on to [past drama] for?" she said.
Kardashian and Thompson share two children, 5-year-old True and 10-month-old Tatum.
"If I am not here, he is here. I would rather him be here than a nanny," she added while speaking to her mother, Kris Jenner. "There are still boundaries. Like, I definitely put my foot down on a lot of things. No one is here chilling if there are no kids involved. It is always about the kids and that's what it is. But we are not hanging out by ourselves."
Khloé said that because they are "not getting back together," she doesn't feel the "need to punish him."
"These boundaries are so important to put into place with Tristan because we have done this song and dance a handful of times already," Khloé explained in a confessional. "I've gotten back with him after a cheating scandal, so I don't know if Tristan is under the impression, 'Oh wow, let's ride this out and eventually she will get back with me.'"
She explained that she gets "why he may think that," adding that it's her job to "set boundaries that my actions show otherwise."
"I keep it very short and sweet, and I make sure he knows it is all about the kids," she said. "I can't let those old habits easily come into my life. It just isn't what I want."
The pair first got involved in September 2016 and welcomed True in April 2018.
Thompson was accused of cheating on Khloé during her pregnancy, and while they stayed together at first, the couple later split in February 2019 after he kissed Jordyn Woods. Khloé and Thompson got back together once again in August 2020, before breaking up less than a year later. They gave it one more chance in late 2021 before permanently parting ways.
Thompson also cheated on Khloé with fitness model Maralee Nichols. Thompson and Nichols now share 1-year-old son Theo.