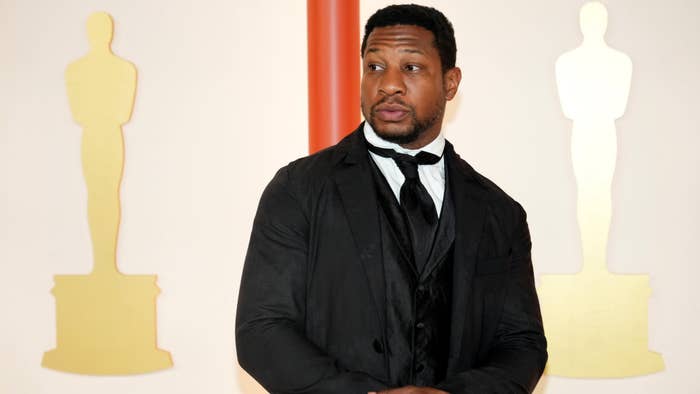 Jonathan Majors' legal troubles aren't going away anytime soon.
On monday, his attorney, Priya Chaudhry issued a new statement regarding the actor's assault case.
"We have provided the District Attorney with irrefutable evidence that the woman is lying, including video proof showing nothing happened, especially not where she claimed," Chaudhry said in a statement provided to Complex. "We did this with the explicit promise from the DA that they would not 'fix' their case and change it as we proved the woman is lying."
Chaudhry then calls the allegations a "false case," saying that "the woman's claimed location shifts, and her story morphs." Chaudhry also calls this situation a "witch hunt" against Majors.
"Instead of dismissing the allegations in the face of the woman's clear lies, the DA has adjusted the charges to match the woman's new lies," the statement continues.
Thee 33-year-old actor's legal team says they have acquired new evidence that proves he's innocent, but are reluctant to share it because they don't want the DA to "tip the woman off" and help her "change her story again."
In late March, the alleged victim accused Majors of physically attacking her, resulting in injuries. He was later arrested and arraigned on multiple charges, including several counts of assault in the third degree, attempted assault in the third degree, aggravated assault in the second degree, and harassment in the second degree.
A day later, Chaudhry said that the woman retracted her initial statements about the assault. Since then, more alleged abuse victims have come forward and Majors has been dropped by his management and publicity teams.a
If convicted, Majors faces up to a year in prison, per Deadline.
In Tuesday's statement, which came after a brief hearing which Majors attended virtually, Chaudhry also accused the responding officer of racial prejudice.
"When Mr. Majors showed a white police officer the injuries the woman caused him, the white officer got in Mr. Majors' face and taunted him, saying that if the officer were to slap Mr. Majors, the officer wouldn't break his finger. None of the white officers present investigated the assault of Mr. Majors," Chaudry added. "Worse, the District Attorney has not indicated any intention to pursue charges against the woman, or even investigate the truth."
Chaudry continued, "This glaring double standard between the treatment of Jonathan Majors, a Black man weighing 200 lbs, and his accuser, highlights the racial bias that permeates the criminal justice system."