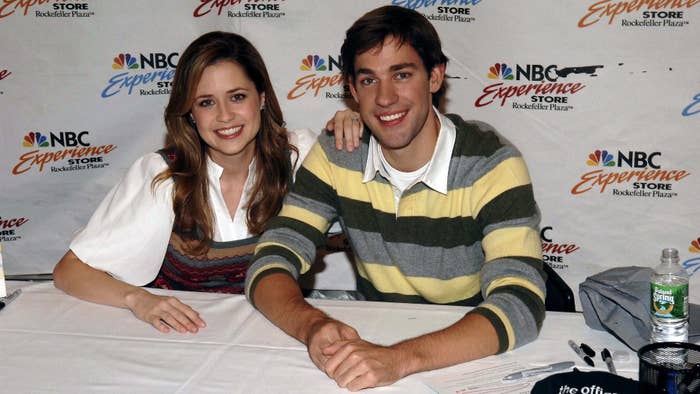 The Office fans know all about the infamous teapot that Jim gave Pam in the show's first Christmas episode.
Now, on the latest episode of The Office Ladies Podcast, Jenna Fischer and Angela Kinsey discuss the mysterious message that was inside the teapot.
In the episode from the show's second season, Jim gives Pam a teapot full of special items for Christmas. Because Michael hates the homemade oven mitt he receives from Phyllis, he makes everyone play Yankee Swap and Dwight ends up with the teapot. Jim spends most of the episode trying to get it back when Pam finally persuades Dwight to trade with her. Jim then pilfers the card from the box before she can read it.
During the podcast, Fischer reveals what was on the card—sort of. Fischer begins by discussing how the teapot card resurfaced in a Season 9 episode. "There's a scene where Jim has the documentary film crew put together footage of their romance, and he shows it to Pam. Pam sees that there was a note Jim steals back, then he hands it to her and she reads it."
She then reveals that she and John Krasinski are the only ones who know what's on the card. "In that episode in Season 9, I believe Greg [Daniels] suggested to John that he write a personal message from himself to me just saying what our time together on The Office meant to him, because we were wrapping up filming," she said as her voice cracked. "We were wrapping up the series and we were all so emotional at that time, you know? And so that was his goodbye."
Fischer added that her emotional facial expressions were real because she didn't know what the card was going to say. "So I'm on camera and I open up this note that John's written me and I just start crying, I just start bawling. The first take was probably not usable," she said. "It was the sweetest note, and you know on camera, Pam says, 'I'll never say what it said but just know it was perfect?' Well I'll never say exactly what John wrote, but I will say just know it was perfect."