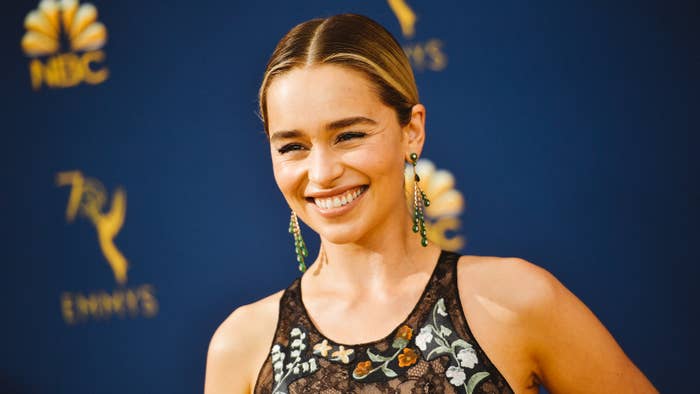 Disney+ is rolling out a slate of Marvel original series and the forthcoming show Secret Invasion has just added Emilia Clarke to its cast.
According to Variety, no details about her role have emerged. The show will be her initiation into the MCU, with news of Secret Invasion first being announced last year as a Marvel and Disney+ collaboration. The series will also feature Samuel L. Jackson as Nick Fury and Ben Mendelsohn as Skrull Talos, who was last seen in the Captain Marvel film. Olivia Colman and Kingsley Ben-Adir will round out the cast, with Ben-Adir playing the major villain.
"The series is said to follow a group of shape-shifting aliens who have been infiltrating Earth for years," Variety writes. Kevin Feige will produce Secret Invasion, as he did WandaVision and The Falcon and the Winter Soldier.
Falcon and the Winter Soldier premiered on Disney+ on March 19 and will include six episodes—and next up is the show Loki, which will premiere on June 11 and also have six episodes. The forthcoming show recently saw an official trailer starring Tom Hiddleston as Thor's brother, known as the "God of Mischief."
Clarke was previously nominated for four Emmys for her role as Daenerys Targaryen in Game of Thrones, which first aired 10 years ago on April 17. She's also appeared in a handful of films, including Last Christmas, Me Before You, Terminator Genisys, and Solo: A Star Wars Story. She is also voicing a character in the animated pic The Amazing Maurice.
In fittingly timed news, the erstwhile Mother of Dragons also previewed M.O.M.: Mother of Madness, a new Image Comics miniseries she co-wrote with Marguerite Bennett and for which she assembled an all-women creative team. Entertainment Weekly—which published a four-page preview and accompanying conversation with Clarke—describes it as following "a single mom named Maya who discovers she possesses freakish superpowers, and uses them to take on a secret cabal of human traffickers."
Clarke told EW, "We're always calling mothers superheroes, and I'm like, what if they were? What if they legitimately were superheroes? … It's been a very beautiful female experience in the creation of it, and a phenomenally creatively fulfilling process. But the biggest reason why I wanted to make this comic is because I wanted young girls to look at a woman that was fallible. Obviously, you're seeing that a lot in the industry; you've got all of these incredibly empowering female shows. But I just felt like I hadn't seen it in this genre."
On Instagram, an excited Clarke captioned an image of the cover page, "ALERT!!!! waahhhhh!!!!!! Ok, so for the last two years I've been creating a comic. Kept that quiet didn't I?! … I wrote this one from the heart and designed it with nothing but love."
M.O.M.: Mother of Madness #1 lands July 21.