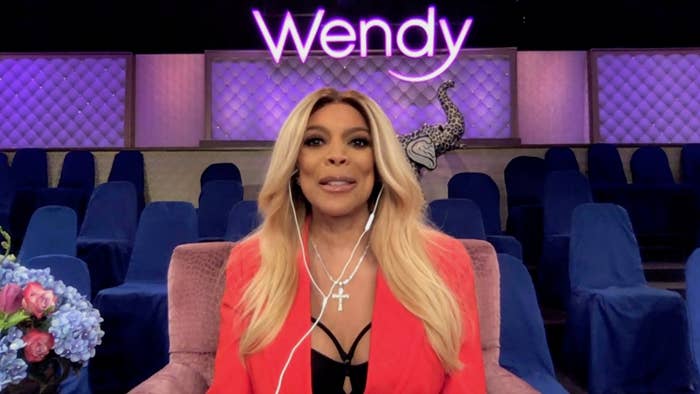 Wendy Williams is doubling down on her marriage claims.
The former talk show host made headlines this week after claiming she had tied the knot with an NYPD officer named Henry. Williams revealed the information while speaking to her good friend Jason Lee, the founder and CEO of news outlet Hollywood Unlocked. Though she didn't provide too many details about her relationship, Williams told Lee she and Henry got married at the end of July.
"She says, 'I'm married.' I'm like, 'What?' She's like, 'I got married,'" Lee recalled to Page Six. "I'm like, 'You got married when?' And she's like, 'I got married last week.'"
Shortly after the news broke, Williams' representative told the outlet his client wasn't actually married.
"That's inaccurate. She is excited about a new relationship and probably got carried away in conversation," Will Selby said, before being asked if Wendy was, in fact, seeing a cop named Henry. "Wendy doesn't wish to disclose details at the moment."
In effort to protect his credibility, Lee reached out Williams by phone and questioned her about the Page Six report. Lee, who recorded the call and posted it on social media, questioned Williams about the conflicting stories and accused Selby of trying make him "look crazy out here." Williams insisted she was married woman and suggested Selby denied her story because he didn't approve.
"Everybody seems to have a problem with that. I'm married," she said in the call. "I'm married! I don't care who knows it. Will sees no point in me getting married. But you know what? Fuck Will. Fourteen years I've known him. I've always said fuck him…in a good way, you know?"
You can hear Williams' comments below. 
During her initial talk with Lee, Williams opened up about her financial and family drama. The 58-year-old claimed her credit card was no longer working, but Selby has helped her maintain access to a bank account. Williams also said she has no interest in dealing with any of her family members except for 21-year-old son Kevin Hunter. Williams and his father Kevin Hunter Sr. got divorced in early 2020, after her husband of more than 20 years welcomed a child with his mistress.