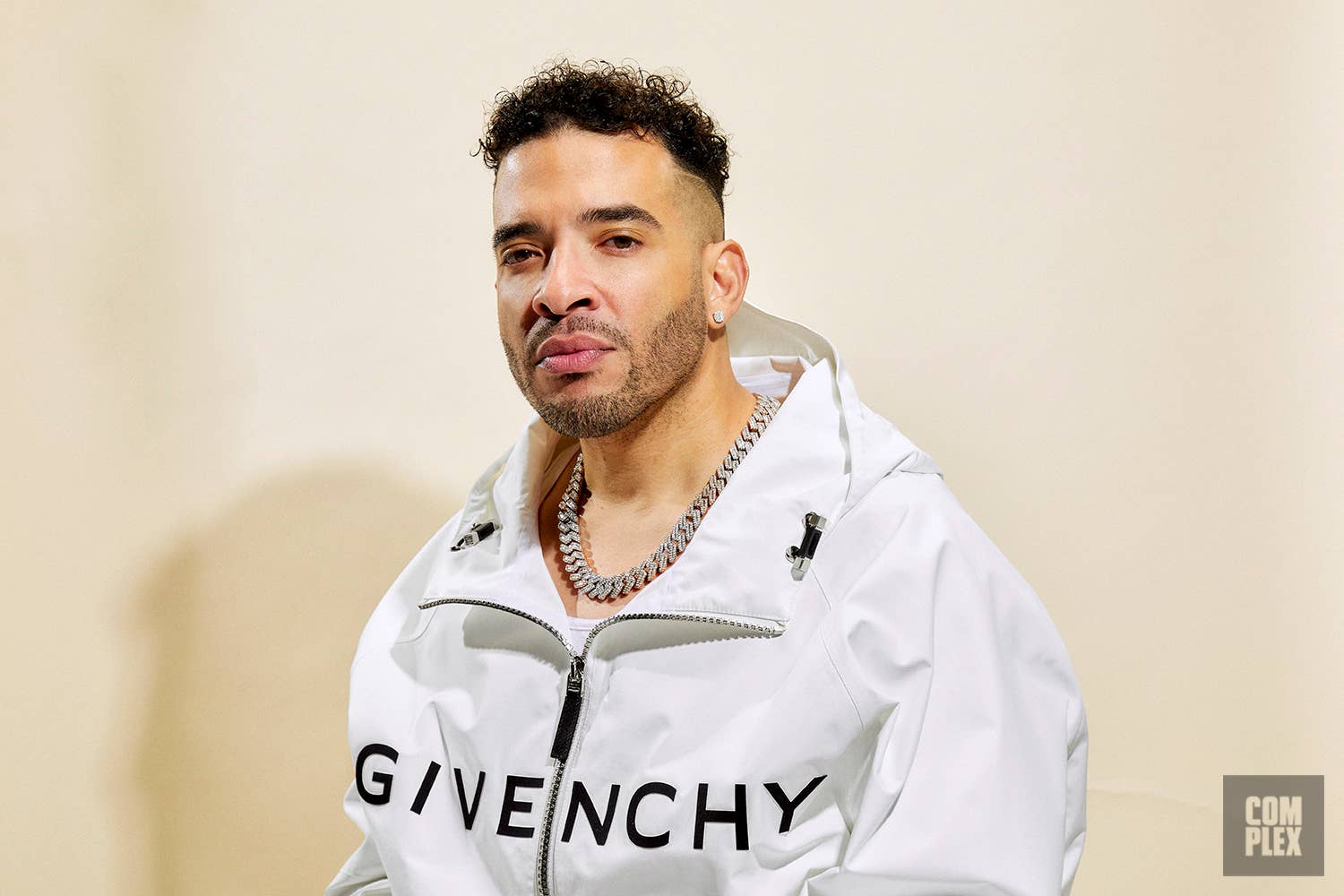 On a Thursday evening in mid-January, a 15-second video clip populated everyone's timelines. Drake's "Come Thru" was playing in the background as Madonna and her straight blonde hair shimmied on a couch. To her left was an almost fully reclined Kanye West and his then–partner-in-paparazzi Julia Fox, both wearing black gloves. Fox's leg was straddled over West's as she glanced down at her abs and gently glided her hand up her thigh in a nonchalant but knowing way. And to Madonna's right was Floyd Mayweather and Antonio Brown, both sitting with their hands clasped together, bopping their heads as if they were at their own party. 
The internet erupted in the way it does when certain celebrities get together and document the moment. The clip turned into memes that spread across IG, Twitter, and TikTok, while outlets including People,Page Six, and Complex covered it as news. Madonna reposted pics from the night to her 18 million IG followers, as did Brown—who has 8.9 million followers—and Fox—who has 1.3 million. Fox also spoke to Interview magazine about the occasion, stating, "I had a date with Madonna, but obviously I invited Ye because they know each other, they work together, and they respect each other as artists. Then, Floyd Mayweather, Antonio Brown, and a bunch of other people showed up. So obviously we had to do a photo shoot." 
Obviously.
It might not seem obvious to everyone, but Jason Lee, who owns media platform Hollywood Unlocked, helped orchestrate that moment. Lee says he was hanging out at his Hollywood Unlocked studio with Evan Ross, Diana Ross' son, and Mayweather when Kanye called and said they should all do dinner. So they met him, Madonna, and Fox at celebrity hot spot Delilah in Los Angeles. Brown also joined with ASAP Rocky, who somehow avoided any pictures.
"That was a Mona Lisa moment," says Lee. "The culture and pop culture outcasts coming together for dinner that led to a photo that led to that video. It was special."
Lee's been connected to various Mona Lisa moments that have captured social media's attention. In 2015, we met Lee as the "messy blogger" on Love & Hip Hop: Hollywood who had an altercation with cast member Hazel-E. Just as she was about to finish this sentence, "You're mad because you never escalated to a Media Take Out or a high-end blog that people…" Lee threw a drink in her face.

Lee has since offered more backstory around the incident, and he's made up with Hazel-E (she appeared on Hollywood Unlocked two years after the mishap). But seven years after being cast for the reality TV show, which can either hurt or help your career, Lee has blossomed and his media company Hollywood Unlocked has ascended to become the relevant platform that Hazel-E said it wasn't. The site draws in almost 2 million unique visitors a month, and Lee currently has 11 people on staff. They work out of a luxe penthouse apartment that he converted into an office space overlooking Los Angeles—you can see CNN's Los Angeles headquarters from one of the studio spaces. He charges people to rent out spaces in the studio to create content, and he's working on packaging together digital courses that can help other creators build a platform like he did.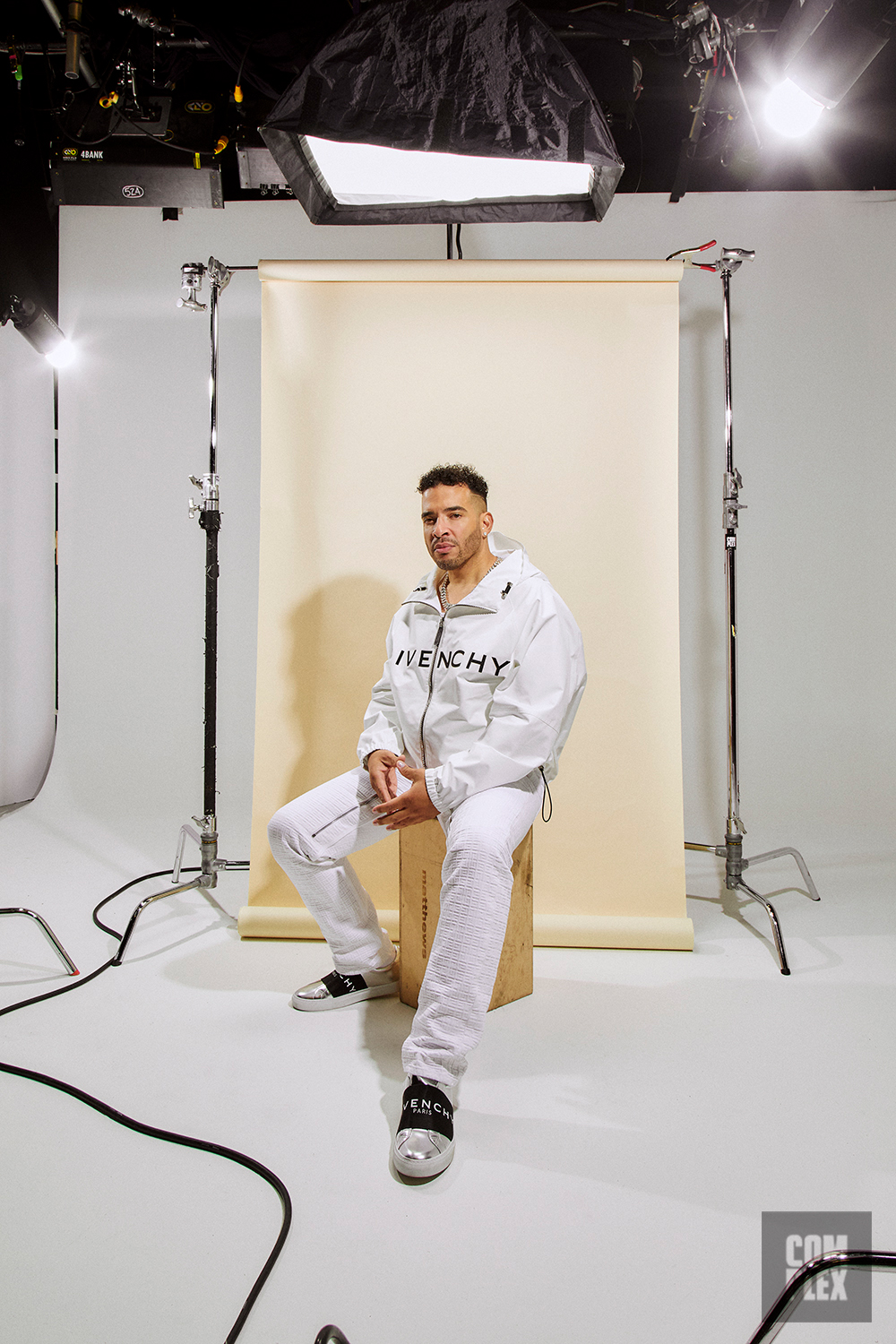 As the media personality behind Hollywood Unlocked, Lee's landed syndication deals with Fox Soul and iHeartRadio, the United States' largest radio broadcaster, that put him in 72 markets. These moves have placed him closer to people he respects like Wendy Williams (whom he's friendly with but more on that later) and Charlamagne, who told the Los Angeles Times that Lee is a cultural critic—Lee has since trademarked the term. Behind the scenes, Lee has also become a trusted confidante for some of today's most famous artists including Cardi B, Rihanna, and Kanye West, the latter naming Lee his head of media partnerships earlier this year. He's been able to maintain his celebrity relationships and still run his platform, which is based on celebrity gossip.
"I don't see him as this blogger. I don't see him as this industry person. I trust him. He's my friend," says Cardi B via a private iPhone video where all you can see is the palm of her hand. Cardi, who met Lee after he interviewed her in 2017, says their friendship grew from there, with Lee offering her business ideas and tips on how to handle her newfound fame. "He always wanted good for me, and he can separate business from his friendships. That's why I trust him. There's things he knows about me that he hasn't put out because we are friends."

Lee's been acting as a silent strategist for many celebrities over the years. When Keeping Up With the Kardashians first came out, he put together a whole strategy for his then-friend Rob Kardashian to build a philanthropic identity. It involved Kardashian starting a foundation focused on cancer research (his father, Robert Kardashian, died of cancer). But Lee says Kris Jenner decided to not pursue it. "I don't know if Kris really believed in his capacity to be leading something that significant," says Lee.
"I don't see him as this blogger. I don't see him as this industry person. I trust him. He's my friend." -Cardi B
Now, Lee is formalizing his consulting efforts as the head of media partnerships for Kanye West. Lee says he met West through Wack 100 and at the start of the year, they went out for dinner and spent four hours talking about topics ranging from music and influence to cancel culture and tech. The next day, Lee interviewed him for Hollywood Unlocked, giving him the space to articulate the thinking behind some of his decisions, including the red MAGA hat. 
"It doesn't make what he said in the past or what he's done okay. I still have my political thoughts and positions on things that are driven by experiences in the [labor] union. And he has his. But if I can humanize him through storytelling, create experiences, get the brands he works with to invest in culture and utilize his platform and resources to pour into the communities that he comes from, then that's a win for everyone," says Lee.
When asked if he's the reason Kanye's been so quiet for the past few weeks, he responds: "Ye is the only person in control of Ye. He's made the decision to put him and his children first—for the first time. He has some amazing people around him who are advising and supporting his creative visions."
From the outside looking in, Lee's rise seems uncanny and low-key unbelievable, but after reading his autobiography, God Must Have Forgotten About Me, everything starts to make more sense. In the book Lee details what it was like growing up in Stockton, a mostly forgotten and poor city in northern California, as a neglected foster kid surrounded by murder, addiction, and poverty. He looked at the glamour associated with the entertainment industry as escapism and a glimmer of hope. But his interest in pop culture wasn't just a fun hobby; it was a lifeline and a way for him to get closer to some sort of light. When he was 15, he snuck backstage with a friend to meet Queen Latifah, who eventually let him shadow her on Living Single. Twenty years later, they still keep in contact. He also became determined to meet Michael Jackson, calling his production company every day after Jackson visited Stockton following a mass shooting at Cleveland Elementary School. They never met, but Jackson did eventually call him back and offered some encouraging words.
"Here I am, you know, in a group home feeling abandoned, feeling worthless, but watching a man come to show people their worth and value, and he didn't even know them. I just wanted to be around that energy, because it was energy that I hadn't been getting," says Lee, who just finished eating a bag of Hot Cheetos and somehow avoided getting any cheese dust on his clothes. "When he called back, it was a great moment, but it also just validated that everybody's reachable. Everything is obtainable."
Lee spends a lot of time around celebrities, but he doesn't act like one. When we meet up in New York at a midtown restaurant, he's wearing an all-white Givenchy look with Gucci sunglasses and snacking on chips and salsa while he talks to his team in LA over Zoom. "I'm only dressed like this because we have a shoot later," he says to me. "I don't want you to think I dress like this in my everyday life."
Lee is in New York to attend Cardi B's Met Gala afterparty and he's taking a very special guest. After having dinner with Wendy Williams, who hadn't made any public appearances in over a year due to health issues, Lee invited her to the event and she obliged, even suggesting that he come to her New York City apartment before the party and bring along the journalist who is interviewing him. As Williams gets her hair and makeup done in her tchotchke-filled apartment with floor to ceiling windows and ornate chandeliers, we sit on the couch watching the E! Met Gala arrivals before we head out. Williams is relatively quiet, not offering as much commentary as one would expect—or want—about the Met Gala looks. But by the next morning, I see a more spirited Williams on TMZ as Lee stands beside her, serving as her loyal and quiet escort. A reporter asks Williams if she'll be back on TV in September and she offers an enthusiastic yes while Lee plays his position, barely acknowledging the camera.  

Lee says because of his upbringing and the 11 years he spent as a union organizer in Los Angeles, he's been conditioned to never make himself the main focus. "If I was not doing this right now, I'd still be doing that. Or I'd start my own union," says Lee, who loves fighting for the underdog, which checks out even now. At one point, he was a staff director, leading a healthcare division of over 85,000 workers who looked to him to improve their job experiences and get what they wanted from employers. Lee fought for the members of the union, but he also had to build relationships with everyone in the healthcare ecosystem to get what he needed. He started to apply the skills he learned from his day job to the nightlife scene in Los Angeles.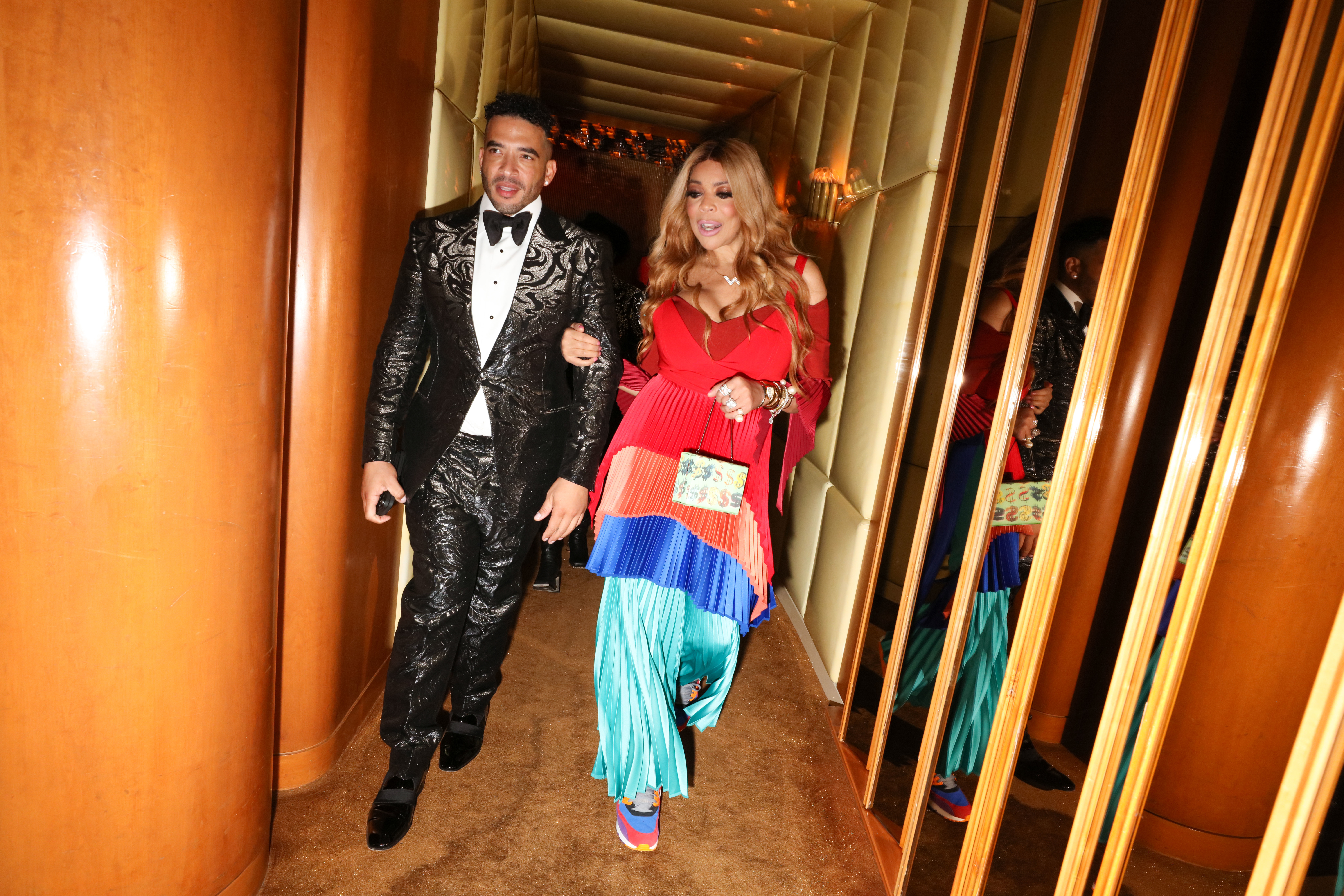 "When I go to a club, I don't just want to know the owner. I want to know who's the front gate security. Cause he's gonna let you in the club. Who is the bottle service girl who's gonna tell you who's at whose table? Who is the promoter? Who's gonna make sure that they shout you out on the microphone? And then who's the owner? So they know this is the table I need to be at so everybody in the club is looking at me," says Lee. "So in my mind, I was always an organizer. It was always about how do I get in and build the most strategic network possible? And I looked at every club like it was my hospital to organize."
When he first moved to Los Angeles, Lee had no interest in working in the entertainment industry or making any money from it. He liked the stability of his job, which he said was paying him $10,000 a month, and his main goal was simply to get into the best parties. "I was tearing these streets down," says Lee, gesturing toward the LA streets perched below his office. But once he found himself in certain rooms and building relationships with celebrities, he learned how to expertly navigate LA nightlife, which gave him currency. He says he was a socialite who was paid to party because he was able to get celebs into the club and help them secure their paparazzi moments. He rubbed elbows with Drake, when he was just an aspiring rapper, and Fear of God's Jerry Lorenzo, when he was a party promoter, and fell in love with the industry.

He also produced events. He was responsible for the "Heartbreak Hotel" reunion, which took place at Kelly Price's pre-Grammy party in 2012. This would be Whitney Houston's final public appearance and performance; she died two days later and Lee was tasked with clearing up false reports about her death. Lee says Kris Jenner connected him with the president of E! News to push forward the right stories.
"Ye is the only person in control of Ye." -Jason Lee
This is when Lee started to notice there was a disconnect between what the media said and what actually happened. Social media wasn't a big thing around this time, so his famous friends would vent to him about feeling powerless over the false news stories outlets wrote about them. So Lee set out to make a site, originally titled Lowkeymessy then IamJasonLee.com, that gave everyone a glimpse of the real Hollywood. At first, the site wasn't scandalous in any way. It was just a place where he would document his experiences in LA, but no one paid attention until he started offering his opinion. "I realized the affection Black entertainers had for white media fairly quickly. So when I became a culture critic and gave my opinion on things, everybody started responding to me. Phone calls started happening. And the biggest stars knew my name," says Lee.
Mayweather also invested in the company right around the time Lee decided to join LAHH. His brand awareness was growing but not in the most positive way. "When I went on Love and Hip Hop, I leaned into who that show wanted me to be. But I always knew at some point I'll flip it and soften the brand," says Lee.
Lee did soften his brand on the following season by introducing his complicated family dynamic with his siblings and his absent father. Lee and his family eventually came together to honor the life of his brother, Rodney, who was murdered in Stockton, allowing viewers to connect with him on a more human level. He was also building up Hollywood Unlocked to be a relevant platform by utilizing the relationships he made over the years partying and mingling in Los Angeles. In 2016, he, along with co-hosts Melyssa Ford and DoBoy, interviewed former NBA player Matt Barnes who hadn't talked about his fight with former NBA player Derek Fisher after discovering he was in a relationship with his ex-wife, Gloria Govan, but finally shared his side on Hollywood Unlocked. And in 2018, Lee interviewed Kelis, who revealed details about her abusive relationship with Nas for the first time. He also broke news about Tristan Thompson's dalliance with Jordyn Woods.
Watching Lee's interview with Kelis and interacting with him directly, one starts to understand his appeal. He speaks authoritatively but in a warm and believable way—one of his foster parents was a pastor and it shows. Lee says he was always a fan of Kelis and respected what she contributed to culture, so he was excited to learn that Kelis was a chef and one of his friends was handling her social media. So in 2017, he hired her to cook for an event he held with a liquor brand. After the event, he thanked Kelis, took a picture, and said, "Yo, I think you're a bad bitch." They didn't exchange numbers, but they had a good vibe so he planted the seed with his friend that he'd like to interview her one day. In 2018, Kelis' team called Lee just as he was getting ready to board Mayweather's private jet and go to Las Vegas. He thought they wanted to schedule a time to chat later, but her team said it was urgent and she wanted to speak with him that day, on camera, at her house.
Lee starts the interview by validating Kelis and acknowledging her influence. Then, he moves into her food brand, Bounty & Full, before transitioning into her relationship with Nas. Lee is a natural conversationalist who asks follow-up questions in a casual way that doesn't feel intrusive. Watching him interview celebs feels more like observing a conversation between friends than a media personality trying to get a story. "My strategy is to disarm them, build them up, ask what I want to ask, and make them look good," says Lee.
In another iPhone video, Cardi B speaks about her experience being interviewed by Lee.
"I actually didn't know Hollywood Unlocked as much when I did my first interview with Jason. I just liked him," says Cardi. "I felt like the people who were interviewing me weren't being shady or funny. They were just asking questions that made me want to answer them. It wasn't like certain people who ask you these questions and you're like, 'Ugggh, they are being weird.'"
The Kelis interview helped put Lee and Hollywood Unlocked on the map for being more than a gossip blog. "I don't know if you saw Wendy Williams, but when she reported on the interview, she goes, 'Who is Jason Lee? How did he get that interview?" says Lee. "I feel like a lot of people felt like that. But they say that about my relationship with Kanye too. Even with all the time and work that's gone into building this platform, I still get, 'Why him?'"
Lee's grown a lot, professionally and personally, since the Hazel-E episode. But he has been connected to some lol/side-eye moments. There was that time he snuck into the Roc Nation brunch and attempted to get a picture with Beyoncé, who seemed to be trying to avoid him. Or that time his team posted a picture of her children that someone took in her house—they eventually removed the picture. Or most recently, when his team reported that Queen Elizabeth was dead, doubled down on it, and then walked the story back.
"If I told you who told me she was dead, you would have reported she was dead too. And the crazy part was when we wrote the story, we didn't even say she was reportedly dead. We said she was found dead. She dead," says Lee. "When they found out that the woman was still alive, I think she looked out a window or something, but these people wanted blood. But the crazy part about cancel culture is if you own your own shit, it's very difficult. I didn't fear losing my job or anything. I owned it and apologized and went on to the next story. You can make a mistake, fix it, and move on. Do I have to sit up and bleed to death?"
There is the age-old adage that all press is good press, but when asked if the Queen Elizabeth story was actually a good thing for his brand because people were talking about it, Lee says no. "It wasn't a growth hack at all. I started getting all of these requests for interviews and I was like, 'No. I'm not a clout chaser. That's not my thing. It's not like that.'"
Then the topic of the tweet alleging that Rocky cheated on Rihanna came up. Lee says Rihanna happened to call him from Barbados shortly after the tweet went out and she had no idea what was happening, nor did she feel the need to entertain it. I ask Lee how he would explain the difference between him and the person who tweeted out the cheating allegations.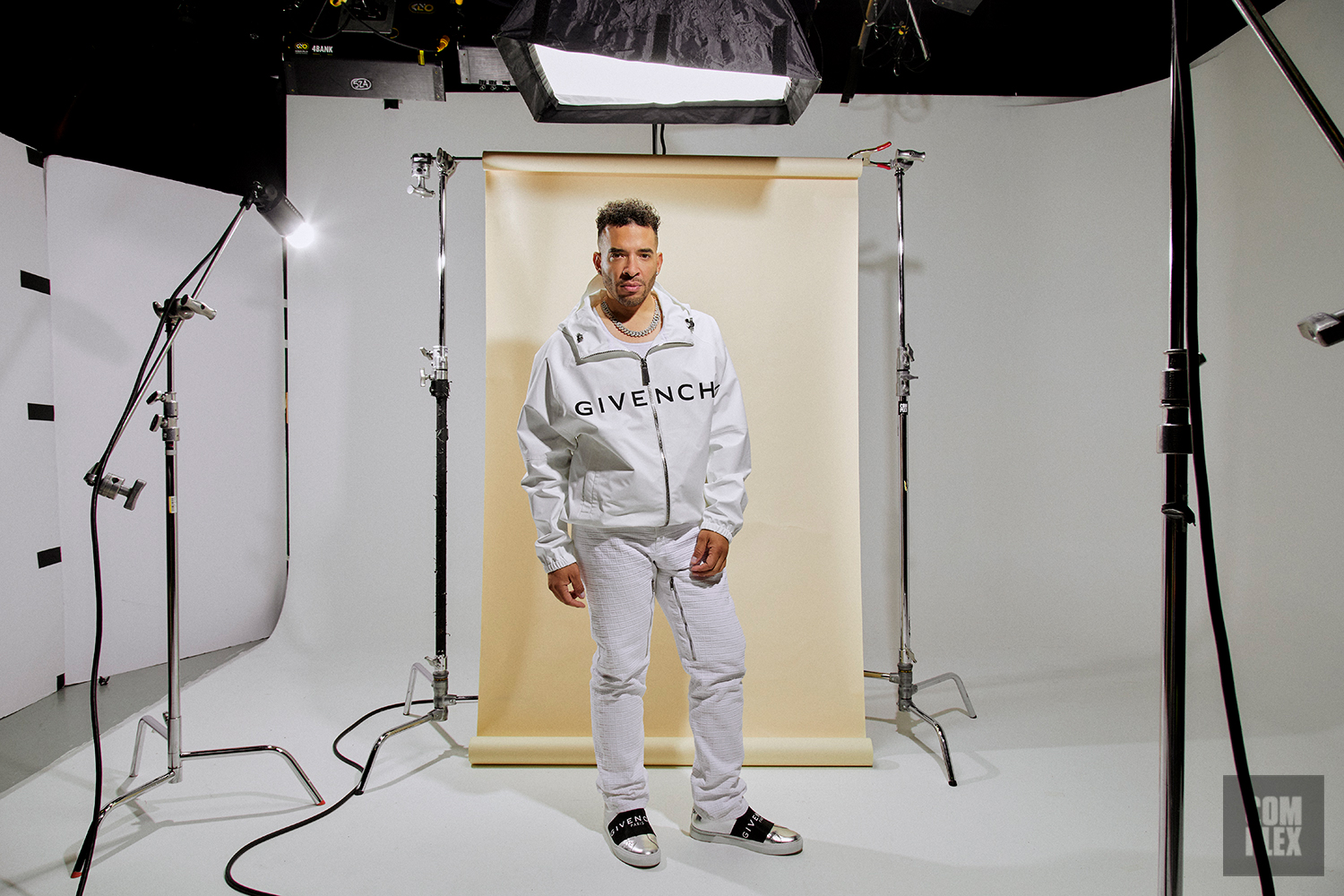 "I didn't get into the storytelling to be messy. I just talked shit about the messy shit celebrities are doing," says Lee. "But it's also like, you work in fashion. Rihanna's in fashion. That's her world. And she's pregnant. So why would you do that?"
Lee announced a couple of weeks ago that he's no longer doing his podcast with co-hosts Blue Telusma and DJ Damage. He's ended all of his deals and is focused on resting and being outside as he prepares for his new interview format concept titled "The Jason Lee Show" that he's shopping around to different networks. He's working on an elevated set, trying to get the industry to see him as a daytime television host—Lee says he wants an Emmy. In late May, he posted a video from Whoopi Goldberg encouraging him to continue on his path. He says he's trying to make an appearance on The View, which he expects will come with, "Why is he there?" But he believes everywhere he is, whether it's the Grammys or a Balenciaga fashion show, is everywhere he's supposed to be. 
"Well, Oprah said, if you find yourself in the room, you belong there. So who gets to tell you that you don't belong there?" says Lee. "You know, somebody told me the other day, 'Well, if you do this, they gonna say…' And I was like, 'Who the fuck is they?' I don't do it for they. I do it for me. And if I impacted them, great. But they not gonna make me feel like I can't go anywhere. I feel like anything I want to do is possible. Anything that I want is attainable. I don't subject myself to they and their mental blocks."