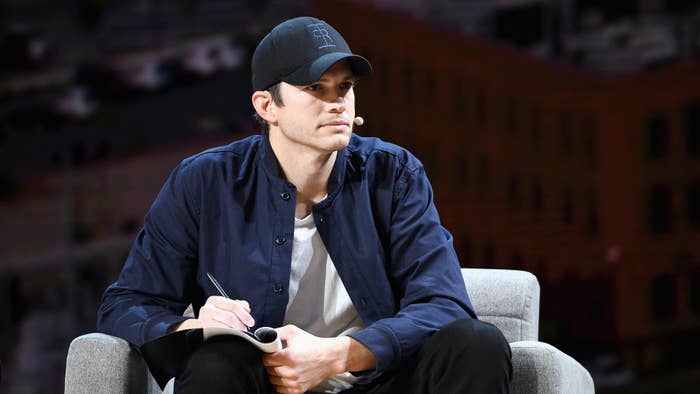 Ashton Kutcher is still getting trolled over his questionable hygiene practices.
The 43-year-old actor traveled to Iowa this weekend to appear on ESPN's College GameDay, where he would weigh in on the matchup between Iowa State and his alma mater, the University of Iowa. But he didn't receive the warmest welcome. Immediately after landing in the Hawkeye State, Kutcher was hit with "take a shower" chants, presumably from Iowa State fans.

The chants were, of course, a reference to Kutcher and Mila Kunis' recent comments about how frequently they bathe their kids. During a July appearance on Dax Shepard and Monica Padman's Armchair Expert podcast, the celebrity couple revealed they only bathe their children when they "see dirt on them." Kutcher also claimed he rarely takes a proper shower, and gets by just fine.
"I wash my armpits and my crotch daily, and nothing else ever," Kutcher said. "I got a bar of Lever 2000 that delivers every time. Nothing else."
It's no surprise that Kutcher and Kunis' remarks caused some mild controversy, and a considerable amount of mocking. The latter was further demonstrated when Kutcher arrived at Jack Trice Stadium to give his predictions on the Cyclones vs. Hawkeyes game. 
Footage from the College GameDay episode shows the actor attempting to speak on one his charities; however, his comments were drowned out by more "take a shower" chants. Thankfully for Kutcher, he was seemingly unfazed by the incident and continued the broadcast like a pro. You check out the College GameDay clip below.