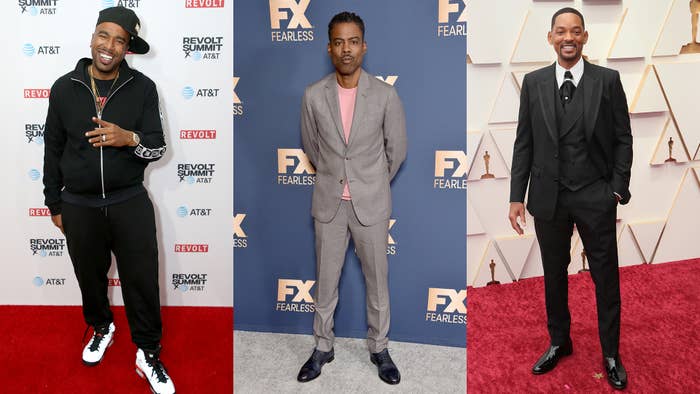 N.O.R.E. and DJ EFN have responded to Chris Rock's claim they called Will Smith "a bitch."
"You called Will Smith a bitch?" N.O.R.E. asked his cho-host EFN, who replied, "No, man! That was you! Nah, nah. Nobody here called him a bitch."
Joe Budden, who is a guest on the episode, was also asked if it was him who made the comment. "No, it certainly wasn't me," Budden said. "I don't agree with anything he did, but I'm not calling another man a bitch. I'm not going to do that, but Chris Rock said y'all did that, Drink Champs."
Even though they disputed Rock's claim, N.O.R.E. maintained that he "loved the shoutout" in the comedian's new Netflix special, Selective Outrage. "I love the way he named us, because he put us in the rapper category," he continued. "Let's make some noise for Chris Rock, God damnit!" EFN reiterated that they did not call Smith "a bitch," which N.O.R.E. echoed.
During Rock's set, he went in on Smith's complicated relationship with his wife, and accused him of practicing "selective outrage."
"Everybody knows what the fuck happened," he said. "Everybody that really knows knows I had nothing to do with that shit. I didn't have any entanglements." He then accused Jada of hurting the actor "way more than he hurt me," referring to her episode of Red Table Talk in which she openly speaks about her infidelity.
"I love Will Smith," he concluded. "I have rooted for Will Smith my whole life, I root for this motherfucker. And now, I watch Emancipation just to see him get whooped."