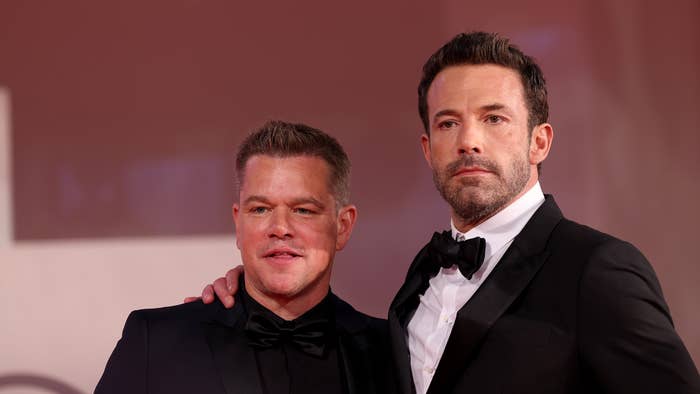 UPDATED 11/30, 9:12 p.m. ET: Ben Affleck says his and Matt Damon's newly launched production company will prioritize quality over quantity and steer clear of an "assembly line process" deployed by many streaming services and nascent studios.
The 50-year-old Oscar winner made the comment during the New York Times' DealBook Summit in NYC on Wednesday. Affleck was joined by Redbird Capital's Gerry Cardinale, who reportedly committed $100 million to Artists Equity, an independent production company founded by Affleck and Damon.
During a wide-ranging Q&A session, Affleck shared his overall vision for the venture and how he hoped to create tasteful yet commercially successful films that "people remember 20 years later." He said such a goal will require a lot of work, as well as an approach quite different than the one adopted by Netflix.
"If you ask [Netflix CEO] Reed Hastings…I'm sure there's some risk in that, and I'm sure they had a great strategy, but I would have said, 'How are we going to make 50 great movies?! How is that possible?" Affleck explained. "There's no committee big enough. There aren't enough—you just can't do it. It's a thing that requires attention and dedication and work and resists the assembly line process."
"[Netflix's head of original films] Scott Stuber is a really talented, smart guy who I really like…but it's an impossible job," Ben continued. "There's bigger audience for action movies than there is for small dramas—I get that. Certain genres play more broadly and you can't not be mindful of that. But let's do a good one, let's surprise the audience, let's make them care about it."
Cardinale agreed. "The first wave of streaming was about volume," he said. "The second wave is about quality."
See original story below. 
Matt Damon and Ben Affleck have announced the launch of a new "talent-friendly" production company.
In an interview with The New York Times, the long-time friends and collaborators broke down their plans for their newly launched production company, Artists Equity. The independent company is backed by $100 million in investment from RedBird Capital Partners, while the two men at the head of the company have contributed an "unknown amount of capital."
"This is the next act of my career for a long, long time," Affleck, who has agreed to work exclusively with the company going forward, told TNYT. Damon will exclusively produce for Artists Equity and star in a set number of films, but it's unclear how many. The two were inspired to launch the company to give both off-camera and on-camera talent more of the profit, with lower upfront fees in favor of potentially larger payouts.
"As streamers have proliferated, they have really ended back-end participation, and so this is partly an effort to try to recapture some of that value and share it in a way that's more equitable," said Affleck. "Not just writers and directors and stars. But also cinematographers, editors, costume designers and other crucial artists who, in my view, are very underpaid." Affleck will serve as the company's chief executive, while Damon will be its chief creative officer. 
"I know what kind of freedoms artists long for and how they can be empowered — treated like grown-ups," Affleck continued. The actor-director-writer said the company will allow creators in the worlds of both film and TV to "take ownership of their creative power, providing a platform for both established and emerging filmmakers to streamline the development of their content." 
In a statement announcing the production venture, the pair described Artists Equity as "talent-friendly" and "creator-focused." The first production at the studio is currently underway, Variety reports. It's set to star Damon as a Nike executive who helped launch the Air Jordan brand.