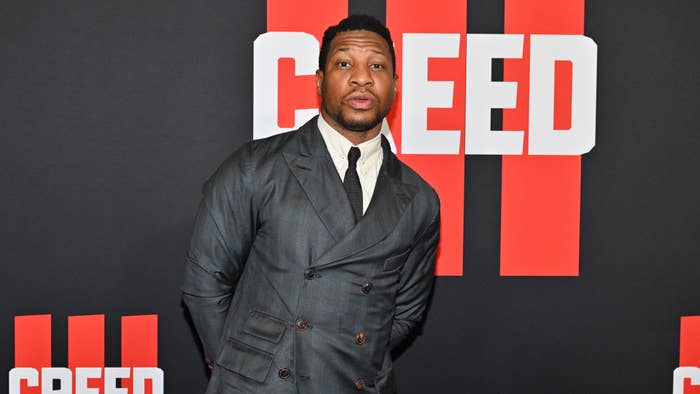 Following the news that the New York Police Department found "probable cause" to arrest the woman who accused Jonathan Majors of assault, a Rolling Stone report has detailed various instances of alleged abuse, toxicity, and aggressive behavior that predates his assault arrest earlier this year.
Across interviews with over 40 individuals who have known Majors, either from his time in graduate school or Hollywood, the report alleges that the Creed III and MCU actor has exhibited a pattern of physical, mental, and emotional abuse that goes as far back as a decade. All of the sources spoke under the condition of anonymity and at least one person said they were prohibited from talking about their experiences with Majors because he got them to sign a non-disclosure agreement (NDA).
Those who knew him when he attended Yale's David Geffen School of Drama corroborated that he was involved in multiple alleged physical altercations. Over two dozen sources who spoke with Rolling Stone for the report said that Majors was physically abusive towards one partner and emotionally abusive to another. "It was pervasively known that he was [a good actor], and that he also would terrorize the people that he had dated," said one of the sources.
Majors has been accused of strangling one of the women he previously dated, while the second woman described her relationship with the actor as "emotional torture." One source described the situation in one of these relationships as "really extreme abuse, physically and mentally."
"My experience in dealing with him and watching him in relationships with several women [is] really upsetting," said a person familiar with two of Majors' former relationships. "As an outside observer, it made me uncomfortable." Another said that they weren't "surprised" about the news of Majors' assault arrest because he's gained a reputation as "kind of a bad dude."
"Jonathan Majors vehemently denies Rolling Stone's false allegations that he physically, verbally, or emotionally abused anyone, let alone any of his past romantic partners," said Majors' attorney Dustin A. Pusch in a statement. "These allegations are based entirely on hearsay because neither of the romantic partners referenced were willing to engage with Rolling Stone for the article—demonstrating their outright falsity."
In response to the accusations made in the report, Majors' legal team shared six character witness statements from women who had been involved with him in the past. However, three of these individuals said they never consented to the release of such statements. One said that a witness statement credited to her was actually pre-written and she did not approve of its release.
Yale alumni said that his behavior in class was "very problematic." One source noted that he made people feel unsafe and it reached a point where the administration was forced to send an email about "rehearsal etiquette and violence" following an altercation he got into with two students. "He can be very charismatic and really gentleman-like and sweet, but then he could also be really cold, scary, and violent," a former schoolmate said. "He was someone who would use his physicality to intimidate."
As for his onset behavior, two production members of the upcoming film Magazine Dreams claim that Majors pushed a crew member and physically intimidated another. Producers on the project apparently told the crew to give the actor more space.
"The allegations that Mr. Majors got physical with or physically intimidated anyone on any movie set are downright false," said Pusch of the accusation. "Everyone who has worked with Mr. Majors knows that he employs an immersive Method acting style, and while that can be misconstrued as rudeness at times, those who know Mr. Majors and work in the industry have attested to his dedication to his craft as well as his kindness." Others said that he made members of the Devotion costume department cry on set due to the way he treated them.
The report arrives just after The New York Times reported that the NYPD had found "probable cause" to arrest Grace Jabbari, who accused him of assaulting her during a domestic dispute in March. Earlier this month he filed a counter-complaint against Jabbari, in which he accused her of assaulting him.
Anthony Mackie is the only fellow MCU actor to publicly comment on the situation thus far. Majors is still attached to star in Avengers: The Kang Dynasty and Avengers: Secret Wars, which are scheduled to hit theaters in May 2026 and 2027, respectively. He's also expected to appear in the second season of the Disney+ series Loki, which premieres in October this year.
Read the full Rolling Stone report by Cheyenne Roundtree and Althea Legaspi here.