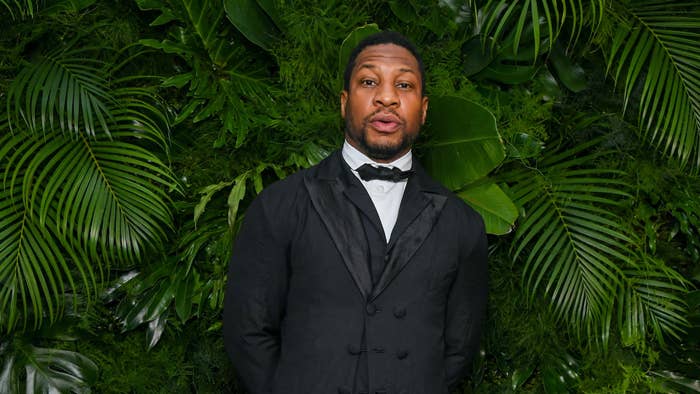 Jonathan Majors ​​​​​​​may be one step closer to clearing his name.
According to the New York Times, the New York Police Department has found "probable cause" to arrest Grace Jabbari, the woman who accused the embattled actor of assaulting her during a domestic dispute earlier this year. The development came just days after Majors' legal team filed a counter-complaint alleging he was the real victim in the case, and had presented sufficient evidence that showed Jabbari had attacked their client on March 25 in NYC's Chinatown.
Although Majors' attorney did not provide details on the purported evidence, insiders told the Times the proof was so compelling that police issued an "I-card" — an electronic document that authorizes officers to take Jabbari into custody on suspicion of third-degree assault.
"From the beginning, we have said Jonathan Majors is innocent and provably the victim here," hist attorney, Priya Chaudhry,​​​​​​​ said in a statement to The Root. "Last week, for the first time, Mr. Majors met with the NYPD to present them with evidence of what really happened on that night. Within hours of viewing the evidence, and conducting their own thorough investigation, the NYPD found probable cause to arrest Grace Jabbari for assaulting Jonathan Majors. Considering this development, we extend our gratitude to the NYPD detectives for their efforts."
Majors was arrested in late March on multiple charges, including misdemeanor assault. Jabbari, who was dating the Marvel actor at the time, told police Majors became enraged after she confronted him about his alleged text exchange with another woman. She said she had tried to take his phone away while they were in a vehicle together, and Majors reacted with physical violence. Jabbari reportedly sustained a broken finger, a cut to the ear, and other minor injuries during the incident.
Majors has pleaded not guilty to the charges and has made an effort to get his case dropped. He told police that his now ex-girlfriend had scratched him on the night of the dispute and that her injuries were a result of a drunken fall she had at his penthouse.
In the wake of the arrest, a number of entertainment companies have cut ties with Majors; however, several Hollywood figures, including actress Meagan Good, who he's reportedly dating, have shown their support for Majors amid his assault case, which will go to trial later this summer.
"We're a country that was built on 'everyone is innocent until proven guilty,'" MCU's Anthony Mackie told Inverse. "That's one of the staples of this country. Nothing has been proven about this dude. Nothing. So everyone is innocent until proven guilty. That's all I can say. It's crazy where we are as a society. But as a country, everyone is innocent until proven guilty."