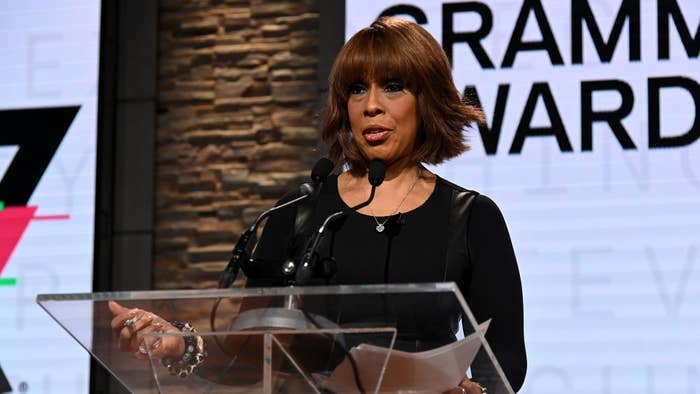 Gayle King has taken aim at her own network, CBS, after a clip of her asking WNBA player Lisa Leslie about Kobe Bryant's 2003 sexual assault case went viral. The video was uploaded by CBS on Tuesday to promote an interview King conducted with Leslie on CBS This Morning, and King has faced harsh criticism in the days since. In a video posted to her Instagram on Thursday, a visibly upset King says the clip has been "totally taken out of context." 
"I've been up reading the comments about the interview I did with Lisa Leslie about Kobe Bryant, and I know that if I had only seen the clip that you saw, I'd be extremely angry with me too," she said in the post. "I am mortified. I am embarrassed and I am very angry. Unbeknownst to me, my network put up a clip from a very wide-ranging interview—totally taken out of context—and when you see it that way, it's very jarring. I didn't even know anything about it."
In the clip, King asks Leslie about Bryant's "complicated" legacy due to the sexual assault charge, which was settled out of court in 2005. "Is it complicated for you, as a woman, as a WNBA player?" King asks. "I just never, have ever seen him being the kind of person that would do something to violate a woman or be aggressive in that way. That's just not the person that I know," Leslie replies. King continued to grill Leslie about the case from there. "But Lisa, you wouldn't see it though. As his friend, you wouldn't see it," she said.
Among those to criticize King for the clip was Snoop Dogg, who posted a video directly addressing her. "Gayle King... Out of pocket for that shit," he said. "Way out of pocket. What do you gain from that? I swear to god we the worst. We the fuckin' worst. We expect more from you Gayle. Don't you hang out with Oprah? Why y'all attacking us? We your people. You ain't coming after fuckin' Harvey Weinstein ass and them dumbass questions.
"How dare you try to tarnish my motherfuckin' homeboy's reputation, punk motherfucker," Snoop adds. "Respect the family and back off, bitch, before we come get you."
Ari Lennox also addressed the controversy in an Instagram Live session, also criticizing Oprah Winfrey for her involvement in documentaries regarding both Michael Jackson and Russell Simmons sexual assault allegations (Oprah has since exited the Simmons doc). "Listen, this about to get real toxic, and I don't give a fuck if I get cancelled forever," Lennox said. "Fuck Gayle and Fuck Oprah. Y'all are some self-hating pieces of shit fake asses."
When King woke up on Thursday after the clip went viral, she said she had calls from people asking what was happening. "I did not know what people were talking about," she said. "So I've been told, been advised to say nothing, just let it go. 'People will drag you, people will troll you, it'll be over in a couple of days.' But that's not good enough for me because I really want people to understand what happened here and how I'm feeling about it."
She went on to explain that she wanted to ask Leslie about the court case because she was a close friend of Bryant's. "It was very powerful when she looked me in the eye, as a member of the media, to say, 'It's time for the media to leave it alone and to back off,'" she added. Once again criticizing CBS for posting clip on social media, King said she will have a "very intense discussion" with her employers.
"I also want to say this. I have been with Kobe Bryant on many social occasions," she continued. "He was very kind and very warm to me and I felt we had a friendly relationship. I too am mourning his loss just like everybody else. I still am shocked by it. It's tragic and untimely and the last thing I would want to do is disparage him at this particular time."