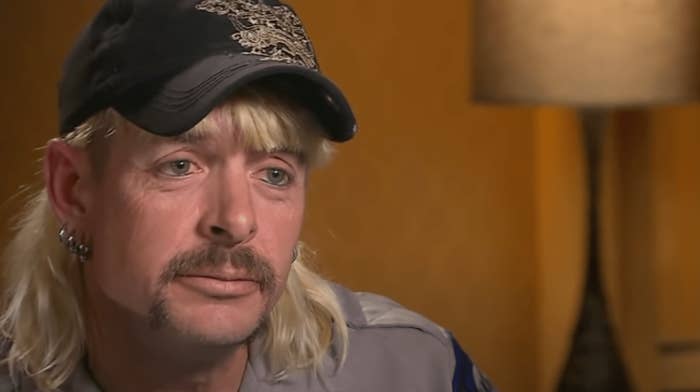 Joe Exotic's estranged husband Dillon Passage has filed a prenup in their divorce case, TMZ reports. 
The prenup, filed on Friday, keeps the property and assets both brought into the marriage and purchased during the marriage separate between the pair. But Autumn Blackledge, Exotic's lawyer, told the publication that the Tiger King star never signed the document, and that Passage has been selling off some of Exotic's items since he's been in prison. 
The Tiger King subject was re-sentenced in 2022 to 21 years in prison by a federal judge, over a murder-for-hire conviction involving Carol Baskin. His lawyer now shares that he's $100,052,000 in debt, with total assets of $65,000 and a yearly income of just $7,800. Blackledge argues that Passage has made $1 million off Tiger King, but at the moment, he's looking at a reported net worth of $20,110—after Exotic filed for divorce back in March. 
"The prenuptial agreement was entered into legally by both parties and I will have a full statement after the holiday weekend," Passage's lawyer Parastoo Majd said.
Just last month, People reported that Exotic had a "new love interest" in prison, prompting him to file for divorce in the first place. Blackledge told the publication that Exotic "desires to marry his new love interest, Mr. John Graham," who  "has recently been released from prison and is not taking interview requests or making comments at this time." At the time, Joe was "nearing the end of his cancer treatment," per the lawyer. 
"My understanding is that both Joe and Dillion have moved on romantically and they should both have the freedom to love again free from the bonds of marriage," she added.