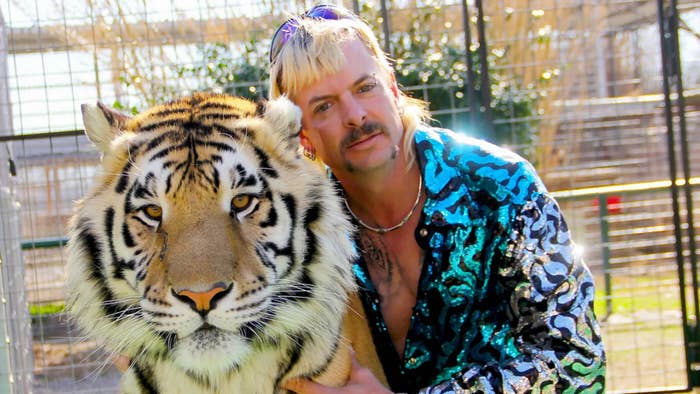 Just two days after Joe Exotic filed for divorce from husband Dillon Passage, the Tiger King star is already looking to pursue a "new love interest," People reports.
Exotic's lawyer, Autumn Beck Blackledge, told the outlet that Joe is ready to start a new chapter in his life with a man he met in prison.
"Mr. Maldonado-Passage [Exotic] is seeking a divorce from jail," Blackledge said, "because he desires to marry his new love interest, Mr. John Graham whom he met in prison." Blackledge added that Graham "has recently been released from prison and is not taking interview requests or making comments at this time."
Meanwhile, Exotic didn't shy away from expressing his desire to move on from Passage. "God works in amazing ways," the former zookeeper said.
The news arrives just two days after Exotic submitted paperwork to a Florida courthouse to end his four-year marriage to Passage.
"Joe is nearing the end of his cancer treatment and has fallen in love," Blackledge said in a statement to People. "He has no ill will toward Dillon, but has been trying for a while to reach him to get a divorce settlement."
"My understanding is that both Joe and Dillion have moved on romantically and they should both have the freedom to love again free from the bonds of marriage," she added.
Back in January, a judge reduced Exotic's prison sentence by one year, bringing his original 22-year punishment to 21 years. The ruling came months after Exotic informed his supporters that a prostate biopsy had revealed an "aggressive cancer."