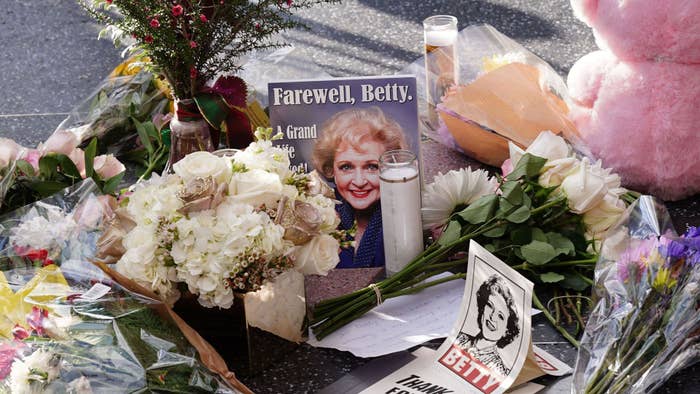 As the entertainment world continues to mourn the death of beloved actress Betty White, her agent is clearing up some rumors surrounding her passing. 
Jeff Witjas, White's agent and friend, told the Associated Press that rumors of her dying shortly after getting a COVID-19 booster shot on Dec. 28 are untrue. After the 99-year-old Golden Girls star's passing was announced on Friday, misinformation began circulating around the circumstances of her death, but Witjas told the AP that "Betty never said" that she got her booster on Dec. 28.
"Betty died peacefully in her sleep at her home," he told People on Monday. "People are saying her death was related to getting a booster shot three days earlier but that is not true. She died of natural causes. Her death should not be politicized — that is not the life she lived."
White, who was nearing her 100th birthday in January, previously shared that she had "no fear or dread of death" in a TimesTalks interview in 2012. As White recalled, her mother would ease her feelings on the subject when they'd speak about it, adding that she's "happy as a lark to stay around as long as I can."
"And she said, 'It's the one secret that we don't know.' So whenever we would lose somebody very close and very dear, she would always say, 'Well, now he knows the secret,'" White recalled. "And it took the curse off of it somehow."
A documentary that was set to celebrate White's 100th birthday—titled Betty White: 100 Years Young — A Birthday Celebration—will still be released as planned at 900 theaters across the U.S. on Jan. 17. It will feature appearances by Ryan Reynolds, Tina Fey, Robert Redford, Morgan Freeman, Carol Burnett,  Lin-Manuel Miranda, Clint Eastwood, Jay Leno, Jimmy Kimmel, and more.
"We will go forward with our plans to show the film on January 17 in hopes our film will provide a way for all who loved her to celebrate her life—and experience what made her such a national treasure," producers/directors Steve Boettcher and Mike Trinklein shared in a statement.