One of the freshest Marvel series to hit television in 2017 wasn't on Netflix or ABC. That series, Marvel's Runaways, debuted on Hulu around Thanksgiving of last year, dropping an episode a week until the end of 2017. It not only captured the hearts of fans of the acclaimed Marvel Comics series about a group of teens who realize that their parents aren't the people they thought they were, but also captured the attention of people looking for more teen-oriented superhero series.
The teens—who by the end of season 1 did, in fact, become runaways—spent most of that time ducking their cunning and conniving parents who were a part of an organization known as The Pride. Actress Angel Parker played Catherine Wilder, a wife, mother, lawyer, and low-key sinister member of this parental clique. Parker might not be a familiar name, but she's been featured on a number of series you should be up on. She was not only Tasha Davenport on Disney XD's Lab Rats but also portrayed defense attorney Shawn Chapman in FX's award-winning The People v. O.J. Simpson. Fans of Rel might also remember Parker as playing "Loose Boots" Monica from Fox's Rel. She has range and moving into season 2 of Marvel's Runaways, it looks like she will be showing more of it to fans of the show.
We recently got a chance to catch up with Parker about this new season of Runaways. She shared what fans can expect from season 2 altogether, her adventure with the cast at New York Comic-Con back in October, and when she got a chance to jump into Monica's loose boots.

I didn't know if I was necessarily going to love Runaways, and I think I ended up loving it a lot more than I thought I would.
Why do you say that?
I wasn't as familiar with Runaways, just some of the characters.
Yeah, a few of my friends had felt the same way. It just came out at a different time.
Part of my job is watching a lot of this stuff, but getting wrapped up in the show while simultaneously trying to catch up on the comics, it's a daunting task, but worth it for the source material. What was it about Catherine Wilder that intrigued you? What was it that made you want to step up and take this role?
Well it's funny because I just loved her from the jump, and I wasn't familiar at all. I didn't know anything about it, I was working on another project in Toronto called The Strain and I was was out to dinner with two of the other actors, one of them being Corey Stoll, who's in the Marvel Universe. So I was like "Oh, I got this audition. I need to put it on tape, I got to figure out how to do that." And they're like "Well, what is it?" and I'm like "I don't know, because it has a code name and all of those things." And I start to read the description of all the women and she was a lawyer, she's the loving wife, a devoted mother she's all of these things and then it starts to talk about how she's got this other life. And they instantly were like "That's Runaways! That's Runaways! I know what that is!" Their excitement made me get excited and then did my research and diving into this role before I auditioned for it, I had like 12 hours or something to do the work—which is a lot, because most characters you usually don't get that much time with a part.
I was in a hotel room and I could really, really do some research, and I found out how beloved it was and started to look through some images of the comics and I just thought that this woman is strong and powerful and devoted. Roles like that don't come along everyday, so I had to give myself a quick lesson in Marvel and then get the tape sent off back to LA. Once I got the role, then of course I read the original comics and I was sold, I was just so thrilled that this was the next role I was going to get to play.
You are a wife and a mother, similar to the character on Runaways. Did you relate to anything in the show?
Yes, absolutely. My son is 12-years-old and Alex (her son on Runaways) is 15, so it's very similar to me. What I love about Runaways is the way that these parents talk and deal with their children. Yes, they are their parents but they don't talk down to them, and a lot of shows really talk down to kids like they're just in a completely different planet. You don't talk to a kid like he's five years old when he's 15.
I think being a mother helps me relate, and I also feel very maternal to Rhenzy (Feliz, who plays Alex) even though he's a grown man, but he's so smart and such a talented actor. But I'm like, are you doing good, are you getting enough sleep, make sure you're taking care of yourself. I got "momma" in my blood. I think I was a mother even before I ever was a mom.
I missed seeing your panel during this year's New York Comic-Con, but saw that there were a lot of people interacting with you after the panel. Talk about what it's like to be in this universe that has so many eyes on it and so many fans who want to dissect you and get to know you and understand you.
This was my first time going to any Comic-Con of any kind. I been invited to San Diego a while ago, maybe six or seven years ago for a video game, but I wasn't able to attend. This was my first time I had gone with the show. I've never seen in front of me, a fandom like that. They were coming up and telling us what they loved and what it changed for them. I had young teens coming up and saying I love this storyline and I love that you guys are doing this and there was another black boy who was saying "he looks just like me, this is my favorite comic, I can't believe you're doing this."  I was just in awe because us as actors, yeah you want to be recognized for your work, but like I think the fandom in Marvel is so strong and so deep and they're really passionate about the work we're doing, it was gratifying.
Then we went to Madison Square Garden, we left the Javits Center and went to Madison Square Garden to watch the first episode of season 2, which I hadn't seen yet because we shot that six months prior and I was in love with it. I was like "Oh my gosh, oh my gosh." I knew what was going to happen but watching it all put together, everyone was cheering. Ryan Sands, who plays my husband, was next to me; I punched him in the arm every time something so good happened. We were sitting in the audience, but all of a sudden they announce, "we have a few of our cast members in the audience," and the fans were so shocked that we were with them and among them they were like "oh my God," turning around and looking around. To be there and watch it with everyone, it was very cool and a very great feeling. That was a long way to say it but it was very cool.
Can you give us any idea of what fans can anticipate from your character and the story as it builds in season 2? It literally seems to pick up in a week or so from where season 1 left off.
Yeah, pretty much the next day they're running away and they're trying to figure out how to survive on the street and not have a house, cell phones or credit cards—[it's] wealthy Brentwood kid [life] versus a homeless kid in downtown LA.  You're going to be introduced to more characters. There's a lot of characters from the comics from the original comics that are going to come through by the end of the season. We have 13 episodes to tell the story, and in episode 1 you see how long and big it is. You really do dive into how far The Pride will go to get their kids back. You'll see Jonah and the fight against him, where he's from, and the connection with Karolina. We have a really big climax halfway through the season.
It's a lot you think you can't squeeze more in but I'm always amazed how Marvel can get more storyline in. I mean you're talking about 17 series regulars and all of having a story to tell. My own personal character, her line has moved and what she does to make sure her son comes home is shocking. It's not only shocking to her and to her husband, but also the fans are going to be floored that this woman you thought, had conflict in the beginning of season 1, didn't want to be murdering these kids in these boxes. But when it comes down to it, my son is gone and I need him back and I don't want him to die. Catherine will stop at nothing; that was shocking to me even reading it. I was like "okay, I love it." 
There are parents who will stop at nothing to make sure they're kids are protected and it played beautifully in the show with the various conflicts between the members of The Pride.
They're not on the [same] page. Within each group and each family—oh my goodness, it's a good story.
Now, when I set up this interview, I didn't realize initially that you also played Loose Boots Monica from Rel. I don't know if it was the glasses or not! I love Rel.
I do too. It was funny because I got to do that in my hiatus in-between, and the difference between comedy and drama just keeps it fresh for me. I swear I get recognized for that role all the time. It's like people are always like "Loose Boots Monica!" on social media. And honestly it was one scene, it was just talked about so much. But I had one scene with Rel and loved it. Loved that part. It was really cool. It was definitely set up beautifully. It was good episode long joke.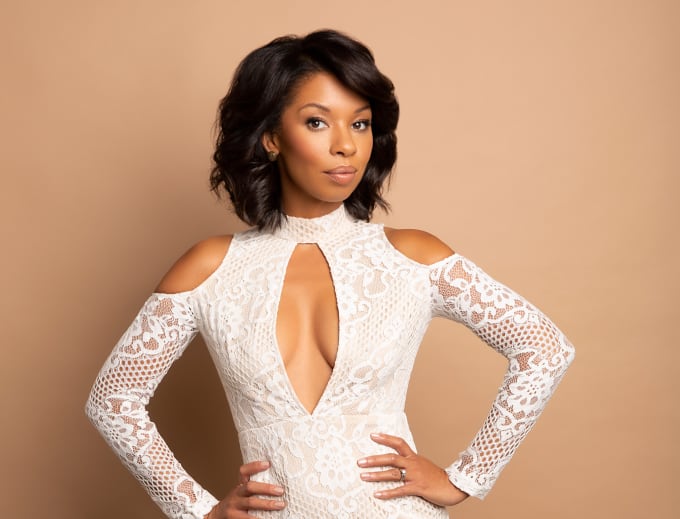 Was there anything else you got to work on while you were working on Runaways.
I did a move called Relish which is an independent feature about a transgender teen in a halfway house or counseling center. I play the counselor helping him going through this journey and ironically they run away as well.
I [also] got the opportunity to travel with my family and spend some time with my own family. I can't do much because of Runaways but I can do a little guest spot here and there and do a film that really means something to me. To be able to do Rel was just fun. I love him, I love Jerrod Carmichael, I love that whole team, so to be able to do something fun and be on the Fox lot again—The People Vs. OJ Simpson, I shot with Fox, two years prior—so to be back on that lot again was great.
[It's] also just exciting to do such different things in my career and not have to worry about my next job, and just know things will come. I'm in hiatus now and it's not a wonder of when my next project is going to be, something will come down the line, but right now I'm just going to enjoy the anticipation of all the press around it and then yeah something else will pop up to. I don't know if it will be like "Loose Boots Monica," but we'll see.