Lil Nas X Responds to Conservative Personality's Criticism of 'Public Lewdness' at Grammys
X rocked a sequin crop top during his medley performance at the awards this weekend with Jack Harlow, and conservative pundits weren't thrilled.
Getty
Photo by Rich Fury/Getty Images for The Recording Academy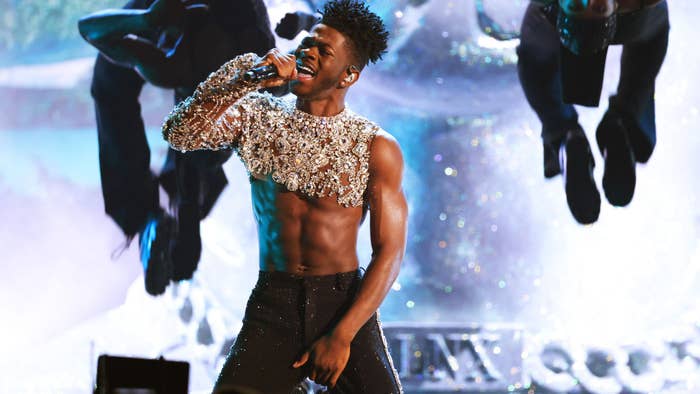 During Sunday's 64th annual Grammy Awards, Lil Nas X wore a little shirt. And apparently it bothered people. 
Nas X rocked a sequin crop top during his medley performance with Jack Harlow, and as a result, conservative pundits are coming for him. But as usual, X never backs down from a Twitter exchange.
"Lil NAS has a BIG PROBLEM (And so does America)—-knock yourself out NAS," Greg Kelly wrote. "You're a little FOOL with zero talent!!!!"
Nas hit back with, "damn greg all i did was wear a crop top this time." Kelly responded by saying that it was "not the shirt" that upset him, but rather the "PUBLIC LEWDNESS" of the performance.
"You know there are LAWS about that in certain jurisdictions'---but then again you were in VEGAS so who the hell knows," Kelly said. "Bottom line: SING AND DANCE but no public self GROPING. DECENCY!"
Lil Nas X closed the discussion with a simple, "apologies. have a great night."
It's been a couple weeks since the musician returned to social media after a several-month hiatus, and he's already on a roll. Last week, amid all the Oscar-slap talk, Nas X brought up some convincing arguments and poked fun at Twitter users' hot takes about Will Smith. He asked his followers how they'd react if Smith slapped Harriet Tubman or Peppa Pig, and even began to share lyrics to the Fairly Odd Parents theme to push more hypotheticals. 
"y'all sitting here laughing but imagine if will smith was an average kid that no one understands mom and dad and vicky always giving him commands (bed, twerp) doom and gloom up in his room Is broken instantly by his magic little fish who grant his every wish cause in reality they," X wrote.