Analyzing the Kanye vs. Drake Beef
How real is the animosity between Kanye West and Drake right now? Who has more to lose in their feud? What happens next? How will this end? We break it all down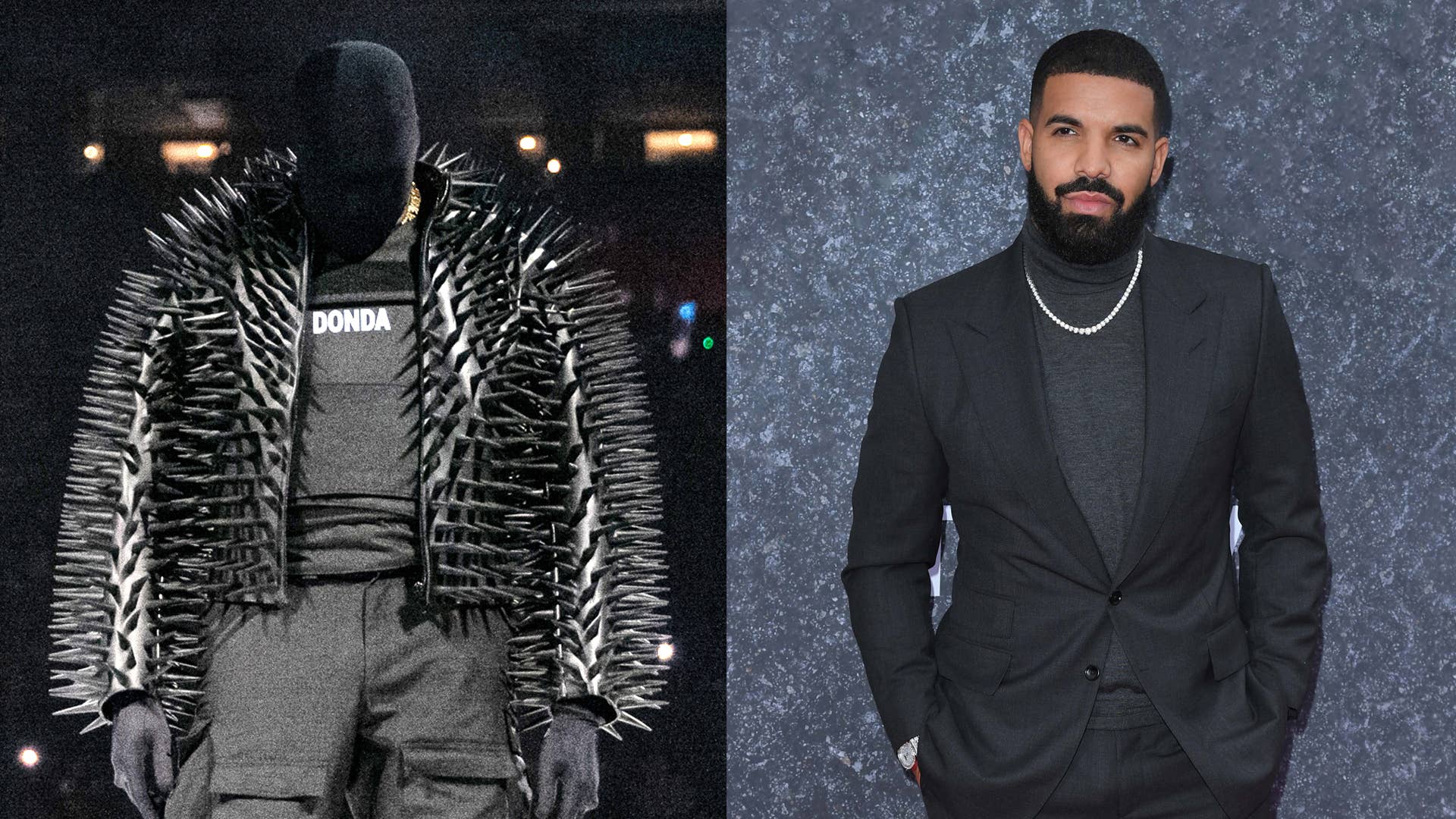 Getty
Photos via David X Prutting/DONDA and Karwai Tang/Getty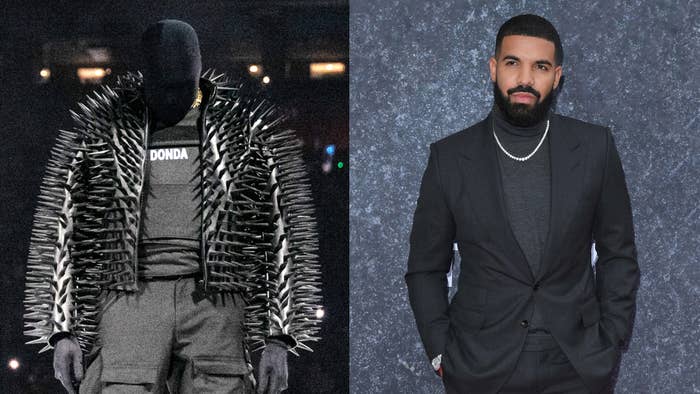 There's a lot going on between Kanye West and Drake right now.

The summer began with rumors that they had squashed their beef, but that glimmer of hope didn't last long. As they each got ready to drop albums at the same time, tensions reignited. First, they traded subliminals about staying off each others' release dates. Then Drake took direct shots at Kanye on Trippie Redd's "Betrayal," which was soon followed by Ye texting an image of the Joker to a group chat with the warning: "You will never recover." (For a full breakdown of everything that's gone down so far this summer, we put together a comprehensive timeline here.)

So what's really going on here? Is the animosity for real, or is this all a promotional tactic for each of their next albums? Who has more to lose here? What's going to happen next?

While we wait for Kanye's next Donda listening event in Chicago tonight, where we'll likely get answers to some of those questions, members of the Complex Music staff (Eric Skelton, Jessica McKinney, and Andre Gee) came together to debate what's really happening in this beef.
Eric: Both of these guys are savvy when it comes to business, so I'm sure they're aware this beef will bring them more attention (and money) as they get ready to drop new albums. But I don't think any of it is fake. It's clear these guys can't stand each other right now, whether that's because of natural competitiveness or some personal behind-the-scenes shit that hasn't been fully disclosed yet. Two years ago, Drake sat down with Rap Radar and said he had no interest in repairing the relationship, explaining, "It's just not on my end. A lot of [Kanye's] issues with me, I can't fix them for him." And when Kanye shared Drake's home address in the middle of the night last weekend, it became even more obvious this whole situation has unraveled beyond the point of friendly sparring. It's personal. For a while, it seemed Kanye was sticking to his plan of being silent and focusing on the music this rollout, but the flare-up with Drake threw off the script. I don't think this was planned.
Jessica: If this question was posed two years ago, I would have said it's all real, but their latest back-and-forth seems a little forced. It's giving off the same energy as 2007's Kanye West vs. 50 Cent duel. The subliminal disses on records is one thing, but Kanye's random outbursts on Instagram and Drake's reactionary videos don't seem authentic to me. Their beef may have started as a result of conflict in their friendship, but I think both parties are aware of the spectacle that their current "beef" is causing and are fully playing into it. Even the two biggest artists in the world have to use sleazy marketing tactics to promote two delayed albums that were likely losing some hype.  
Andre: They have a weird frenemy dynamic going on for several reasons. Many people in rap feel like Drake took the torch from Kanye (even Kanye said it was "Drake season" in 2013). And I'm sure the things Drake was hinting at in 2018 still sting to some regard. It's convenient for Kanye to try and poke at those tensions in the midst of an album cycle. I don't think Consequence's call-out about looking for Drake's release date was meant to be straight up malicious, as Kanye has had an album showdown before with 50. He probably would've liked the two to have some friendly competition, but he also wouldn't mind if Drake took offense to it. I don't think they hate each other like Drake and Push, but I also don't think they're friends texting each other while laughing at the world and orchestrating this whole thing together.
Eric: According to all the rumors from 2018 about how Drake recorded a response to "The Story of Adidon" that would "end Kanye's career" if he ever decided to release it, Kanye has more to lose here. But that might have just been posturing from Drake in the middle of a beef he was losing to Pusha-T at the time, so I actually think Drake has more to lose right now. Kanye has dragged fans through much bigger controversies than a potential L to Drake, and he's always survived (and his bank account continued to grow). But if Drake loses another spar with the G.O.O.D. Music camp shortly after the Pusha-T fiasco, it will sting. And if he loses his composure and does something reckless during the beef, it might put off a portion of his mainstream audience. That being said, both of these guys are on top of the world and the talk about anyone's career "ending" in this beef is completely overblown. Both of them will continue to sell a ridiculous amount of records (and sneakers) and they'll be fine in the long run no matter what happens here.
Jessica: Drake is more at risk of losing something in this beef during their album rollouts. Kanye hasn't given us the final version of his album yet, but he has shown his progress over time, and the last edit of Donda piqued fans' interests. Drake, on the other hand, has continued to delay his album with very little updates (he hasn't even dropped a single to hold fans over for this summer). The hype surrounding Certified Lover Boy has been dying down a little, so Drake has no choice but to deliver here.

Andre: We're talking about two men with diehard fanbases. Combined, they have overcome ghostwriting accusations, being a Trump supporter, weird relationships, and numerous callouts over misogyny and colorism. Like it or not, they're both good regardless. But on the flip side, I think Kanye has more to gain. The general consensus beyond his stanbase (and even with some of them) is that his music hasn't been consistently hitting at the standard he made us accustomed to. All the music after The Life Of Pablo (and even that album) has been polarizing. So if he were to, best-case scenario, drop a well-regarded album and be a part of a diss/exposal that puts another chink in Drake's armor—keeping Drake from being able to call him "burned out"—it would definitely look like an all-time rebound musically.
Eric: In a beef full of petty subliminals between two rappers over the age of 30 with kids at home, it's difficult to say either Drake or Kanye have handled things "well." But Kanye definitely went too far by posting Drake's address. But Drake's address was already public information, you say. Sure. But this isn't just about doxxing. The implication of Kanye's post is that he knows where Drake lives and can escalate the situation beyond rap if he wants to. No one wants that. Also, the group chat screenshot was entertaining as hell when it hit Instagram (I can't lie) but sincerely sending a Joker image to someone is cringey, no matter how you do it.
Jessica: There were some subliminals earlier in the summer, but this beef didn't really reignite until "Betrayal" dropped. Drake's verse was an appropriate reaction to Kanye, but things have become more childish and corny since then. Kanye sharing Drake's address would've been irresponsible had it been anyone else, but as Rick Ross pointed out, "Who didn't have Drake's address already?" Of course, Kanye's preferred way of responding to his issues with Drake over the last few years has been by turning to social media, so this should have been expected. All of the back and forth is entertaining, but the best way to handle things is by just releasing the music (not Instagram). 
Andre: I feel like Drake didn't have to maliciously respond to Consequence's challenge tweet. If he and Kanye were indeed mending whatever issues they had, there was an opportunity for them to kayfabe their competition, get good promotion for their projects, and set a path for them to be cool again. But this reminds me of Drake getting upset at "Control" when most of the other MCs Kendrick mentioned understood where he was coming from. Drake seems like one of those people who takes offense to someone saying his name in a manner that's not 100% laudatory. But everything was all fine and fun until Kanye posted Drake's address. Sure, it's already public information, but it's the principle. Sometimes Kanye acts like he's not from the Southside of Chicago and doesn't know there are some things you don't play with. Maybe he called himself channeling his inner Joker, but it was just weird behavior. 
Eric: They'll both get a chance to respond when they drop their albums, and it looks like Kanye is up next in Chicago tonight. His recent Instagram post hints he's gone "mask off" and won't hold back against Drake in his hometown. I'm hoping he sticks to his recent code of silence, though, and any shots at Drake come in the music instead of a stream-of-consciousness rant that could easily go left. Either way, I expect Kanye to get several more digs in at Drake, and then drop the album. A week later, Drake will respond with some bars on Certified Lover Boy, an album that will take the No. 1 spot on Billboard back away from Kanye. How long it continues after that is anyone's guess. (I honestly wouldn't be surprised if this beef continues in some form for the rest of their careers.)
Jessica: I would personally hate to see Drake go back in the studio and record some new tracks just to take shots at Kanye. That worked for Scorpion, but it's not necessary this time around. I expect Kanye, however, to play into this situation a little more at the listening event. Kanye won't speak, but I wouldn't be surprised if there are some new lyrics addressing his relationship with Drake. 
Andre: Kanye will likely have some bars for Drake at tonight's listening event. That could be anything from a slick line or two to having a scathing verse from Pusha's "surgical summer" that we never got. I think Drake will make his next move based on how Kanye carries it tonight, as he should. 
Eric: There are few things I'm certain about in life, but one of them is that Pusha-T will go after Drake any chance he can get. We've heard him take several shots on songs since their back-and-forth ended a few years ago, and now that he's been literally tagged in by Kanye through a group chat with his rival? All bets are off. I could see Kanye and Push tag-teaming a diss record on Donda, and I'm definitely expecting more bars for Drake on Push's next album. 
Jessica: The group chat conversation suggests Pusha-T will reemerge. I wouldn't be surprised if Kanye asked for an updated verse that includes a new diss from Pusha. But if people are expecting Pusha to come back swinging, I think that's a long shot. 
Andre: Pusha's got an album coming later this year, so he'll probably at the least have some subliminals in the leadup to that. And if Kanye has some bars for Drake tonight, people may infer Pusha wrote them, so maybe he'd be in it without showing his face, so to speak. But as far as going as hard at Drake as "The Story Of Adidon" did? That depends on how hard Drake comes back at Kanye. It's a weird dynamic here, as Pusha is basically Kanye's "big brother" that he can call to fight for him.
Eric: It looks like this might get ugly before it gets better. Based on Kanye's "you will never recover" threat and Consequence's promise that it's "party time" following the "Betrayal" shots, I think they have something planned for Drake in Chicago tonight (and it won't be as innocent as the "move out of the way of my release" bars Kanye had for him at the last listening event). Then it will be Drake's turn to respond when he finally drops his album soon after. (By the way, it's hilarious to think of a bunch of diss records ending up on an album called Certified Lover Boy.) That's when things will get really interesting. Will Drake be fed up enough to drop that "career-ending" diss that he supposedly recorded about Kanye in 2018? According to Rick Ross anyway, Drake is feeling good about where things are heading, because he recently texted: "Everything is unfolding. I'm about to be as free as a bird." The most hopeful scenario is that they'll exchange some bars in the spirit of friendly competition, and then leave each other alone once the music is out. But looking at all the clues we've seen over the past week or two, I think this is going to get a lot messier before it's over.
Jessica: Hopefully this will end with two albums coming out before the end of summer. Assuming Kanye really drops Thursday night, Drake will probably end up releasing Certified Lover Boy the following week, setting up a battle for the top spot on the Billboard 200. Kanye and Drake are frenemies, though, so the beef never fully dies. 
Andre: The anti-climatic finish to the 2018 Drake-Pusha chapter showed that Drake and Kanye both have access to damaging info about the other. Right now, they're probably playing chess to see how far the other really wants to take it. 
Tonight's listening session will be a major harbinger for where things will go next. If Kanye doesn't really address Drake outside of a little shot, they could continue the mostly harmless social media antics and subliminals in the lead-up to their albums, and eventually leave it alone. But if Kanye is really trying to shake the table, they could end up throwing all the mud they have at each other and turn things up for the third quarter of 2021. 
I think the best way for it to end would be for each of them to send a couple shots, so neither person (or fanbase) feels like they backed down, and then letting it fizzle out after the albums drop. At the end of the day, Drake is a fan of Kanye who looked at him as an inspiration, and Kanye seems to have had love for Drake at one point. I'd rather think about them collaborating before thinking about them throwing TMZ dirt at each other and completely ruining any chance of becoming cool again.