Drake Selling 3 Homes in Hidden Hills, California for Over $20 Million
Drake is selling his Hidden Hills, CA homes for over $20 million as he reportedly prepares to purchase a new property in Los Angeles that's equally as massive.
Getty
Image via Getty/John Walton - PA Images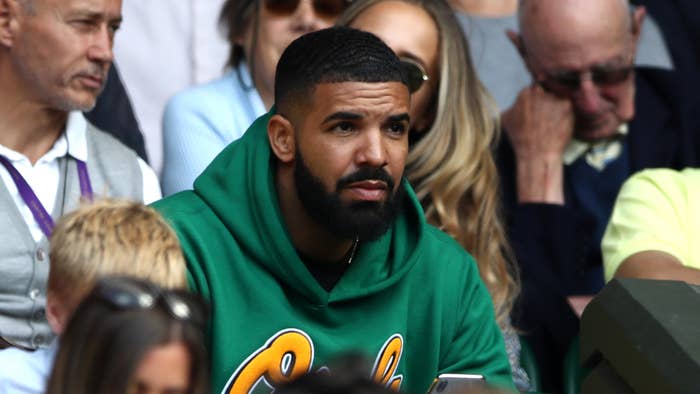 Drake is reportedly selling his massive Hidden Hills mansion, dubbed the "Yolo Estate," for over $14 million as the rapper recently purchased a new home in Los Angeles.
According to TMZ, Drizzy listed his 12,500 square foot home for $14.8 million via The Beverly Hills Estates. The home also comes with a swimming pool, waterfalls, a full-sized basketball and tennis court, and much more. The OVO rapper is also selling two properties that are located next-door for a three estate deal of $22.2 million.
"All 3 offered at $22.2M & together encompass 6.7 acres at the end of the cul-de-sac. If you're reading this it's not too late," the listing for the homes reads.
This news comes after it was reported that Drake is purchasing a Beverly Crest neighborhood of Los Angeles. According to Architectural Digest, Drizzy is buying the unlisted home from fellow musician Robbie Williams, and while the property was never listed, the Los Angeles Times believes the rapper is getting it for roughly $50 million. While the space is 20,000 square feet, it still pales in comparison to his 50,000 square foot Toronto mansion, appropriately dubbed "The Embassy."
Building the entire mansion from the ground up, Drake worked closely with Canadian architectural and interior designer Ferris Rafauli to bring the vision of his dream home to life.
"Because I was building it in my hometown, I wanted the structure to stand firm for 100 years," the rapper told Architectural Digest once the home was completed two years ago. "I wanted it to have a monumental scale and feel. It will be one of the things I leave behind, so it had to be timeless and strong."
His latest purchase in L.A. looks to add to his growing property empire.