Doja Cat has scrapped her summer plans.
On Friday afternoon, the Grammy-winning artist took to Instagram to announce she was pulling out of the Weeknd's stadium tour as well as all forthcoming festival gigs. The reason? Emergency tonsil surgery.
"Hi guys. I wanted you to hear it from me first," she wrote in an Instagram story. "Unfortunately I have to have surgery on my tonsils ASAP. The surgery is routine but the recovery is going to take awhile due to swelling. That means I have to cancel my festival run this summer as well as The Weeknd tour. I feel horrible about this but can't wait for this to heal and get back to making music and create an experience for y'all."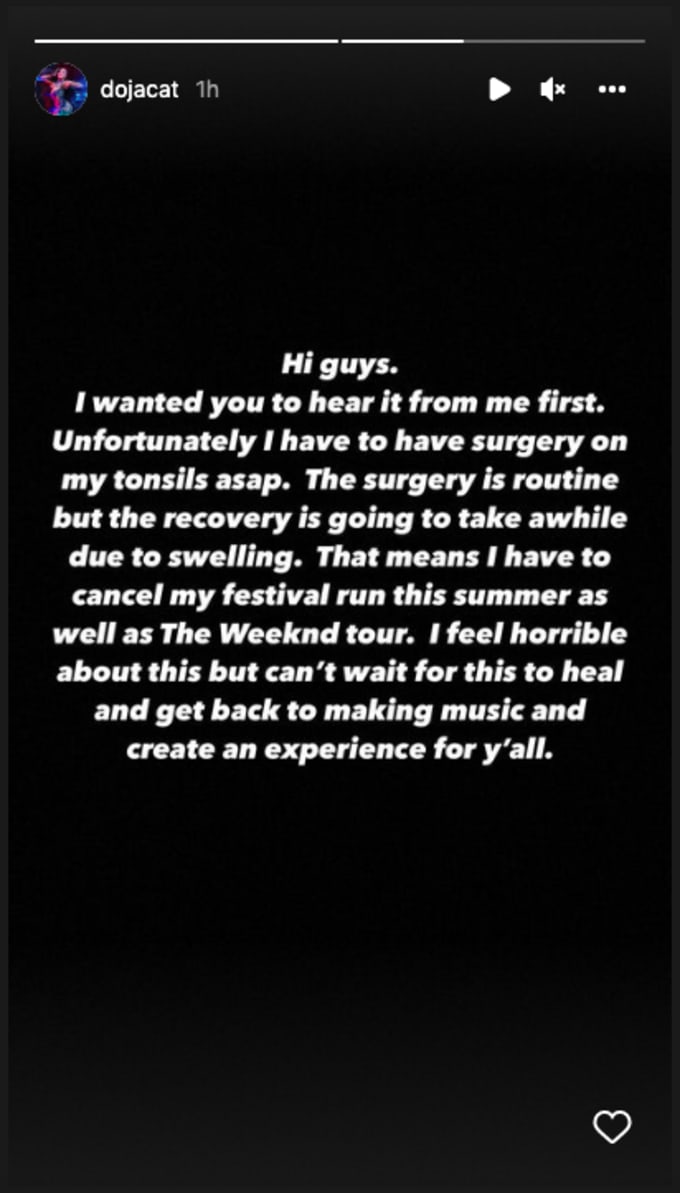 A day before the announcement, Doja shared a series of tweets in which she detailed her medical setback. She explained her tonsil had become infected ahead of the Billboard Music Awards, and forgot she was on antibiotics. Doja admitted she drank and vaped on the day of the ceremony, which did a number on her tonsils.
"Dr. just had to cut into my left tonsil. I had an abscess in it," she tweeted. "My whole throat is fucked, so I might have some bad news for y'all coming soon."
She later told fans she intended to have her tonsils removed and would take a break from vaping.
The Weeknd's After Hours Til Dawn stadium tour was set to kick off on July 8 in Toronto, followed by stops in NYC, Chicago, Miami, and Las Vegas, before concluding Sept. 2 in Los Angeles. Doja was expected to open the tours first leg, and was scheduled to perform at a series of summer events, including the Hangout Music Festival and the Glastonbury Festival.