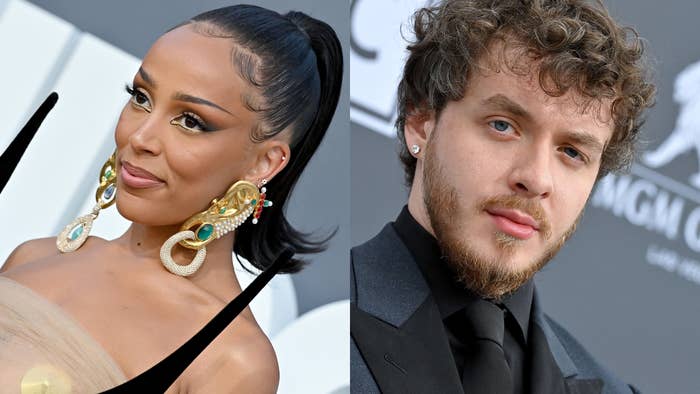 At the Billboard Music Awards over the weekend, Doja Cat was asked about the time she "swerved" Jack Harlow during a 2020 Instagram Live. As she explained from the red carpet on Sunday, it was "nothing intentional."
The original interaction took place when Harlow invited Doja to an IG Live he was broadcasting via his account. When she joined, the two exchanged some friendly banter when Jack told Doja that he needed to "talk to you for a second."
After Harlow explained that fans thought the two were dating—since her boyfriend apparently looked like him—he then started talking to her about the height difference between him and her significant other. 
Doja then abruptly left the conversation and noted that her wig was peeling off, which is also what she told E! News on Sunday, two years after it went down.  At the end of the above clip, Harlow can be seen admitting he had a "crush" on the rapper.
"My wig was peeling off and I noticed that and I was like, 'Oh, gotta go, bye,'" she explained. "Not that I care about that thing usually."
Also on the BBMAs carpet, Harlow was asked a similar question about the brief encounter two years ago, and explained that he always has a "new crush."
"I've become cool with Doja. That was early in our friendship, now we know each other pretty well. So I ain't gonna do nothing too silly," he said. "I think I'm playing it cool today."
At the awards, Doja took home four trophies, including Top Viral Song, Top R&B Female Artist, Top R&B Artist, and Top R&B Album.
While accepting the album trophy during the broadcast, Doja could be seen taking a last-second hit of a vape while making her way up to the stage—a move that certainly has fans talking. 

As for Harlow, the rapper has returned to the top of the Billboard Hot 100 yet again—and his single "First Class" hit back at the No. 1 spot on Monday, marking its second week at the throne.