Stream Bad Bunny's New Album 'Un Verano Sin Ti'
Bad Bunny's new project spans 23 tracks across sides A and B. Featured artists include everyone from Rauw Alejandro to Tony Dize to Jhay Cortez.
Bad Bunny returns with his long-awaited studio album, Un Verano Sin Ti (A Summer Without You). He also dropped off the music video for the track "Moscow Mule," which you can watch up top via YouTube.
The 28-year-old Puerto Rican artist began teasing the project back in January, when he announced the 2022 World's Hottest Tour. After months of growing anticipation, Bunny confirmed the LP's release with a bogus online ad that listed his Bugatti for $3.5 million.
"Selling a Bugatti Chiron 110 anniversary ready for transfer," the ad read. "It's in my name, 0 tickets, it has a tag and is up to date with maintenance. 16 cylinder engine, 4 turbines with 1,479 horsepower. Totally immaculate, it only has 486 miles and 9 hours of flying. I'm giving it away for $3.5 million."
The listing directed interested buyers to call +1 787-417-8605, which lead to a clip of an unreleased song. Those who called the number would later receive a text message that revealed the title of Bunny's new album.
Benito would go on to tease the album with a series of acting sketches shared on Instagram. The videos co-starred his girlfriend, Gabriela Berlingeri, alongside the Spanish actor Mario Casas.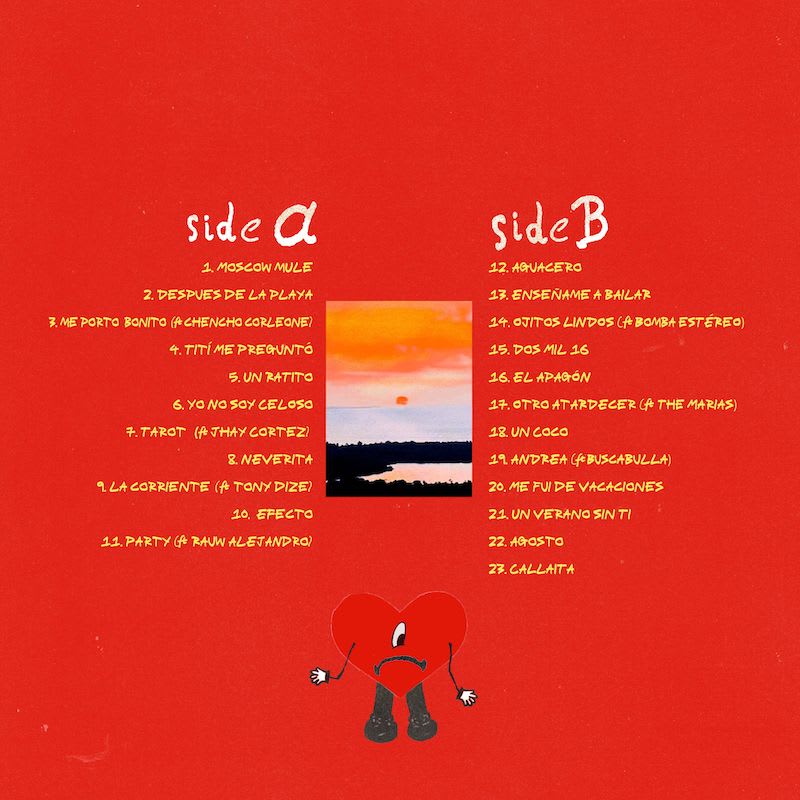 On Wednesday, Bunny revealed the album's official cover art and expansive tracklist across sides A and B. The 23-song effort delivers titles like "Moscow Mule," "Un Ratito," and the previously released joint "Callaita" featuring Tainy. Other guests artists include Rauw Alejandro, Jhay Cortez, Chencho Corleone, and Bomba Estéreo.
You can stream Un Verano Sin Ti now on all major platforms. The album, which follows 2020's El Último Tour Del Mundo, will be supported by Bunny's aforementioned stadium tour, which kicks off on Aug. 5 in Orlando.
Li Saumet of Bomba Estéreo—who collaborated with Bad Bunny on "Ojitos Lindos"—talked about how the track came together. "Benito has such a clear idea of what he wants and he is open to explore new ideas, without fears. I value that so much in an artist," she said. "Tainy worked his magic to build the song with Benito's vision and our Bomba essence. Benito wanted a nice and pretty song so we worked together in the studio in Miami to make a nice and pretty song and I think the outcome accomplished that."
Saumet added: "I think it's important that the alternative Latin music scene joins with the mainstream to make music and deliver our message and art together. For me it's an honor for this moment to showcase our Bomba Estéreo sound in a new way on a wider platform."
The song has already reached No. 3 on Spotify's Global 200 chart.