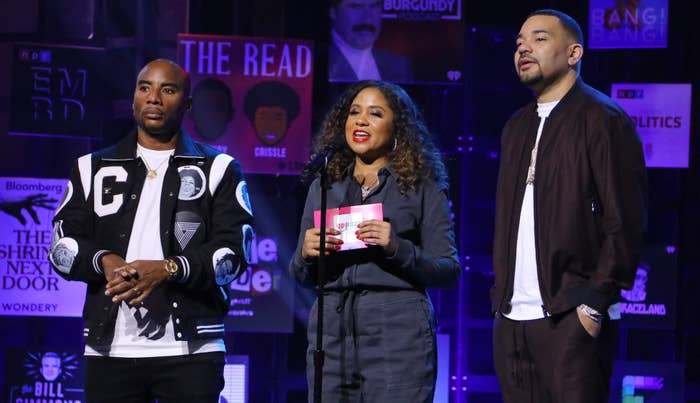 UPDATED 8/10, 8:29 a.m. ET: Angela Yee confirmed on Wednesday's episode of the Breakfast Club that she is leaving the show, although she'll still be a part of the larger iHeartRadio family. She also announced the impending launch of her own nationally syndicated daily program.
"This is really exciting," she told Charlamagne and DJ Envy on Wednesday. "This is something that I've been waiting to do for years now, way before the pandemic. I had actually sat down with our big boss…and I was telling her, like, 'Look, I really wanna have my own show.' You know, I have my podcast Lip Service and I was thinking I would be able to get something like a weekend situation."
Yee noted it's "always been a goal" of hers to secure something like this, with the opportunity having recently come along. "They approached me at iHeart…and told me that they are gonna give me my very own show," she confirmed.
Charlamagne and Envy will continue on without Angela Yee.
"This is just a tremendous opportunity," she said when thanking those who made the moment possible, including the longtime listeners and supporters. "I feel extremely grateful, extremely blessed."
For now, Yee added, she'll continue in her Breakfast Club role until "everything gets worked out" with the new show.
Hear Yee discussing her plans with Charlamagne and Envy below.
See original story below.
Angela Yee says the Breakfast Club is over—at least in its current incarnation.
"The breakfast club as you know it is officially over 🫶🏽," Yee tweeted on Tuesday evening.
Though the Power 105.1 FM morning show co-host (who has her own Lip Service podcast as well) hasn't elaborated, about 15 minutes prior she tweeted, "GOD is good!"
Angela Yee's colleagues Charlamagne tha God and DJ Envy have yet to weigh in on the reveal.
The Breakfast Club kicked off in 2010 and quickly became a New York City institution that created countless iconic hip-hop moments. Recent conversations included Chance the Rapper addressing fans who say he fell off, French Montana explaining how he helped Drake and Diddy squash their beef, and YK Osiris revealing he went broke after his success with "Worth It."
Tuesday's episode featured Yee, Charlamagne, and Envy speaking with Royce da 5'9" and Courtney Bell:
Two years ago this month, it was announced that the Breakfast Club would inducted into the Radio Hall of Fame. "What an accomplishment! … And for everyone who listens to us in the morning and is part of our family, thank you so much for this honor!" Yee wrote in August 2020.
Charlamagne said at the time that "one day people will look back and give us respect for how we impacted the culture the past decade," while Envy thanked "all of you for riding with us."
"The Breakfast Club is not only a show, but a platform, a spotlight, a think-tank for all things hip-hop/pop-culture, politics, and community," reads their page on the official Radio Hall of Fame site. "Known for their unrivaled interviews and their ability to connect with and engage audiences through their unique blend of honesty, wit and humor, also makes it a must-stop on political campaign trails. The Breakfast Club'sannual #Change4Change radiothon has raised millions for charity."
Stay tuned for more details on the potential future—or lack thereof—for the show.