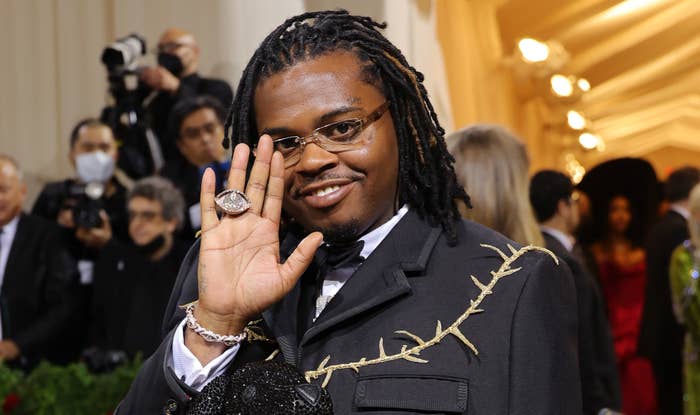 Gunna posted on his Instagram feed for the first time since being released from jail in December. The hitmaker spent more than half the year behind bars as part of a sweeping RICO indictment.
"N***as acting like they switching to a side But it's only one side. #YslTheLabel #FreeThug & Yak," he captioned a solo photo of himself, presumably crafting some eagerly awaited music.
Gunna, who took an Alford plea deal, closed his post with a simple and important truth: "GUNNA BACC!!!!!"
Gunna and Young Thug were among 28 individuals named in a 56-count indictment last May. Young Stoner Life affiliates are accused of conspiring to violate Georgia's RICO Act and participating in a criminal gang. The defense maintains YSL is strictly a music imprint and clothing company.
The process of choosing jurors began this week. "Jury selection is expected to continue until the end of February with opening statements to take place shortly after jurors are selected," the Atlanta Journal-Constitutionreports. Thugger has been behind bars since May 9, 2022. Gunna was arrested two days later.
Gunna's deal led trolls and uninformed parties to speculate that he snitched on people involved in the YSL case in Georgia. He vociferously denied this in a statement provided to Complex last month:
"When I became affiliated with YSL in 2016, I did not consider it a 'gang'; more like a group of people from metro Atlanta who had common interests and artistic aspirations. My focus of YSL was entertainment—rap artists who wrote and performed music that exaggerated and 'glorified' urban life in the Black community. While I have agreed to always be truthful, I want to make it perfectly clear that I have NOT made any statements, have NOT been interviewed, have NOT cooperated, have NOT agreed to testify or be a witness for or against any party in the case and have absolutely NO intention of being involved in the trial process in any way.
Attorney Steve Sadow shared similar words the day after the Wunna artist walked out of Fulton County Jail. "Gunna did not snitch to get out of jail," Sadow wrote. "He has said nothing and is not cooperating. His plea statement cannot be used in court against any other defendant. So please stop spreading lies."
Young Thug's sister Dolly White weighed in online last month, saying, "Can y'all please stop saying that people ratted, and people this-and-that? It's not making anybody better, it's not making nothing good, bro. … If y'all love Gunna, then y'all give him support."
Lil Duke also took a plea in December. Just before the year ended, an eighth alleged YSL member accepted a deal as two others rejected guilty pleas.
News arrived last week from the AJC that the state intends to call as many as 372 witnesses during the trial. The names include Lil Wayne, Killer Mike, Rich Homie Quan, and Birdman.