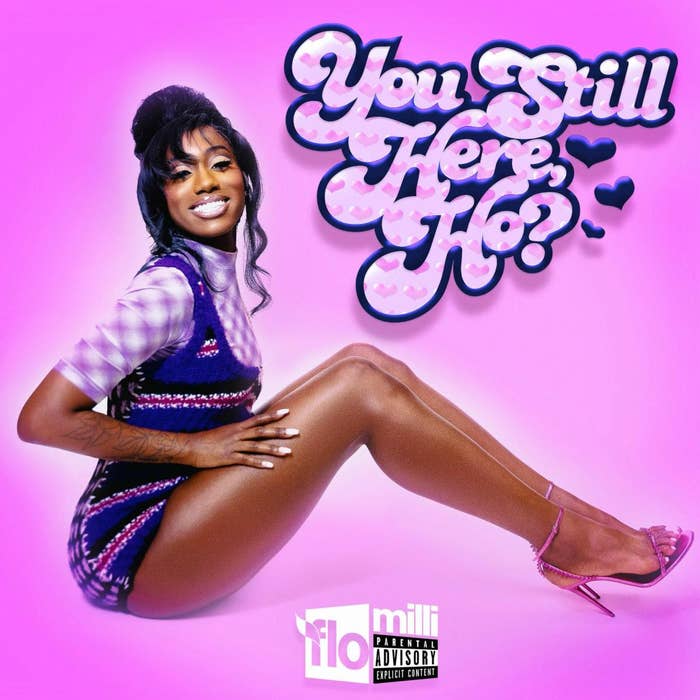 Flo Milli's debut album You Still Here, Ho? is here early, with features from Babyface Ray and Flo's "Money" collaborator Rico Nasty, who co-signed the release with an all-caps tweet saying she's "so proud." (Rico's own record Las Ruinas hits on Friday.) Flavor of Love and I Love New York fans have an intro and outro by Tiffany "New York" Pollard to look forward to as well. 
"F*ck Friday," Milli wrote on Instagram on Tuesday night, referencing the original July 22 date. "1,111 comments and I'll drop my album at midnight…drop a '💜💜💜' if you ready."
The Alabama 22-year-old subsequently shared in a statement, "My album creative is based on early 2000's nostalgia. As queen of Gen-Z, this is the new age of the Roaring 20s. As a woman and creative, I feel so empowered, full of energy and full of life. I've decided to use social media, technology and my resources to uplift and inspire those who look up to me to use what they have, start where they are, and more importantly start today."
You Still Here, Ho? follows Flo Milli's July 2020 breakout mixtape Ho, Why Is You Here? and clocks in at 41 minutes with 17 tracks, including the previously released Fiddler on the Roof-sampling "Roaring 20s," "Conceited," "Ice Baby," and "No Face," which got a Nayip-directed video today:
A release says the album keeps "on theme with a focus on black female empowerment and self-love" and that Flo's "uniquely creative vision...sees her re-enacting iconic moments in pop culture from your favorite reality television shows." You Still Here, Ho? producers include YoungFyre, Big Korey, and Tasha Catour.
In the last few months, Milli showed up on Monaleo's "We Not Humping (Remix)" and its video, as well as Sally Sossa's "Toot It Up," which has a visual that premiered on Complex. Having just torn up stages at the UK's Wireless Festival and Rolling Loud Portugal, she's set to play Rolling Loud Miami on July 24.
Stream Flo Milli's debut album You Still Here, Ho? featuring Babyface Ray, Rico Nasty, and Tiffany Pollard now: