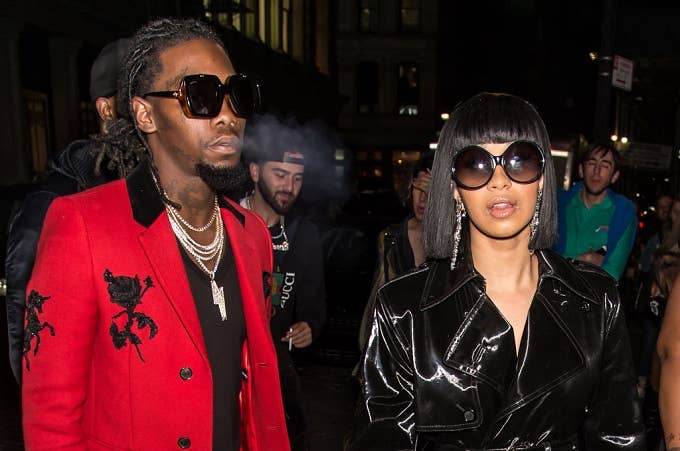 Cardi B is not letting Offset off the hook for his infidelity so easily. While onstage at the Holiday Hip Hop Festival in Mississippi on Thursday night, the "Bodak Yellow" rhymer set the record straight and relayed the warning shots she told her fiance.
"I let a nigga know though. You do that shit again, you gon' lose your wife," said Cardi to a cheering crowd before kicking off a performance of her newest single "Bartier Cardi." The line was pulled straight out of Beyoncé's playbook, who warned Jay Z with the same message on Lemonade's "Don't Hurt Yourself." 
Migos was also billed to perform, so there's little doubt Offset heard her message. His cheating scandal went public earlier this month when his iCloud was hacked, allegedly revealing a September video of him and a naked woman in a hotel room. But that's not all. Earlier this week, 26-year-old model Celine Powell went to Instagram to state that she's pregnant with Offset's baby. He and Cardi have since denied the rumors. In an exchange with TMZ, sources close to Cardi B said Offset doesn't even know Powell.
Cardi B and Offset started dating earlier this year while working on a single together. They became engaged last October when Offset proposed to her a massive eight-carat diamond ring worth $500,000 during Power 99's Powerhouse Philadelphia show. Hopefully he heeds the lessons from Jay's 4:44.