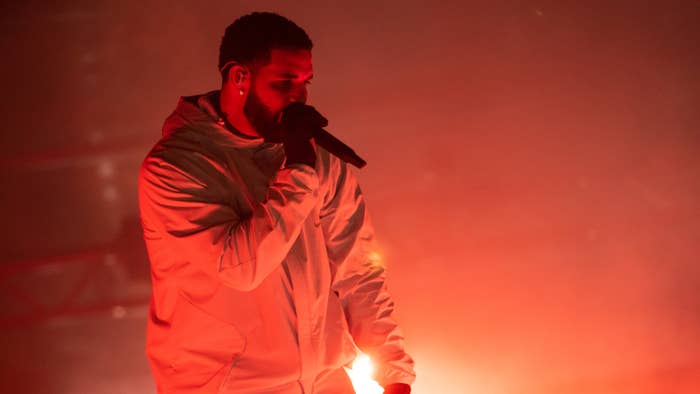 A 23-year-old man who allegedly tried to claim Drake was his father was arrested for trespassing on the grounds of the artist's recently acquired mansion earlier this month.
According to a report from TMZ, citing sources with the Los Angeles Police Department, the incident in question occurred on July 15 and began with the man being spotted "near the pool house" at the residence near Beverly Hills. While the man is said to have never made it inside the mansion itself, responding officers did question him, resulting in the aforementioned father claim, which was followed by the man's arrest for misdemeanor trespassing.
Drake—who was reported earlier this year to have purchased the home from singer Robbie Williams for more than $70 million—was not at the property at the time of the alleged trespassing.
When reached for comment by Complex on Tuesday, an LAPD rep confirmed the suspect was "arrested and booked for trespassing via the private person's arrest process."
TMZ was also the source of word last month that Drake, who's currently fresh off the release of his Honestly, Nevermind album, had completed the sale of his so-called "YOLO Estate" in the Hidden Hills area.
In recent non-house news of the Drake variety, confusion is still bubbling up regarding a refuted Sweden arrest rumor and a subsequent sharing of an official-looking document from Drake himself that seemed to suggest something happened in the country recently. Either that, or Drake was just stoking the rumor fire a bit.
At any rate, fans can look forward to the upcoming three-day event October World Weekend, which Drake is bringing to his hometown later this month. Confirmed for the lineup thus far are Lil Wayne, Nicki Minaj, Chris Brown, and Lil Baby. See here for more info.