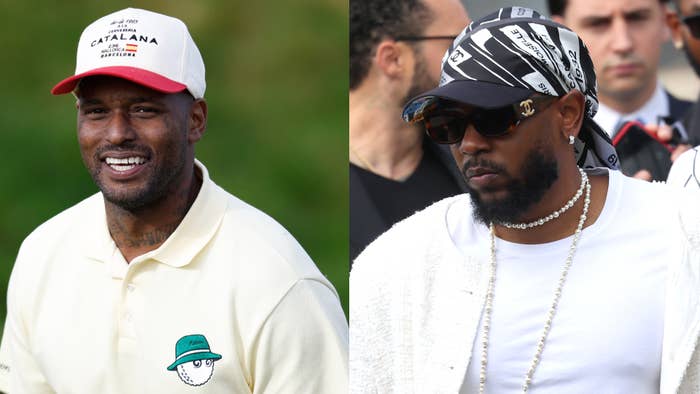 As it turns out, a number of people have Schoolboy Q "fucked up."
In a tweet shared Thursday, and yes I'm still using the words Twitter and tweet because I refuse to acknowledge the platform's X-ification, Q referenced remarks he recently made about Kendrick Lamar's impact on his personal life and artistic journey.
"I only said Kendrick was better," Q clarified. "I said my otHer friends are better den me at certain tHings lol.. y'all got me fucked up."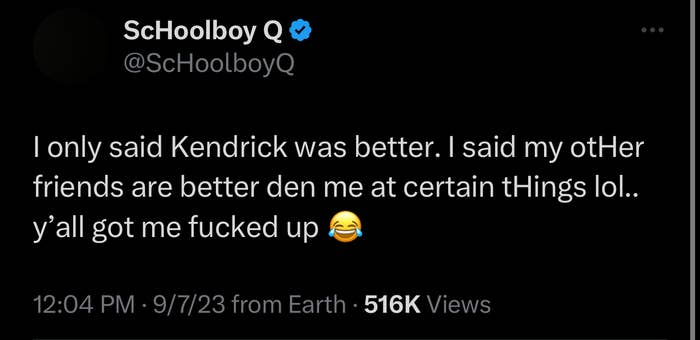 As previously reported, Q appeared on the Back on Figg podcast at the top of this month, resulting in a candid reflection from the TDE artist about what Kendrick has meant to him.
"Dot gave me so much confidence," he said in the extensive interview. "Dot made me a rapper. Dot saved my life. I owe a lot to Dot." In the same discussion, Q also spoke more generally about the quality of Kendrick's work thus far, notably dubbing him his "sensei" and asserting that he will never surpass him.
"I'll never be better than him at any point in my career, in my life," Q added. "I'll never be better than him. Never. … I accept that, but I'm better than everybody else."
Instead of trying to be better than a Kendrick or any other "senseis" in his circle, Q said he's simply focused on constantly pursuing a "better version of myself."
We can likely expect new music soon from Schoolboy Q, whose most recent studio album, CrasH Talk, arrived back in 2019. In an IG comment in August, Q let fans know he had big plans for 2023.
"WatcH How I come tHis year," he teased.