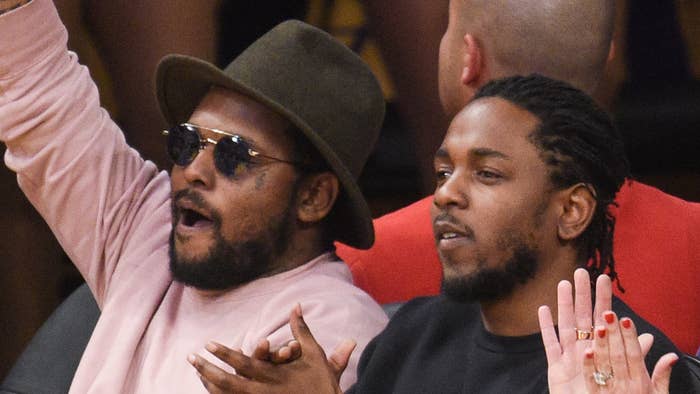 ScHoolboy Q has revealed that Kendrick Lamar had a life-saving impact on his life.
During an interview with Back On Figg, the 36-year-old revealed just how important former TDE labelmate K. Dot is to him. According to Q, Kendrick was one of the first people to check him whenever he was slipping on his work.
"Dot gave me so much confidence. Dot made me a rapper. Dot saved my life. I owe a lot to Dot," said ScHoolboy. "Kendrick and Ali, pulled me to the side [and said] you slipping, you ain't on your game. [We're] really about music around here…"
Early on in his career, Kendrick Lamar had ScHoolboy Q join him on stage as his hype man. That opportunity eventually turned into him becoming an artist himself, and the rest is history.
"Top wanted to get rid of me [at one point]," Q said. "Dot saved me. He made me his hype man. He would tell me to come to the studio all the time, 'We in the studio, we in the studio. You got your verse ready?'"
Q also explained how Kendrick Lamar would have come to the studio with him and Dr. Dre. "Dre was initially interested in Kendrick and then every time he went to [work] with Dre, he would tell me to pull up. I was like his little sidekick."
ScHoolboy added: "Next thing you know, Dre hearing my shit. And then I get my deal because of Dre really. What I'm saying is, Kendrick kept pulling me, kept pulling me and kept pulling me."
Last month, ScHoolboy Q hinted that new music was on the way. The rapper took to his Instagram to respond to an account called @hiphop.talk that shared a post highlighted his "underrated" catalog and listed songs off each of the rapper's albums.
"Do NOT sleep on ScHoolboy Q" the post's caption read. "One of the best/ my fav rappers of this generation." The TDE rapper caught wind of the celebratory post and responded in the comment section: "WatcH How I come tHis year."