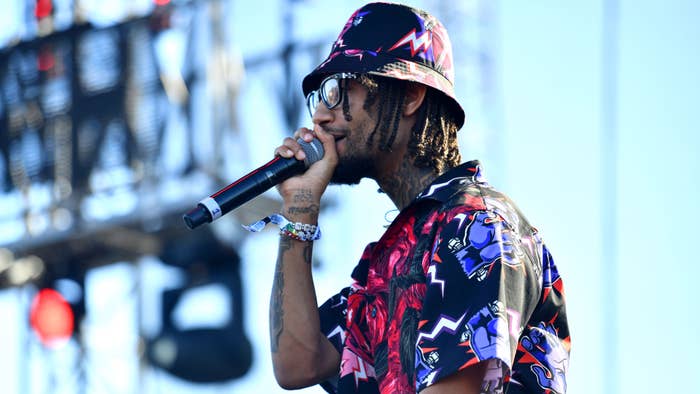 New details have emerged amid the ongoing investigation into the murder of PnB Rock, who was shot and killed in Los Angeles this month.
Per regional outlet KTTV, court documents reveal authorities have not yet identified a previously undisclosed individual described as "a man wearing a red shirt." Police say this unidentified person was seen at Roscoe's in Los Angeles observing the arrival of Rock, who was there at the time to dine with his girlfriend.
The man in red, who could now become another suspect in Rock's murder, is alleged to have later spoken with Freddie Lee Trone outside the restaurant. Trone, who on Thursday was charged with murder and conspiracy to commit robbery (among other charges), is then alleged to have left the location before coming back with his teen son, who is also facing charges of murder and conspiracy to commit robbery.
The 17-year-old, whose name has not been made public, is alleged by police to have walked into the restaurant after being dropped off, at which point he's said to have shot Rock in the chest before shooting him in the back once he fell to the floor. Per court documents, which have also been viewed by Complex, the teen allegedly threatened to shoot Rock's partner before robbing her. The teen also allegedly removed multiple jewelry items from Rock before being picked up by Trone.
Complex has reached out to the Los Angeles County District Attorney's Office for comment. This post may be updated. When reached for comment by Complex on Friday, an LAPD rep confirmed the investigation is still in progress, adding that no new information was available at the time of this writing.
In a statement shared Thursday, the D.A.'s office said a third person, Shauntel Trone, had also been charged with accessory after the fact in connection with Rock's murder. All three have since been arrested.
"The accused individuals' alleged actions in this case were heartless and cruel and robbed the world of [PnB Rock's] talents," L.A. County D.A. George Gascón said this week.