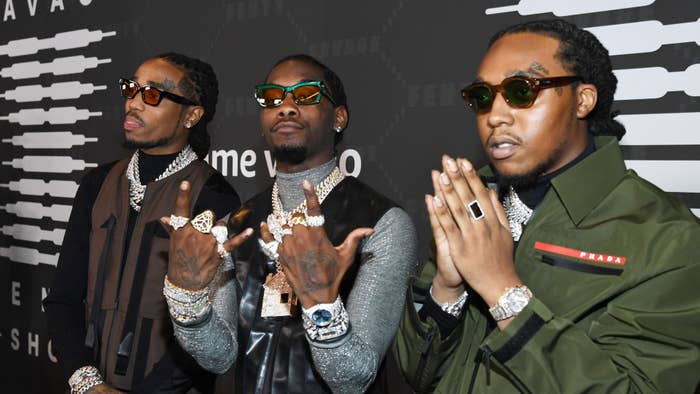 Migos will pay $30,000 as part of a Fyre Fest-spurred settlement.
"The Defendant shall pay the total sum of $30,000.00 (the 'Settlement Payment'), as full and final settlement and complete satisfaction of any claims the Trustee has raised against the Defendant," court documents cited in a Blastreport on Wednesday stated.
The report adds that the trio had bagged an alleged payment of $100,000 to perform at the festival that never actually happened, with the newly announced agreement ultimately resulting in all claims against the group connected with their festival affiliation being dismissed once it receives the judge's sign-off.
The fraud-ridden luxury music festival from Fyre Media CEO Billy McFarland and artist Ja Rule, originally slated for preposterousness in April and May of 2017, infamously collapsed in spectacular fashion. Advertised performers had included Migos, Pusha-T, Skepta, Rae Sremmurd, and blink-182.
Following reports of behind-the-scenes issues, the latter announced they were pulling out of their planned performance after coming to the conclusion that organizers would not be able to accommodate "what we need to give you the quality of performances we always give fans."
Matt Skiba, who's been a part of the blink family since 2015, later joked that he put a little witchcraft to use to ensure the "bullshit" festival didn't come to pass.
"We pulled out for technical and logistical issues and the rest of it crumbled to shit because that's what it was," he told NME back in July of 2017. "It was bullshit. I used my witchy ways and it seemed to work. I'll take responsibility and everyone can blame me."