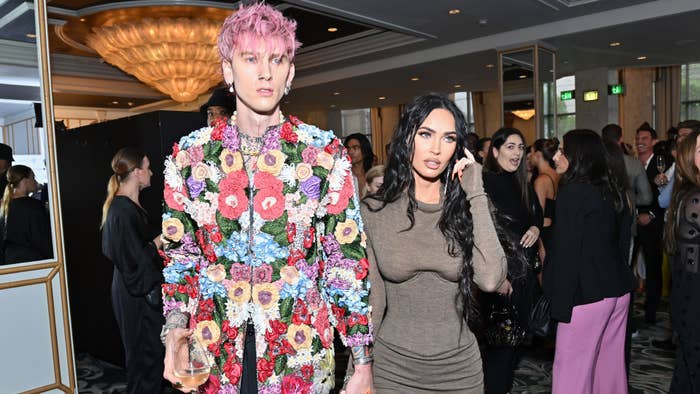 In a new documentary, Machine Gun Kelly details a phone call with Megan Fox during which he says he had a shotgun in his mouth.
The moment in question is mentioned in the feature-length Life in Pink documentary, which hit Hulu this week. Following a reflection from MGK on the personal significance of playing a packed hometown show in Cleveland last December in comparison to some of his earliest performances in the area, the doc turns to the Tickets to My Downfall track "Lonely," which lyrically references the July 2020 death of MGK's father.
Per MGK, songs like "Lonely" are "necessary" because the vast majority of his fans listen to him "because of the pain that they relate to" in the lyrics. Elaborating further, MGK mentioned his father's death and noted how a "weird interaction" contributed to his state at the time.
"I wouldn't leave my room and I started getting really, really, really dark," he said in the doc. "Like, Megan went to Bulgaria to shoot a movie and I started getting this really wild paranoia. Like I kept getting paranoid that someone was gonna come and kill me. And then there was this, I would always sleep with a shotgun next to my bed and, like, one of the days I just fucking snapped."
According to MGK, he called Fox during this incident and was at one point "freaking out" on her.
"I was like, 'You weren't here for me,'" he said. "I'm in my room and I'm, like, freaking out on her. Dude, I put the shotgun in my mouth and I'm yelling on the phone and, like, the barrel's in my mouth and I go to cock the shotgun and the bullet—as it comes back up—the shell just gets jammed. Megan's, like, dead silent. That was kind of where I started realizing something's not right."
From there, MGK explained, both Fox and his daughter came to him with similar insight about his struggles.
"Megan's like, 'There's two yous' and it was the same thing with my daughter," MGK said, later adding that the moment ultimately helped inspire his desire to, in his words, "kick the drugs."
For more, see Life in Pinkhere.
The new doc shares a title with the deluxe-ified edition of MGK's Mainstream Sellout, which arrived on Friday and counts an acoustic version of "Maybe" produced by Travis Barker among its new track additions. MGK is currently out on the road for his international Mainstream Sellout Tour, which this week makes a stop at Madison Square Garden.