"Falling Down," a posthumous collaboration between Lil Peep and XXXTentacion, has been released to all streaming platforms.
The track was co-written by Makonnen, with whom Peep was believed to have been working on a full-length album prior to his 2017 death. Ahead of the track's release Wednesday, Makonnen shared a message reiterating "how much it meant to me" that a song he and Peep wrote together "inspired" XXXTentacion to add some verses of his own. 
Cleopatra Bernard—XXXTentacion's mother—said Tuesday the track was "from Peep's mom and I."
Peep's mother, Liza Womack, shared a quote from Katie Wood Ray's Wondrous Words Tuesday, calling her son a "young poet" who used his medium "to express emotions and ideas both powerfully and neatly."
Stream "Falling Down" above via YouTube and/or below via Apple Music. According to a report from Variety, that a posthumous album from Peep is due via Columbia Records "in the coming months." A posthumous XXXTentacion album is also expected, pulling from a "significant amount" of unreleased material.
The new track was first teased nearly a month ago, with Makonnen sharing audio of XXXTentacion discussing Peep. "His name will live," XXXTentacion is heard saying in the clip, a portion of which is also included in the song itself. "If I had known he was so cool, I would have fucked with him sooner." Makonnen said at the time that he was "honored" to have co-written the track with Peep. "Peep and I always believed that music heals and brings people together in a way nothing else can," he said.
Shortly after the track's release Wednesday, Makonnen said on his Instagram Story that the original version of "Falling Down"—titled "Sunlight on Your Skin"—was expected to be released next Thursday. When a Peep and X collab was initially announced, the news did not arrive without some confusion.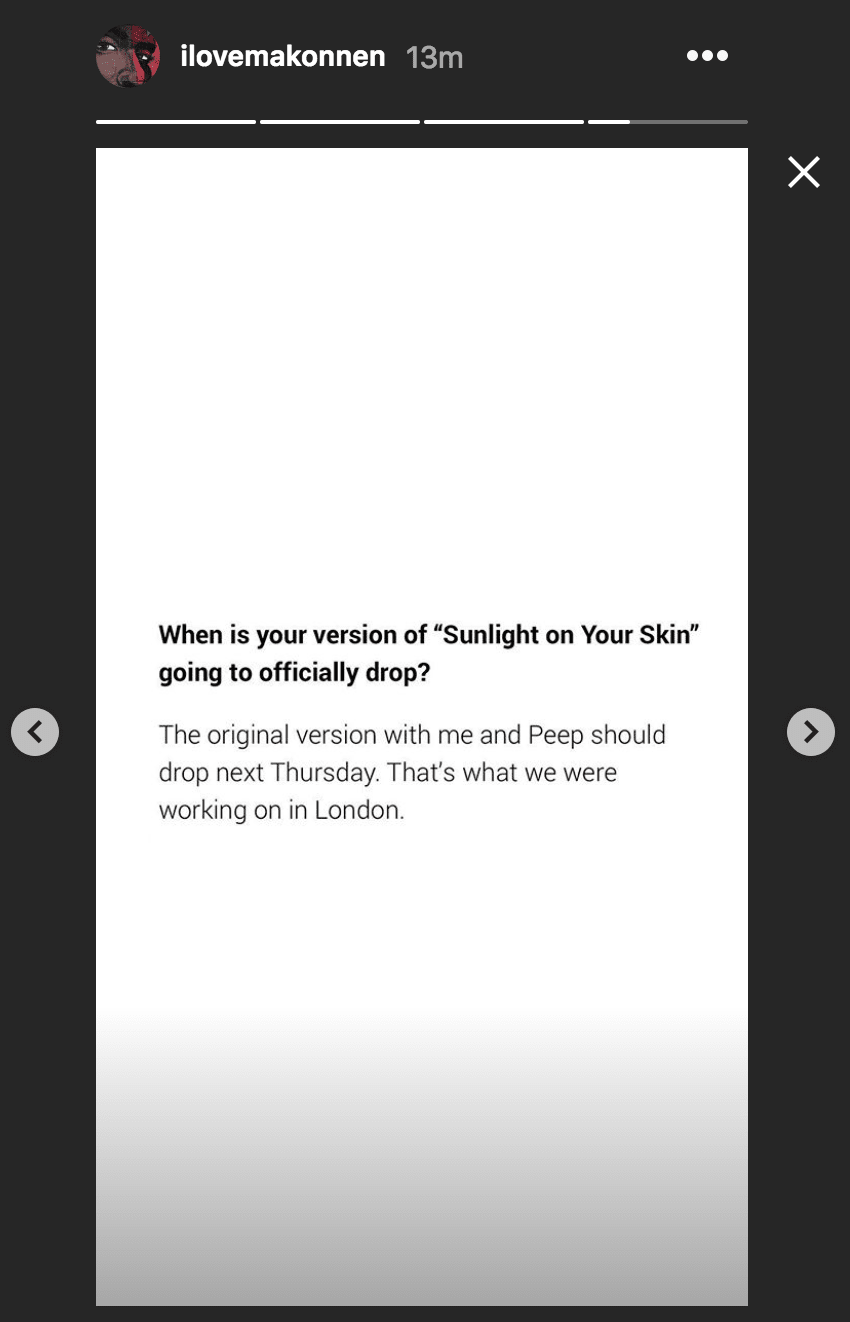 XXXTentacion was shot and killed outside a motorcycle shop in Deerfield Beach, Florida in June of this year. Four men have since been indicted on first-degree murder and armed robbery charges by a Florida grand jury. At the time of his murder, XXXTentacion was awaiting trial on multiple charges including aggravated battery of a pregnant woman. The domestic violence charges were dropped after his death.
Peep died in November from an accidental overdose of fentanyl and Xanax while on tour for his debut studio album Come Over When You're Sober Pt. 1. "Falling Down" marks the third official posthumous single from Peep's estate, following "Spotlight" and "4 Gold Chains."
In tribute of Peep's ongoing legacy, one of Peep's most prominent influences—Good Charlotte—covered his hit Lil Tracy-featuring single "Awful Things."
Good Charlotte guitarist Billy Martin shared "Falling Down" on Twitter Wednesday, describing the song as "genre-bending at its finest."