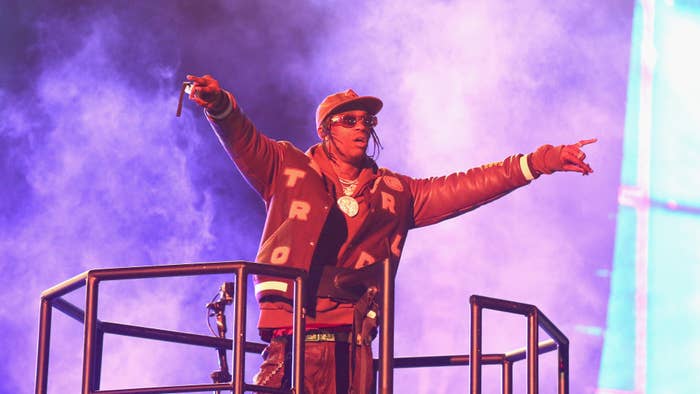 For many of us, the realities of the pandemic era are hitting the hardest as we careen toward the apex of the holiday season. 
In lieu of the usual tradition of high-stress traveling to gather with family and/or friends, we're going to exit 2020 doing exactly what we've been doing for the past 10 months: Hopping from binge to binge, living life on an effective pause.
To break up the pattern, we might as well also binge on some feel-good stories about a range of artists who are stepping up with acts of kindness for the heartbreakingly complicated 2020 holiday season.
We saw similar moves surrounding Thanksgiving, including inspired charity efforts from the Cactus Jack Foundation and more.
Below, peep some Xmas 2020 highlights from the charity canon.
Travis Scott, with some assistance from his daughter Stormi, returned to Houston this week to host a special event that helped thousands of people.
By way of his Cactus Jack Foundation, La Flame was able to give out toys, food, holiday trees, blankets, clothes, pandemic supplies, and much more.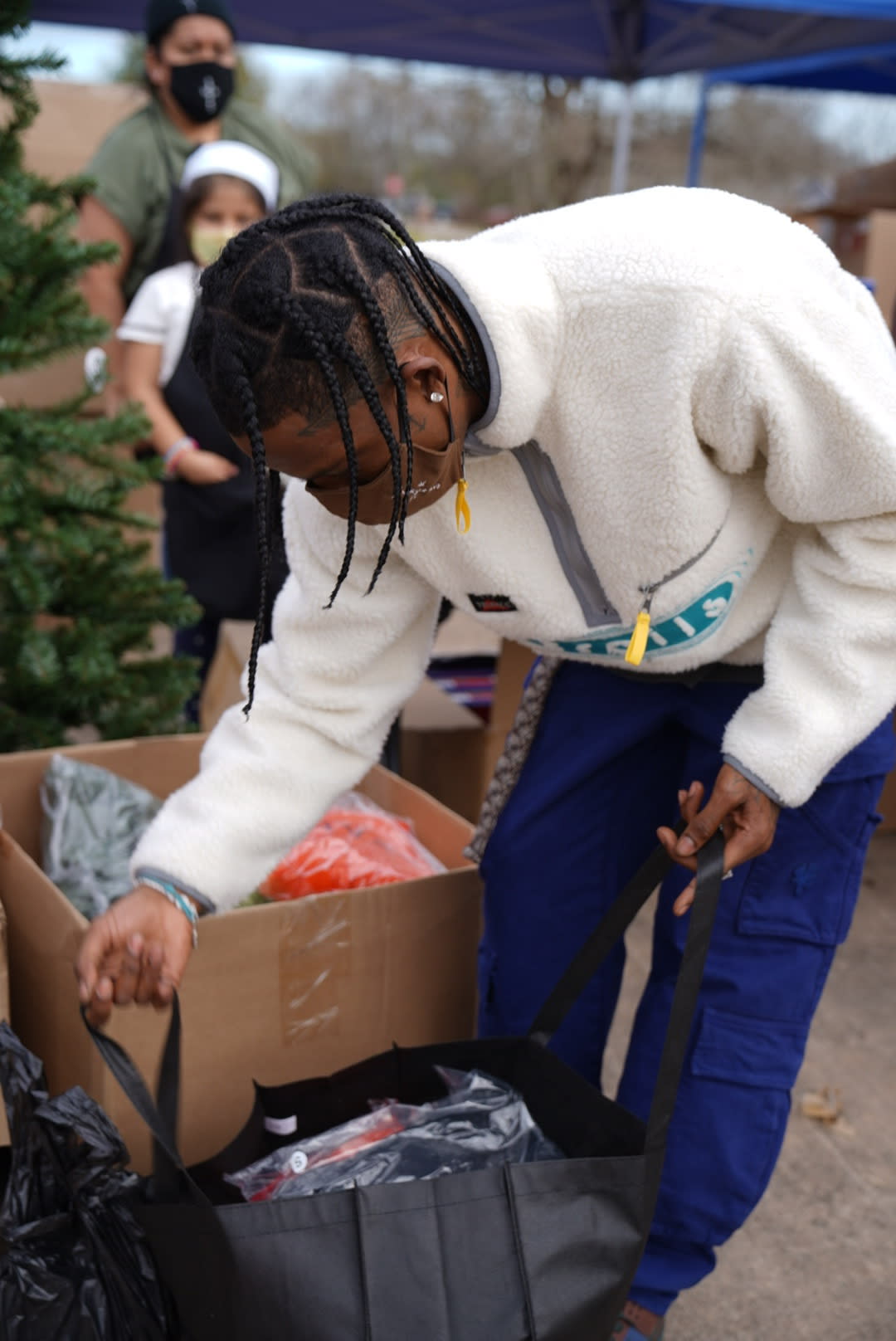 DeKalb County, Georgia was treated to an act of "Secret Santa" from 21 Savage this year.
Savage and his Leading by Example Foundation ultimately helped more than 30 children from the War Walker Park Family YMCA have their gift wishes met, per TMZ. Parents were also included in the wave of kindness, with Savage and the foundation providing them with turkeys and additional food for the holidays.
The Leading by Example Foundation has also launched sales for the limited edition Black Santa hoodie. The hoodie, which was given out at the YMCA event, is available here for $50. A portion of proceeds will go toward Savage's foundation and the YMCA.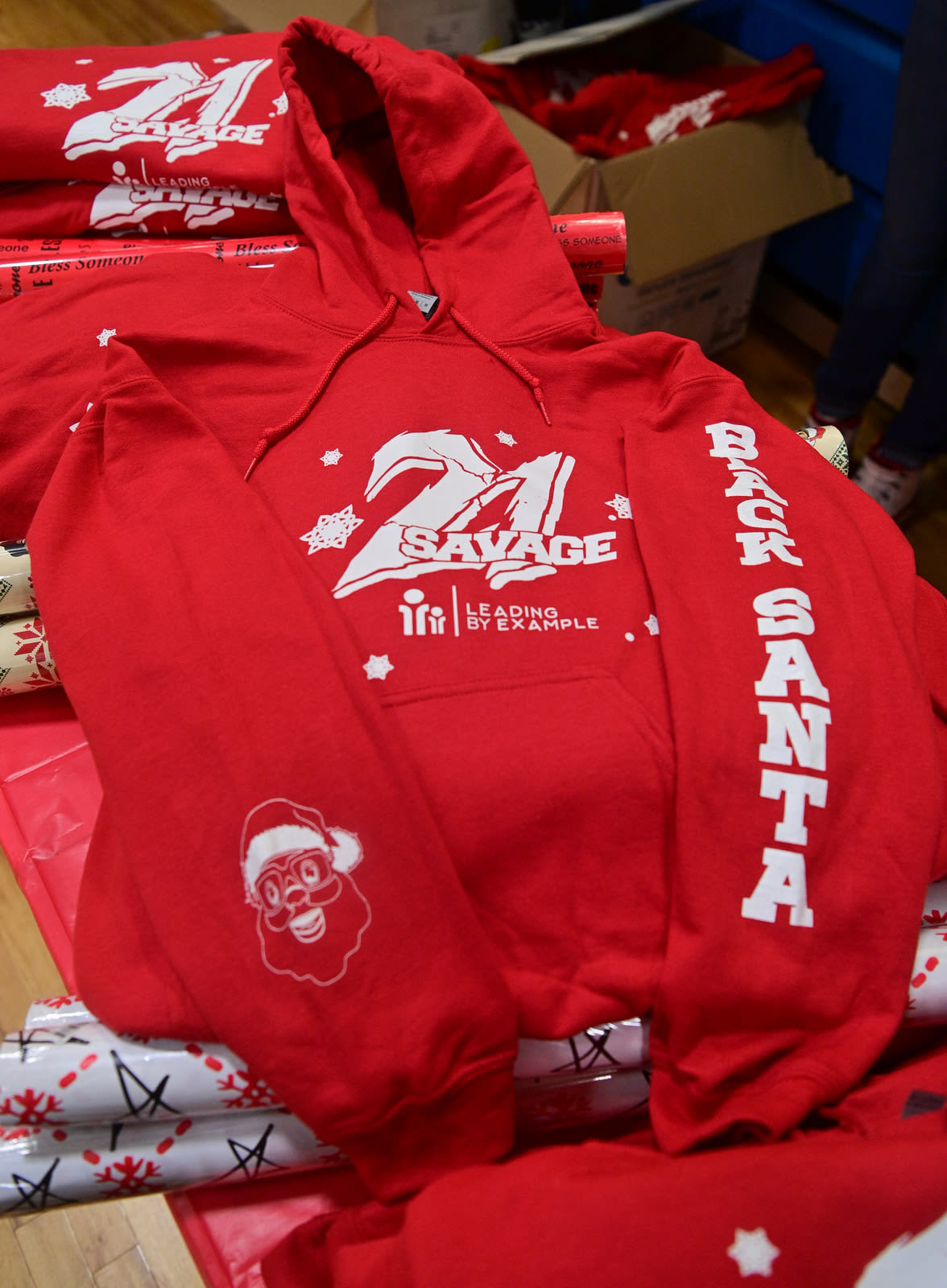 Roddy Ricch, in true Santa-esque style, made his way to a toy drive in Compton via helicopter.
According to DJ Hed, the effort was a massive success and ultimately spawned a two-mile line of cars:
"This weekend, me and the guys, we put what we had together and, you know, we gave thousands and thousands of toys away in Compton," Roddy Ricch later told James Corden of the experience. "I felt like it was important this year more than anything because, you know, with how restricted things have been." 
Pharrell linked up with Marcus Lemonis to buy two thousand meals (approximately $20,000) from Virginia restaurant Eddie's Chesapeake Bay Crabhouse. The meals, as Lemonis explained, will go toward those struggling around the holidays due to the ongoing pandemic.
"We wanna help your business but we're most concerned about the people who are in need … that may not be able to afford it or may not be able to get to your restaurant," he said.
In addition to headlining a drive-in concert in Miramar over the weekend, Rick Ross also held the 13th edition of his annual toy drive. With help from a number of sponsors including Smoothie King, Checkers, and his own MMG, Ross and friends were there in person to ensure as many children as possible could benefit from the gratitude of others.
Ross also extended a helping hand to appreciative Walmart shoppers in Mississippi:
Justin Bieber linked up with a London choir comprised of nurses, doctors, and other health staff for a new version of his track "Holy." 
The single, Bieber explained to the Associated Press, will benefit NHS frontline workers while also paying tribute "to their unbelievable dedication."
Taylor Swift, whose 2020 has included the surprise release of the companion albums Folklore and Evermore, donated thousands to two mothers who were facing financial hardship this season due to the pandemic.
Per TMZ, Swift gave $13,000 each to the two women, identified in the report as Nashville's Nikki Cornwell and Michigan's Shelbie Selewski. 
"I'm so sorry for everything you've had to go through this year and wanted to send you this gift, from one Nashville girl to another," she said in a special message to Cornwell. In a message to Selewski, Swift said she hopes this will help her "beautiful family have a great holiday season."
On Dec. 11, Lil Durk scooped up all the items in the Amazon cart for children at the Washington Community Center in Covington, Georgia. Included among the purchased items were 19 tablets, a variety of winter coats, and various school supplies. All told, the Only the Family founder spent a total of $7500.
Flo Milli was on-site in Mobile, Alabama for the 251 Home Team Big Toy Giveaway. 
The $20,000 gift giveaway was made possible by Milli, OMB Peezy, MGM Lett, and Jaquiski Tartt of the San Francisco 49ers.
"We just wanted to do something for the city, because you know, they support us so we have to give back," Milli told AL.com. 
Always one to give back to his community, Trae Tha Truth is going big for 2020.
With help from his Relief Gang team, Trae is holding special holiday shopping sprees for special needs children on Dec. 21 and Dec. 22 in Houston, Texas. Later in the week, Trae will become the city's Santa Claus by helping deliver toys.
Gunna helped out in Atlanta, Georgia with the third annual Gunna's Great Giveaway. Hundreds of families were given gift cards, as well as a special present from Gunna.
In social media footage of the Dec. 20 event, Gunna was seen helping out outside a local Walmart:
Rowdy Rebel, who was released earlier this month after spending six years behind bars, made sure to keep giving back to his community high up on his immediate agenda. On Dec. 20, Rowdy was on hand for a toy drive at the Brooklyn Museum.
"We're giving out free toys … I'mma be down here for an hour so y'all need to pull up right now," Moneybagg Yo told his Instagram followers over the weekend. 
Toys, clothes, masks, and more were given out in multiple locations from the back of a U-Haul truck.
"This neighborhood right here made me," Moneybagg, who's from Memphis, said in one IG Live update.
Gifts, including bicycles, were also copious at NLE Choppa's Memphis-set toy drive.
"Giving, helping, and healing is what I love doing best," Choppa told fans on Twitter when sharing a video clip of the drive:
Nick Cannon, in partnership with HollyGold and Yamashiro Hollywood, helped give out an estimated 2,000 meals in the Los Angeles area earlier this month:
Kodak Black got in the spirit of giving while still serving his sentence in connection with a weapons violation. Per TMZ, Kodak contributed $20,000 for a toy drive in Broward County, Florida.
"[Kodak] directs from prison the type of things he wants to do and the people he wants to help," attorney Bradford Cohen said in a statement shared to Instagram on Thursday. "Sometimes I will mention a story that I have read about a family or person that is down on their luck or injured in some way and he will say let's do this for them or that for them."
Cohen added that Kodak sometimes likes to contribute anonymously, noting that "to this day" there are families who don't know that the artist helped pay for school or other needs.