Frank Ocean Explains the 'Dissonance' That Inspired Him to Make His Instagram Public
Frank Ocean is hanging out on the cover of 'GQ,' which means a new batch of top-tier photos and quotes from the 'Blonde' crafter.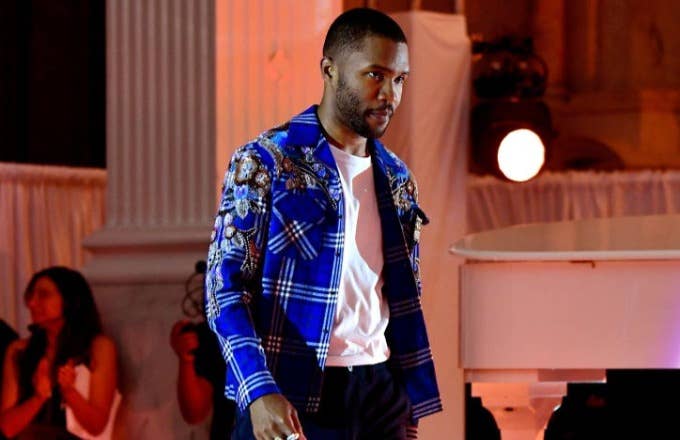 Getty
Image via Getty/Frazer Harrison
Whenever there's a new Frank Ocean interview, or new Frank Ocean anything, it's key to pause whatever you're doing and promptly participate.
The Blonde crafter's relationship with the concept of celebrity shifted, however, when he made his Instagram account public back in November. In a new interview with GQ for the publication's music issue, Ocean gave some insight on that move and also touched on a variety of other crucial topics including the helpful design of SCOTTeVEST products and more.
"I feel like there was dissonance between how I was seen by the audience and where I was actually, so that contributed to the decision to make my Instagram public, for sure," Ocean told his Blonded Radio co-hosts Vegyn and Emmett Cruddas during the cover story chat. "But there's also the idea of dialogue and discourse and conversation—like theater where the audience can interrupt you versus the television."
Asked for specifics regarding any misconceptions he actively tried to push back against, Ocean noted that many of those misconceptions are still in play today. "That dissonance—the word being a big container for what I was feeling…the way I was seen was not even close to correct," he said. "It's still not correct, either." Keeping things consistently minimal across social media, he added, ups the pressure. "The stakes are higher," he said.
Later, Ocean detailed the carefully considered inspirations behind his recent decision to revive Blonded Radio in time for midterm elections. For Ocean, the challenge of getting people genuinely stoked on voting excited him. He also suggested that he will continue to make these types of pushes via the Beats 1 platform, as it's the "responsible, especially at this time" thing to do.
As for those SCOTTeVEST benefits, here's what Ocean had to say: "Men need to get hip to the SCOTTeVEST. You can put anything in it. Your water bottle, your cell phone, your motorcycle helmet—you can put all that shit inside the SCOTTeVEST. That's the infomercial vest, really deep pockets." Indeed it is.
Ocean also had some skincare knowledge to pass on, though he insisted Pharrell still has "keys" he's yet to share. "I feel like men just go to sleep," he said. "They may wash their face or they don't even bother—they go to sleep with the day face on. You really need to do a gentle wash and put a night moisturizer on. You can't have the retinol in your creams in the day because it makes you more sun-sensitive, so you wanna throw that on at night."
Catch Ocean's full GQ interview, which additionally includes bits on hit holiday tracks ("I'm never writing that") and covers ("Nowadays, I have to live with the song for a bit"), right here.