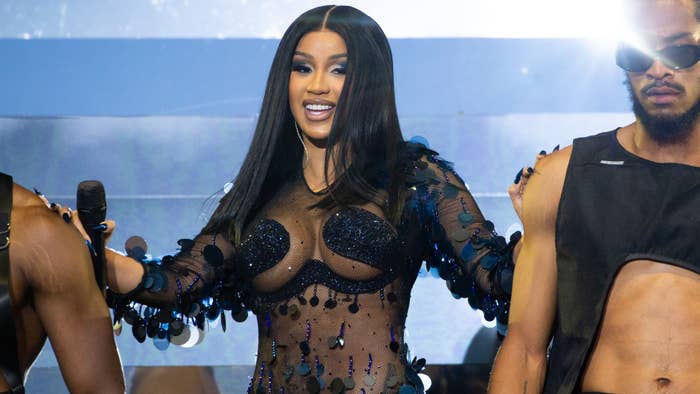 Cardi B has multiple reasons to celebrate this week.
In addition to its status as Cardi's 30th birthday, Oct. 11 also brought with it a pair of new Recording Industry Association of America (RIAA), including for the ubiquitous 2017 single (and Cardi's breakout hit) "Bodak Yellow." The track, as previously reported, was certified diamond (i.e. 10 million units) in March of last year. With that certification, Cardi made history as the first woman in rap to see a solo track achieve such RIAA heights.
On Tuesday, "Bodak Yellow" was certified 11 times platinum by the RIAA, as was Cardi's Bad Bunny and J Balvin-featuring "I Like It." The track, also an Invasion of Privacy single, was previously certified diamond in December of last year. Add in Maroon 5's "Girls Like You," which features Cardi and was confirmed to have surpassed the 10-million mark in November, and Cardi's total tally of diamond-certified discography entries stands at three.
With these latest developments, per a press release, Cardi is now the first woman in rap to have two solo songs certified as 11 times platinum. Put another way, Cardi has bested her own record.
As for the birthday side of this week's multifaceted cause for celebration, TMZ reported early Wednesday morning that Cardi was joined by Offset for a throwdown at a club in West Hollywood. Among those confirmed to have been on hand for the festivities were Tiffany Haddish, Jamie Foxx, Chance the Rapper, and more.