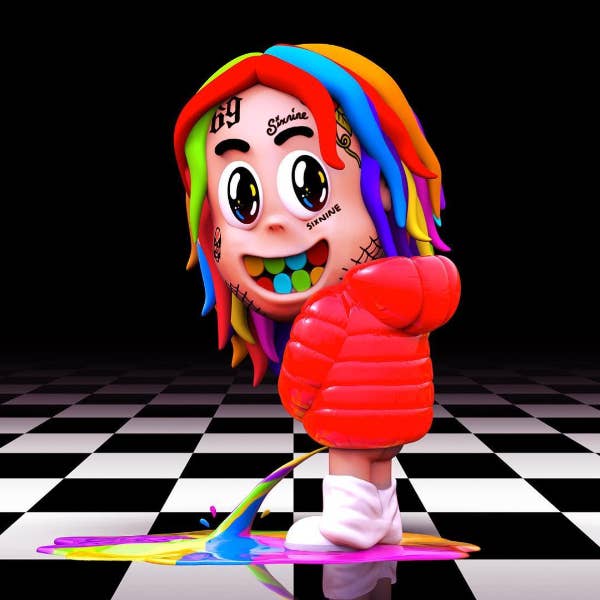 DUMMY BOY, 6ix9ine's Kanye West-featuring debut studio album, has officially been released.
Originally set for a Nov. 23 release, the 13-track album was ultimately postponed "until further notice" following 6ix9ine's arrest on racketeering and firearms charges. Gunna, Nicki Minaj, Murda Beatz, Scott Storch, Lil Baby, and more also have features and/or production credits. The album surfaced over the weekend, though not officially on streaming services.
DUMMY BOY was released via Create Music Group, a Los Angeles indie startup that announced its distribution deal with 6ix9ine on Tuesday. 
"Create Music Group is already Tekashi's music publisher and they have a music distribution division, so it makes sense for them to take on this album," a rep told Complex.
It's interesting to note that the album is listed on iTunes under ScumGang Records, while 6ix9ine's last release, DAY69: Graduation Day, was credited to ScumGang Records/TenThousand Projects.
Stream DUMMY BOY below via Spotify and Apple Music. It's also available on iTunes.
Monday, 6ix9ine added criminal defense attorney Dawn Florio to his legal team. Also on Monday, 6ix9ine pleaded not guilty to federal racketeering and firearms charges. 6ix9ine and his former manager Shotti are among those accused in a federal indictment of being members of the "criminal organization" Nine Trey Gangsta Bloods. A trial date has been set for next September. "We don't fold, we don't bend, we don't break," Shotti told court Monday. "It's Tr3yway."
6ix9ine's "FEFE" and "MAMA" collaborator Nicki Minaj shared a message of support last week. "Danny, I love you and am praying for you, your Mother, daughter & her Mom during this time," Minaj said on Instagram.
YG, meanwhile, is maintaining the same energy he had toward 6ix9ine prior to this month's arrest. "That's a f*cked up situation, that's a f*cked up place. I don't wish jail on nobody but f*ck 6ix9ine, n***a," he told the crowd during a recent stop on his Stay Dangerous Tour.
Previously, 6ix9ine avoided jail time in connection with his 2015 guilty plea in a child sex case.