Nicki Minaj Shares Message of Support for 6ix9ine and Family
Tekashi 6ix9ine was locked up earlier this week on racketeering and firearms charges.
Getty
Image via Nicholas Hunt/Getty Images for Marc Jacobs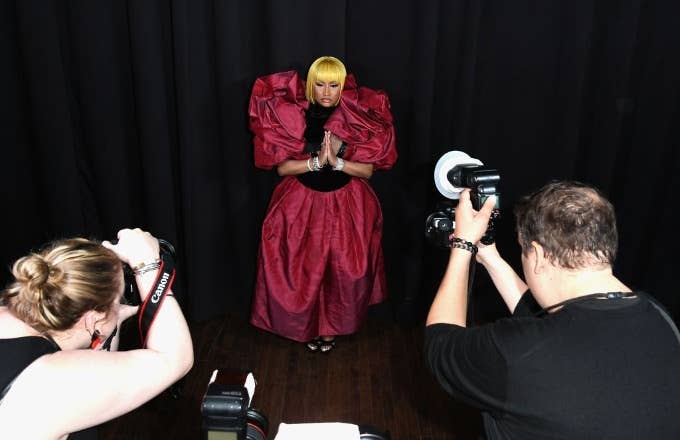 Nicki Minaj shared a quick message of encouragement Wednesday to her "FEFE" collaborator 6ix9ine, who was arrested earlier this week on racketeering and firearms charges.
"Danny, I love you and am praying for you, your Mother, daughter & her Mom during this time," Minaj said in an Instagram caption. She also acknowledged the recently disclosed cdelay, which she attributes to "reasons beyond music."
Minaj was set to appear on two DUMMY BOY tracks, the Kanye West-featuring "Mama" and the aforementioned "FEFE." West is also making two appearances, on "Mama" and "Feefa." 6ix9ine has also enlisted Lil Baby, Gunna, A Boogie Wit Da Hoodie, and more. Wednesday, 6ix9ine's team said the album had been postponed "until further notice."
"[6ix9ine] became victim of this enterprise and later took steps by firing employees and publicly denounced this enterprise through a morning show," 6ix9ine's attorney Lance Lazzaro has argued, per a Blastreport. Lazzaro has also asserted that his client is "completely innocent" and argued that he should be viewed as an "entertainer" using an image to promote music.
"ATF stands firmly at the frontline in the fight against violent crime,' Ashan M. Benedict, ATF Special Agent in Charge, said in a press release detailing the charges against 6ix9ine and five other men earlier this week. "The individuals charged today with racketeering conspiracy and firearms offenses are members and associates of the Nine Trey Gangsta Bloods, also known as 'Nine Trey.' The members and associates of this street gang engaged in violent robberies, assaults, and shootings."
At the time of his arrest, 6ix9ine was fresh off avoiding jail time in connection with his 2015 guilty plea of "the use of a child in a sexual performance" by agreeing to a four-year probation period.