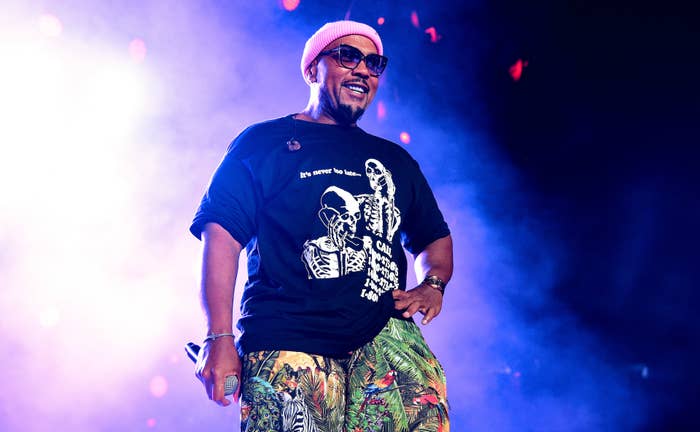 Timbaland has always wanted to work with the late Notorious B.I.G., and now that AI has become a hot commodity in recent months, he's able to live out that dream. 
On Tuesday, Timbo took to his Instagram with some news that he's finally cooked up something featuring the Brooklyn rap legend. Biggie passed away in 1997, and around that time the Virginia native was blowing up on the scene as a producer for Missy Elliott, Aaliyah, Ginuwine, and more, meaning they just missed the mark when it came to collaborating. 
Thanks to the technological advancements of artificial intelligence, Timbaland has figured out a way to get Biggie to rap on one of his beats. AI theoretically gives anyone the ability to have any artist featured on a song without the actual person having any involvement. In his post, the 51-year-old announced he's found a solution to all the questions around AI and the copyright issues it poses for the music industry before revealing he crafted a song with Big.
"So I'm sitting here with my brother Creative God, and we know that it's a lot of talk about AI, and we know how the feelings of violating certain things, but let me tell you something," Timbo said. "I got a solution, we're working on it. It's gonna be beneficial to everybody. But in the meantime, you know, I gotta share something I've been working on because I always wanted to do this, and I never got a chance to. I always wanted to work with Big, and I never got a chance to—until today, it came out right."
Timbaland played part of the record with lyrics from Biggie manufactured by AI over a beat created by the legendary producer. While the lyrics aren't especially clear, late rappers Pop Smoke, Nipsey Hussle, and Young Dolph's names are dropped at the end of the clip.
In the caption of his post, Timbaland mentioned Jay-Z's longtime engineer Young Guru, who's been vocal about the dangers that come with the tech. 
He wrote in a caption, "This rite here👀🚀 🤯 @creatrgod @youngguru763 I had tooo 😱 AI 👑 is timbo🔑 everything original timbo x biggie."
In February, Guru shared a video on Instagram that showed a man making a song using a Kendrick Lamar AI voice filter. The creator showed how the process worked by changing his voice to sound exactly like the Compton rapper and recording the song.
In his caption, Gu advised people to act fast and implement laws that would protect artists from the possibility of AI getting into the wrong hands. He did the same thing when a fake Jay-Z record hit the internet recently. 
Snoop Dogg has also addressed the use of AI, while Universal Music Group has put out an industry call-to-arms to deal with the ongoing issues with the new technology.