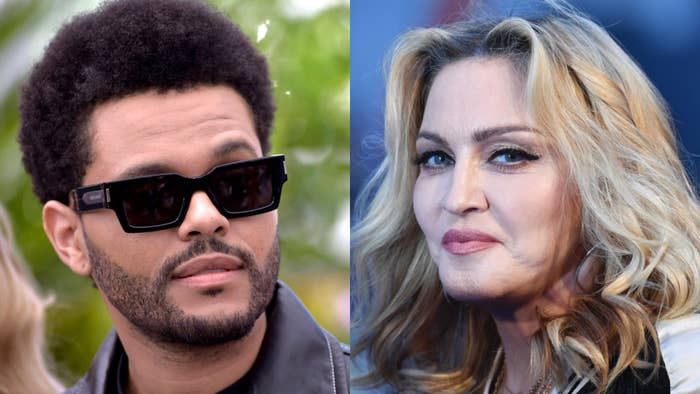 The Weeknd has revealed he wants to link up with Madonna in the studio and make a full-length album with her.
During his conversation with Zane Lowe on New Music Daily on Apple Music 1, the Toronto-bred megastar spoke about his new record titled "Popular" featuring Madonna and Playboi Carti that'll be featured on the soundtrack of his new television series The Idol. According to The Weeknd, the song was a moment that he's "proud of" as he worked with two generational talents.
He revealed there was another version of the song that he held on to, but now was the perfect time to let it out. With the addition of the Whole Lotta Red rapper, The Weeknd claimed it was business as usual as they've "jammed out" before, however, Madonna was a whole different machine.
‌"Madonna, Madge. She's the ultimate co-sign for this song, for this album, and for this TV show," The Weeknd told Lowe. "And you'll hear more of her in the show as well too. She is the ultimate pop star."
‌Abel then explained how much he wanted to work with the legendary artist. It's always been The Weeknd's dream to work on an album with her, and he hopes their first ever collab, "Popular," can help get the process going.
"I mean, the thing is, I've always wanted to work with her," The Weeknd added. "I've always wanted to write and produce a Madonna album... well, co-produce with her, of course ... because she's a visionary and she has such a singular vision, and I just want to come into her world and create a classic Madonna album. That was always my dream. So this can be... Hopefully this is the appetizer for that."
The Weeknd's collaborative effort with Madonna and Playboi Carti is the second single off The Idol Vol. 1, the soundtrack to the forthcoming HBO series co-created by The Weeknd, Sam Levinson and Reza Fahim, which premieres June 4.
The first single to drop off the soundtrack was "Double Fantasy" which featured Future. The Idol Vol. 1 is scheduled to drop on June 30 and according to his conversation with Zane Lowe, The Weeknd is "excited" for fans to get their hands on it.
While he's prepping the arrival of The Idol, The Weeknd is also getting ready to embark on the After Hours Til Dawn Global Stadium Tour. The tour will kick off June 6 in Portugal and will make stops throughout Europe and Latin America before closing shop on October 25 in Mexico.