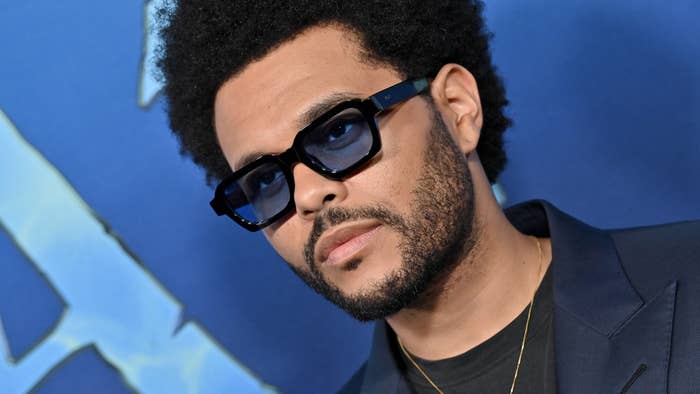 With The Idol soon set to work its way into the global consciousness by way of a newly confirmed Cannes premiere, Abel Tesfaye—a.k.a. The Weeknd—is reflecting on his relationship with the news cycle surrounding the long-awaited project.
In a discussion with Jeremy O. Harris for Interview magazine, the musician and filmmaker was asked about "this entire narrative" that has been built around his collaboration with Euphoria's Sam Levinson by, in Harris' words, "people who don't know you or the people you're working with."
As Abel explained, he's grown accustomed to this practice after experiencing it in his solo work. But when it comes to The Idol, co-creators of which include Levinson and Reza Fahim, there's a real pain spurred when "rumors" start to spread. In terms of Idol, specifically, the series has been the subject of numerous headlines leading up to its release, including word of an alleged "creative overhaul" in April of last year.
"I'm used to it more than someone like Sam, who's probably a little bit used to it now," Abel, who praised Levinson as a "great leader" on the project, said. "And I'm sure [co-star Lily-Rose Depp], definitely—Lily's stronger than both of us. But I've been judged since the beginning. My stuff's always kind of been provocative. I understand it's hard for people to separate that sometimes and that some people want to have an opinion about you, even if it's not true. As an artist, you have to know that you can't please everybody, and you have to accept that it comes with the job."
When he's not working alone, Abel further explained, his thoughts on such criticism are "a little complicated." In fact, this is something Abel said was new to him as he delves further into film and TV.
"That's what I'm learning about the film business, is that when people start rumors, it really does hurt a lot of other people," he told Harris. "A lot of people work hard on these projects. When I'm in my world, and you guys are coming at me, it's like, alright, cool. I'm a big boy. I can figure it out. But you have 200 people working hard on a project like this, that hurts. Especially when what they're saying is far from the truth, but, what can you do?"
Elsewhere, touched on the mystique that defined the early years of his career and how his Idol character, Tedros, differs from The Weeknd. Read the full thing here.
A release date for HBO's The Idol has not been announced. As widely expected prior to this week's official announcement, a portion of the series will debut as part of the 2023 Cannes Film Festival lineup next month. See a teaser below.