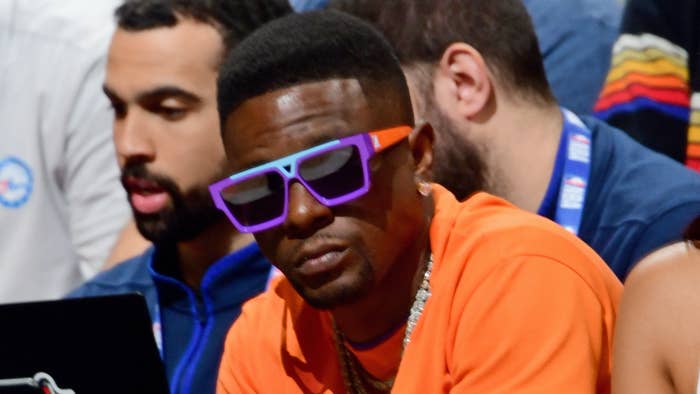 Boosie Badazz has announced his aspirations of becoming a lawyer for hip-hop cases while also getting dragged by YNW Melly's alleged victim's father, who was upset he showed up to the double-murder trial.
The Baton Rouge, Louisiana native took to his Instagram on Tuesday to make the announcement after attending day two of YNW Melly's trial. Boosie was there to support his peer, and he was amazed at how the legal proceedings go down inside a courtroom.
According to Boosie, he wants to study law and attend every hip-hop murder trial. He even thinks he could be a defense attorney if he pursues a career in law.
"#MELLYTRIAL IM NOT MISSING NO MORE RAP MURDER TRIALS," Boosie captioned his post. "THIS SHIT IS EDUCATIONAL NO [cap emoji] WATCHING THE DEFENSE [and] PROSECUTION DROP BARS THEN LOOKING AT THE JURORS TRYIN TO READ THEM IS CRAZY!! I WANT TO STUDY LAW, I WANNA TRY IT, I THINK I CAN BE A DEFENSE ATTORNEY [or] AT LEAST HELP SOME ATTORNEYS OUT!! IM MOTIVATED."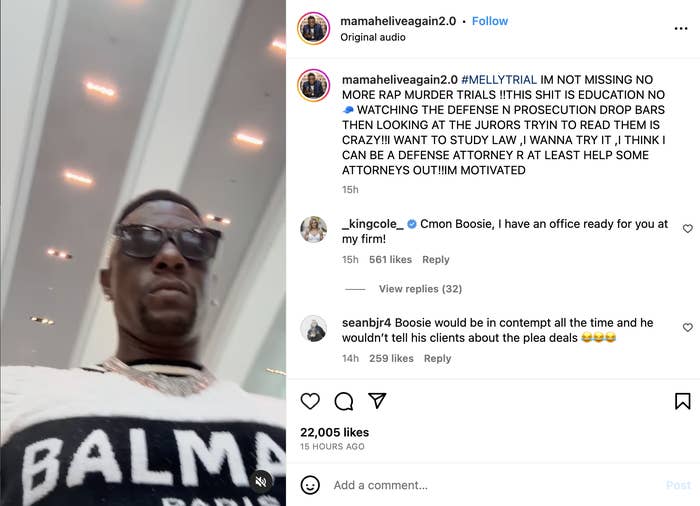 Boosie's attendance wasn't appreciated by the father of YNW Juvy (real name Christopher Thomas Jr.) — one of two people YNW Melly is accused of killing in October 2018. Juvy's dad shared a video calling out those supporting Melly and told Boosie Badazz to "go back to your hometown" to get things in order.
"Man, everybody that's saying free Melly," he said before flashing his middle finger. "That's to you and your mama and your daddy and everybody that look like you. And that's me, I said it. Y'all are bitches, man. Boosie down there supporting Melly — he flaw as fuck for that. He don't even know that n***a Melly. He talking 'bout, 'I want Melly free 'cause that n***a bought me snacks and a magazine at the airport.' What?"
He continued: "Man, go to Marlo Mike's trial, n***a. Fuck you at this n***a trial? Marlo Mike in that bitch fighting for his life, n***a. You got that man staying up the road doing all that God damn time, but you in there for Melly. And got them n***as in Louisiana, Baton Rouge, fighting for their life. N***a, you got your priorities fucked up, n***a. Go back to your hometown, scary ass n***a. Shit."
On day one of YNW Melly's trial, the prosecution and defense teams presented their opening arguments. The second day saw evidence come into play, including the items that were left in the car and video footage of the four men leaving the studio prior to the shooting. Day three has kicked off as scheduled, with even more witnesses taking the stand.
For more court updates, head to Law & Crime Network's YouTube channel.